Right now my biggest focus is teaching my children to read. We have tried a couple of programs. We got the opportunity to review Foundations, Level A from Logic of English, and I was happy to try a new approach to teach reading to my children.
What is Logic of English Foundations, A?
Foundations A is designed for children who are not yet reading. It is recommended for children ages 4-7. It is based on the Orton-Gillingham method. Letters are introduced in lowercase form, and children learn how to blend words together by the sounds that the letters make. Children learn how sounds are formed in the mouth and how to blend and segment words auditorially. Letters are referred to as phonograms, which means we refer to them by their sounds, not their names. All phonograms are introduced. By the end of the program, children should be able to read consonant-vowel-consonant words, write the lowercase alphabet, read all the sounds for A-Z, decode 25 high-frequency words and more. There are 48 lessons. 40 individual lessons, and 7 review lessons.
In order to teach Foundations, A you will need:
Level A Teacher's Manual, Level A Student Workbook (cursive or manuscript), and the Doodling Dragons books – $71.00 You will also need the reusable resources set, which includes the basic phonogram flashcards, handwriting tactile cards (cursive or manuscript), phonogram game cards, Rhythm of Handwriting quick reference chart, and the small student whiteboard – $85.00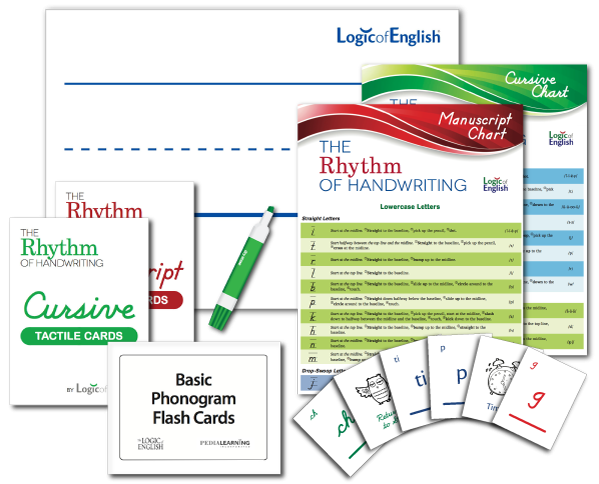 We also were able to review the Doodling Dragons App,
which is recommended for children ages 2-7
, and is available on iTunes for $4.99.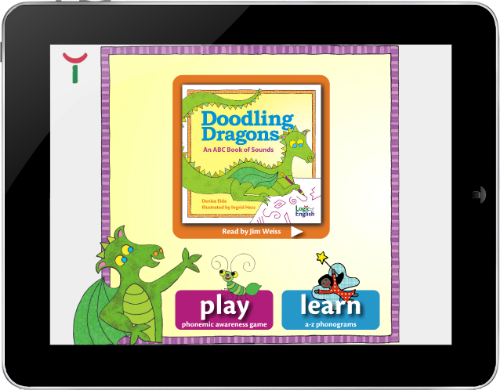 How We Used Logic of English Foundations, A
When we received the program, I wanted to get started right away. At this time my son, who is 5.5 years old, was really struggling with wanting to do school. I felt like we were at a roadblock with his current phonics program. This looked so neat, I thought for sure it would entice him with the friendly dragon. Well, he was not having it. He just did not want to do school, so I decided to give it a week, let him play, and then try again.
A week later I introduced the first lesson to him. I decided to take each lesson very slowly. This is the beauty of homeschooling. I do not have to push him through a lesson to meet deadlines. I ended up breaking each lesson down and only doing 1-2 parts of each lesson per day. Each lesson includes four parts: phonemic awareness, phonogram practice, phonograms, and handwriting made it easy to divide the lessons. We haven't gotten nearly as far in the book as I would have liked for this review. With that said, he is really enjoying his lessons now!
We began the program learning how sounds are made. Bug really enjoyed telling me which sounds are "voiced" and "unvoiced" based on whether or not they made his throat vibrate. He was also made to pay special attention to how his mouth was formed when saying certain sounds. This was totally new to us, but I think it was very interesting and helpful.
The handwriting portion of the program (we chose manuscript) begins by teaching the child to write "strokes." So instead of immediately having the child form letters, he begins learning the basic strokes that are used to form letters. We practiced these on the whiteboard that comes with the program, as well as on a workbook page with a pencil. Since Bug had already been writing letters before we started the program, I think he was a bit frustrated with the strokes, but we made it work.
The handwriting tactile cards were fun to use and he liked running his little finger over them to learn what we were working on. This is great for muscle memory!
Hands-down the most fun we had was playing the games.Logic of English is great for all kinds of learners. I would segment an action word like "shout" or "stomp," and he would have to blend the word back together then do the action. Both of my kids really enjoyed doing this. Another game involved blending words back together and shooting a ball in a basket. That was another fun one for my kids. This program is definitely great for wiggly boys! The kids also enjoyed the Doodling Dragons app. I liked that it helped me learn exactly what the phonograms were supposed to sound like because I struggled with that while teaching. Children can listen to the Doodling Dragons book on the app, as well as play a fun phonemic awareness game.
Our Opinion of Logic of English Foundations Level, A
There is so much to be said about this program. It is beautifully designed, the teacher's manual is a lovely hardback that will last a long time, the student pages tear out for ease, and the reusable resources are a ton of fun!
This approach to teaching reading was brand new for me. I did have a little trouble learning to segment words myself, but I got the hang of it after teaching a few lessons. The lessons are scripted, so there's no figuring out what to say which is great for beginners like me! I love all the extra suggestions included in the teacher's manual, as well as the ideas for helping students who are struggling.
I like that we can move at our own pace. I could easily break down individual lessons into "mini lessons" so my wiggly boy who does not want to do school doesn't tire out. The games are so much fun and getting my kids up and moving while learning to read has been awesome. We plan to continue on with the program through the summer until we finish it. I recommend this program to anyone who is trying to teach their child to read and write! The approach is pretty unique and so far my kids are really responding to it!
You can purchase:
Find Logic of English:
Facebook Pinterest YouTube Twitter