One of the things I love about My Father's World curriculum is that it is family centered. According to their website, once your children are in 3rd and 2nd grades, you can put them together in what is known as the "family cycle." In MFW, this starts with their Exploring Countries and Cultures curriculum. This year, I had two children who would be in 2nd grade and kindergarten. Instead of doing two separate curricula for each child, I decided to figure out how to add a kindergartner to My Father's World Adventures.
How To Add a Kindergartner to My Father's World Adventures
My plan was to do what MFW does for older grades. Both my 2nd grader and kindergartner would complete their own language arts, math, and handwriting, and we would do everything else as a group.
This plan worked out perfectly. Because my daughter has tagged along with my son since we started homeschooling, I definitely did not feel it was necessary to give her an entirely separate curriculum. She is also very interested in academics and had no trouble following along with the bible, history, science, or music portions of the curriculum.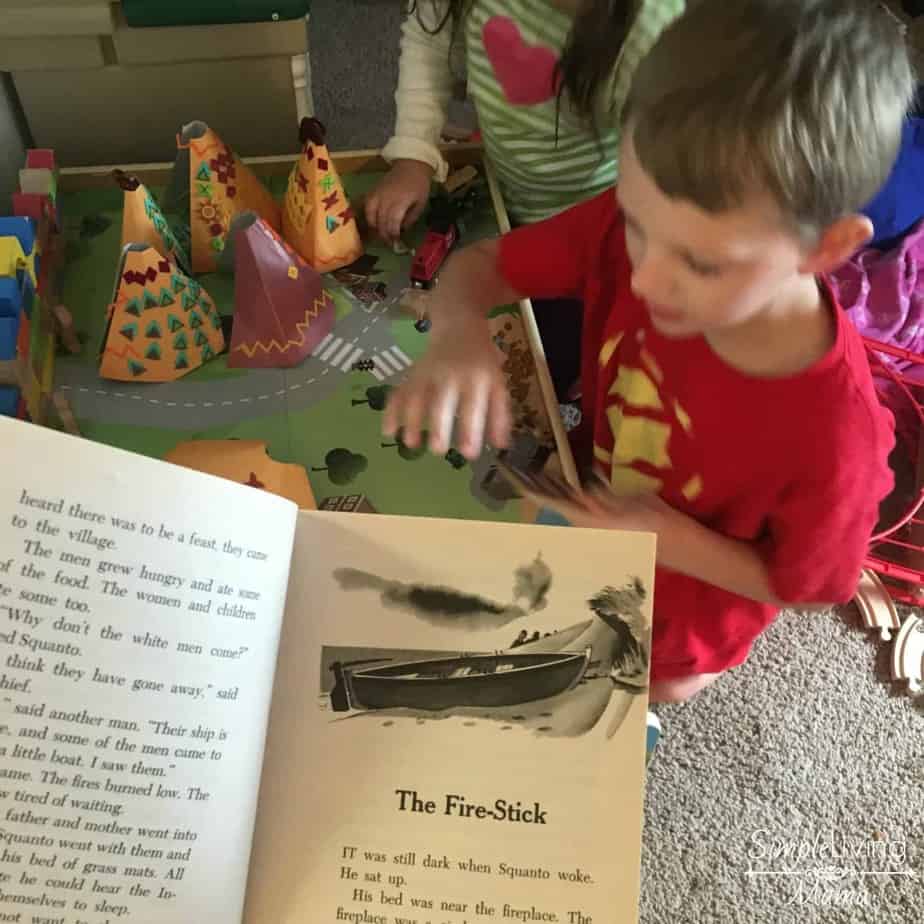 I did not purchase her a set of student sheets, but wish I had. While she couldn't write well at the time, her narration was excellent and I often ended up dictating it for her and letting her draw pictures.
For her independent work I chose:
Teach Your Child to Read in 100 Easy Lessons (Read more about our phonics choices)
Explode the Code A, B, C
A Reason for Handwriting Book K and Book A
Every morning we gathered for group work. After we did our morning board for my kindergartner and preschooler, we would move into our Adventures work.
I always start with bible, then we do history. Depending on the day and the kids' attitudes, we will also do science and music. We did not do the art portion of the curriculum.
After group work is independent work. This is where things can get a little tricky, but I tried my best to give my kids assignments they could do without me while I worked with the other child. For example, my kindergartner could complete her handwriting while I did math with my son. My son could finish up his copywork while I did math and a reading lesson with my daughter.
Book basket was always done in the afternoons after everyone had lunch and the house was a little quiet. Some days it did not happen, though! If you're wondering about how we did the book basket, I would get a wide variety of books that were listed in the appendix of the teacher's manual from the library. I kept them on a particular shelf and the kids had to spend 15 minutes looking through the books. They were free to read or just look at pictures.
I did select a few readers for my second grader that he had to read aloud to me at a different time.
Finally, my favorite part of any curriculum is the read-alouds. Most of the time we read our read-aloud books before bed!
And that's pretty much it. It was easy peasy to incorporate my kindergartner into My Father's World Adventures.
Want to spend a day with us while I (attempt) to teach My Father's World Adventures with a 2nd grader, kindergartner, and three other little ones? Watch the video below!

You May Also Like: