I have not specifically set out to do a homeschool preschool curriculum with my four year old. She's a very free spirit and follows along with her big brother often. When we got the opportunity to review a new preschool curriculum from La La Logic, I thought, "Why not?"
What is La La Logic?
The La La Logic curriculum is designed for children ages 3-6. It includes 100 weeks of curriculum with an included schedule made up of 4 or 5 days. Every time your child completes a week, you can mark it off.
What makes La La Logic unique is that each week includes a "brain challenge" that your child will do on the computer or an iPad. The brain challenges are computer games that are actually brain training exercises.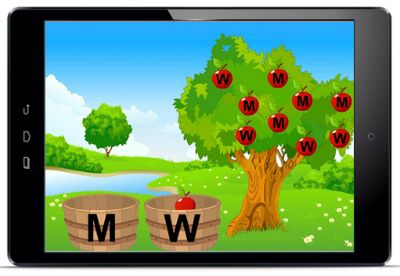 There is also one worksheet per week. The worksheet is simple, yet engaging. Children will practice cutting, pasting, and coloring.
Finally, there are also extension activities that are to be completed with an adult. There are lots of good things here including narration, poetry memorization, picture study, and copy work. There are even dramatic plays, scavenger hunts, and more fun logic games.
We loved the continuous brain challenge mode, which lets children play the logic games continuously. My kids never got bored with it.
How We Used La La Logic
Every week we would log on and follow that week's schedule. The kids first did the brain challenge. Both my four year old and six year old LOVED the brain challenges. They argued over who was going to play first!
These "games" included all kinds of educational activities like matching, counting, completing puzzles, and learning shapes and colors.
Afterwards, I would download the packet for each week. On Tuesdays we would do an enrichment set. For example, we may read a story and then do narration or copy work. There were also suggestions for incorporating nature study and math. On Wednesdays we would do the simple worksheet, and on Thursdays we would do another enrichment set.
One week we learned about emotions and we had fun making faces and guessing which emotion we were expressing.
I would often let my kids do the continuous brain challenge for a while when I needed them to be occupied. I felt good about them doing something educational, and they felt good about having so much fun!
How We Liked La La Logic
Like I said earlier, my kids fought over doing the computer games. We did all of the games on my laptop, which has a touch screen, and the kids just had a blast.
I did enjoy the enrichment activities and my kids seemed to really like them, too. The great thing is the actual worksheets and enrichment activities take very little time. I would say you could finish those activities in 10-20 minutes per day.
I think this is an awesome homeschool preschool curriculum. It really has a lot of great activities to build your child's cognitive abilities. Now, this program is not focused on teaching your child to read or teaching mathematics skills. This program is more geared on helping those abilities to develop so your child's ability to learn will be limitless. Overall, we really loved this product and definitely recommend it!