We love read-alouds around here, so we were excited to get a new read-aloud that would allow us to explore Creation in a whole new way! We received a cool book from the company Wizzy Gizmo and is called Book 1: Who Created Everything? by Chris Del Aguila and Justin Cummins.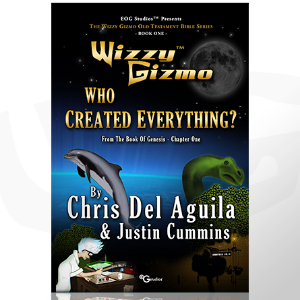 About Who Created Everything?
Let's start by talking about Wizzy Gizmo. Wizzy Gizmo is an inventor who has a workshop full of all kinds of crazy inventions. His greatest invention is the Gizmovision, which will bring any book to life with the touch of a button.
We meet four young friends, Eli, Olive, Summer, and Thomas as they go with Wizzy for a ride in the Gizmovision. They get to experience Genesis Chapter One for themselves! We also meet two other fun characters, Qwacky who is a robotic duck who isn't quite sure how to be a duck, and Pepe, Wizzy's pet dog who can speak through one of Wizzy's inventions.
There are seven short chapters that take us through the seven days of Creation. Through the characters, we get a real-life look at how God created the earth and it's pretty amazing. We see the formation of earth, the creation of light, and the production of water. We get to travel into space and see the beauty of the stars, as well as travel to the depths of the ocean. We taste the first fruits and play with the first animals. We watch how God made Adam from dust and breathed life into him and how God made Eve from one of Adam's ribs.
The entire book is a pretty amazing journey through the wonder of Creation.
You will also find all of the vocabulary words are in bold-print with a glossary at the back of the book, along with review questions you can ask your children.
The book is a 57 page paperback and is recommended for children ages 4-12.
How we used this book
I read this book aloud to my children before bed. The chapters are short enough that I could read a few every night. My middle-child (almost 4) was especially riveted by the book and kept asking for more of the story. She began walking around talking about Wizzy Gizmo and asking me even more questions about God. Oh, children can ask some awesome questions can't they? She asked me if God lives on a cloud and also if he pulls the sun down every night so that it will be dark.
I love how the story really pulled us all in and it includes lots of scripture that should be read with a big, booming voice! I got into the characters while I was reading the story and tried to do my best voices to suit each character's personality. I had a lot of fun with it, and the kids thought it was pretty funny!
If you want to get your children talking about Genesis Chapter One, I highly recommend Who Created Everything?
You can purchase Who Created Everything? for $12.99.
Also find Wizzy Gizmo here:
Facebook: https://www.facebook.com/wizzygizmo
Twitter: https://twitter.com/wizzygizmo
Pinterst: http://www.pinterest.com/wizzygizmo/
Google+: http://www.plus.google.com/+wizzygizmo
Vimeo: http://vimeo.com/wizzygizmo