As an English major, I took a course in college called the History of the English language. I remember learning a bit about the history of the Bible and how it came to be translated into English. Because of that, I was very interested in reviewing The Forbidden Book from New Liberty Videos. I wanted to do this review not because I thought it would be a good fit for our homeschool (my kids are in kindergarten and younger), but because I thought it would be a great history lesson for myself.

About The Forbidden Book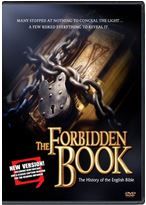 The Forbidden Book is an hour long documentary outlining the history of the preservation of the Bible. This documentary is hosted by Dr. Craig Lampe and features three important Christian men who went to great lengths to preserve the history of the Bible.
We are introduced to John Wycliffe, a 14th century Oxford scholar who translated the Bible from Latin to English for the people who were not given the privilege of learning Latin and were left in ignorance. We learned that he was hated by the church and Pope Martin V actually ordered his bones to be dug up and burned 40 years after Wycliffe's death.
The next man we learn about is Martin Luther. This 16th century man revealed that justification was through faith alone.
Finally, we get to learn about William Tyndale. This man was burned at the stake for printing Bibles in English.
This DVD is recommended for the whole family, but I would say older teens and adults would get the most out of it.
How We Used The Forbidden Book
I knew this DVD would not be appropriate for my young children, so I chose to watch it myself. I tried really hard to stay interested in the DVD and pay attention to the details when I had a free hour to watch it.
Our Opinion of The Forbidden Book
While I was really hoping for an exciting documentary, I found this one a little hard to follow. I would say that it is most relevant for high school and college students, and those genuinely interested in the topic. That said, it definitely is not a bad documentary. It is very typical of what one would expect when watching an historical documentary. It's definitely something I would imagine seeing in the college classroom. There's a lot of great information presented here, but it is very much in lecture format.
I did really enjoy the great history lesson. I did not quite realize the trials these men went through to preserve the Bible and bring it to all people. It was quite amazing, and the documentary did a good job explaining that. I also liked being able to see some of the very first Bibles ever printed.
You can purchase The Forbidden Book for $19.95.
Be sure to check out all the other Crew Reviews for New Liberty Videos. There were a total of six DVDs reviewed, so there are other topics to check out!