After reading Money Saving Mom's reading list for 2012, I was inspired to make my own reading list. Now, I'm not going to commit myself to reading two books per month. Now is just not the time for me to put that kind of pressure on myself. There may be months I only get through one book, and there may be months I can get through three or four.
So, I decided to make a list of books I would really like to read this year. Some of these books I'll be able to get at my library, and some of these books I will have to purchase.
I have a variety of ebooks and paper books that I want to tackle this year. Each book will hopefully help me learn a little bit and grow more as a person. I'm going to dive into some more real food books, some homeschooling books, and just some good, Christian books.
Without further ado, here is my reading list for 2012!
Real Food: What to Eat and Why

For the Love of Learning: Information & Resources for Combining Charlotte Mason & Classical Education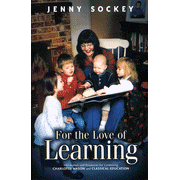 Homesteading: A Backyard Guide to Growing Your Own Food, Canning, Keeping Chickens, Generating Your Own Energy, Crafting, Herbal Medicine, and More

The Backyard Homestead: Produce all the food you need on just a quarter acre!

Back to Basics: A Complete Guide to Traditional Skills, Third Edition

So, that's my list this year. I want to read a lot of homesteading books because the subject fascinates me and one day I'd like to be a lot more self-sufficient.
What's on your reading list?
Please note: This post is full of affiliate links either to Christianbook.com, Barnes and Noble.com, or the websites of the ebook authors. Any money made from the sales from my page goes straight to building my family's emergency fund. I have ordered from every site above and never had a problem. Obviously, I cannot recommend these books as "great reads" because I have not read all of them. They have all been highly recommended to me, though. In case you're wondering, I cannot be an affiliate of Amazon because Amazon does not allow the affiliate program in my state of residence.
This post is happily linked to