It's been three weeks since the traumatic birth of my sixth baby. Thankfully we do have a happy ending to our story, but his birth went absolutely nothing like I expected. I will just jump on in and start with the beginning.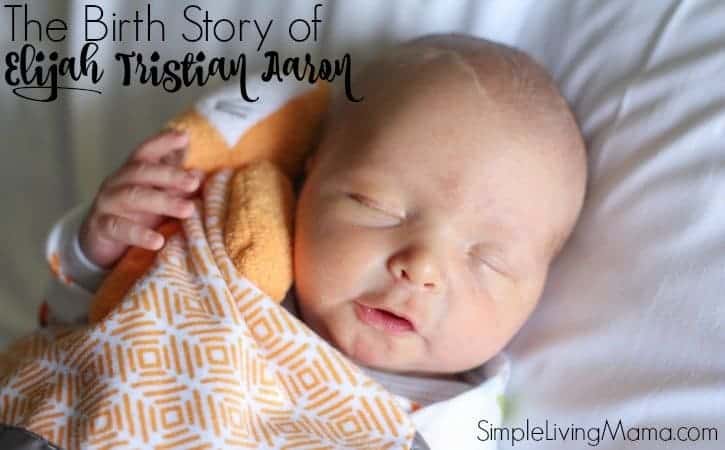 The Birth Story of Our Sixth Baby
I went to my 39 week appointment on September 7th. During that past week I had about two instances of prodromal labor. If you don't know what that is, basically I would start to have contractions that seemed to get into a regular pattern for a bit, but instead of getting stronger and continuing, they would stop. I could usually get up and walk around or take a shower to make them stop. It's annoying because it starts the same as true labor, so you never really know if you're in labor until the contractions continue through anything and get stronger.
So, I had my first cervical check at 39 weeks and I was only about 1 cm dilated. Even though I was not dilated, I felt like I was not going to make it to my due date of September 14. We did discuss doing an induction on my due date if the baby had not arrived, but I was confident I would go into labor on my own.
The next day I was extremely tired and irritable. I only wanted to rest. I could tell my body was telling me I needed to rest. Of course, that's difficult with several small children, so I did not get much accomplished.
That evening I had a strange feeling that we needed to make sure everything was packed. I made sure all of our bags were packed and I told my husband to make sure the pizza was all cleaned up from our Friday night pizza and I went to bed.
I woke up at 1 a.m. with contractions. I asked my husband the time and realized they were about 5 minutes apart. I laid in bed for a bit trying to go back to sleep, but could not, so I got up, walked around and bounced on my exercise ball. The contractions were slowly getting stronger. I laid down for another bit and the contractions were not stopping.
As much as I did not want to wake up everyone in the house, I knew we needed to drop the kids off and get to the hospital. It would take at least 45 minutes to do all of that. We left the house around 3 a.m. We dropped the kids off with my grandparents and went to the hospital. Since we were so early on a Saturday morning, we had to enter the hospital through the emergency room. I remember walking down the long hallway to the main hospital while wearing my husband's hospital shorts. I thought I looked ridiculous as I glanced at my reflection in the windows. The big basketball shorts were pulled up over my giant belly.
Walking was a relief to my contractions, but I was so tired that when the nurses asked me questions about my medications I couldn't get my answers straight. We finally got into our room and I tried to get comfortable. The nurse checked me and I was already dilated to 6 cm.
My parents got to the hospital around 6:30 and I requested my epidural around 7. The contractions were strong, but not unbearable. My water had not broken, so I was able to handle everything pretty well.
My doctor was not on call, so I ended up with a doctor I had never met. She was going to break my water, but decided not to because the baby's head was still too high. That's when they decided to give me pitocin to hopefully bring the baby's head down.
About an hour later the nurse checked me and my water broke. There was meconium in my water. I was not scared at the time about the meconium because two of my other babies had meconium, and it was very shortly after that when my little man's heart rate plummeted.
I could tell there was an issue with the heart rate because I couldn't hear it beating on the monitor. The nurse was trying to stimulate the baby's head while she was checking me and she told the student nurse to call the doctor.
That is when things got crazy.
There were a few nurses in the room. They turned me on my left, then they turned me on my right. The doctor put a fetal monitor on the baby's head while he was still inside of me. His head was still in a bad position, but she wanted me to go ahead and push because he needed to come out.
Y'all I have never pushed so much in my life. I pushed on my side, I pushed up on my knees with an epidural. It was crazy. The doctor ended up placing a vacuum on his head to pull him down. She told me if I didn't push him out within a few minutes they would have to take me for an emergency c-section. Somehow after she got him down in the birth canal with the vacuum, his heart rate stabilized and I was able to continue pushing him out.
He was born at 9:47 a.m. and weighed 8 lbs. 13 oz. and was 20 3/4 inches long.
She placed him on my chest and he was covered in the meconium. They quickly whisked him to the table and called in the respiratory team. I could tell his breathing was not normal because his cry was very weak. It was so scary. They gave him oxygen and he did ok with the oxygen but did not do well without it. He had aspirated the meconium into his lungs.
While all of this was going on, my doctor was shocked to see that my son's umbilical cord was tied in a true knot. Apparently that is very rare. The nurse told me that God was smiling on us, because the knot alone could have killed him.
I held him for just a few minutes before they whisked him away to the nursery. They would need to do an x-ray to see how much fluid was in his lungs and put him on oxygen.
A short while later the pediatrician came to us to tell us that our baby would need to be transported to the NICU. He had a lot of fluid in his lungs and was at risk of developing pneumonia. Our hospital did not have the resources to handle that situation, so an ambulance was called. I would have to spend that night away from him because I was so completely exhausted I needed to sleep. That was the first time I broke down about the whole situation.
And I am going to stop here. Next I will post about our stay in the NICU.
Want to read my other birth stories?
The Birth of Our Baby RIGHT BEFORE My Husband's Deployment