Homemade Cleaning Recipes with Printable
This post may contain affiliate links. Please see my disclosure and privacy policy for more information. As an Amazon associate I earn from qualifying purchases.
One of the best cleaning tips you can have in your arsenal is natural cleaning recipes. I have slowly added DIY natural household cleaners to my arsenal. I began to see which homemade cleaners actually work for me, and instances where I have to use something a little stronger (i.e. mold). I decided to pull together some of my favorite homemade cleaning recipes and offer a printable cheat sheet!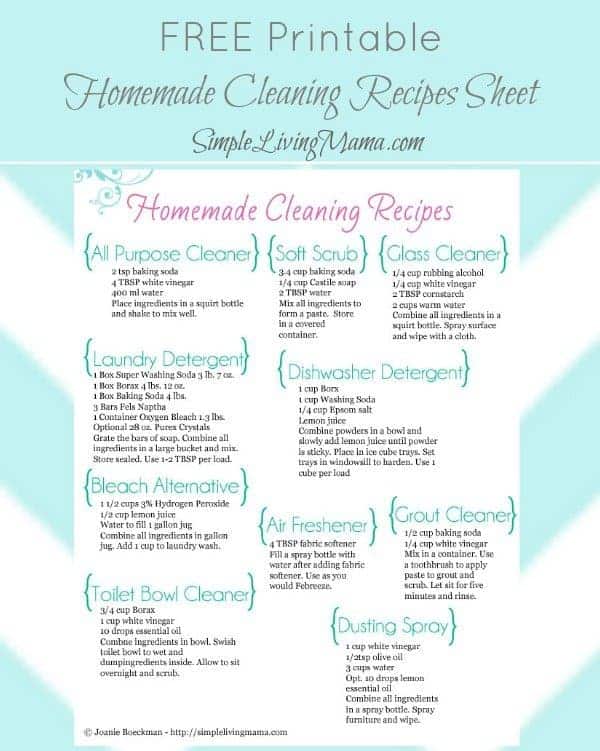 Why Use Natural Cleaning Recipes?
There are several reasons you may want to use natural cleaners. You may have someone in your family who is allergic to traditional cleaning supplies. Maybe you're just trying to reduce your exposure to harsh chemicals. Maybe you're environmentally conscious and want to cut down on the amount of plastic you purchase.
One reason we started using homemade cleaners was to save money. Cleaning supplies can cost big bucks if you aren't careful! I also just think it's plain fun to mix up these cleaners and see how well they actually work. That's probably the "sciency" homeschool mom in me!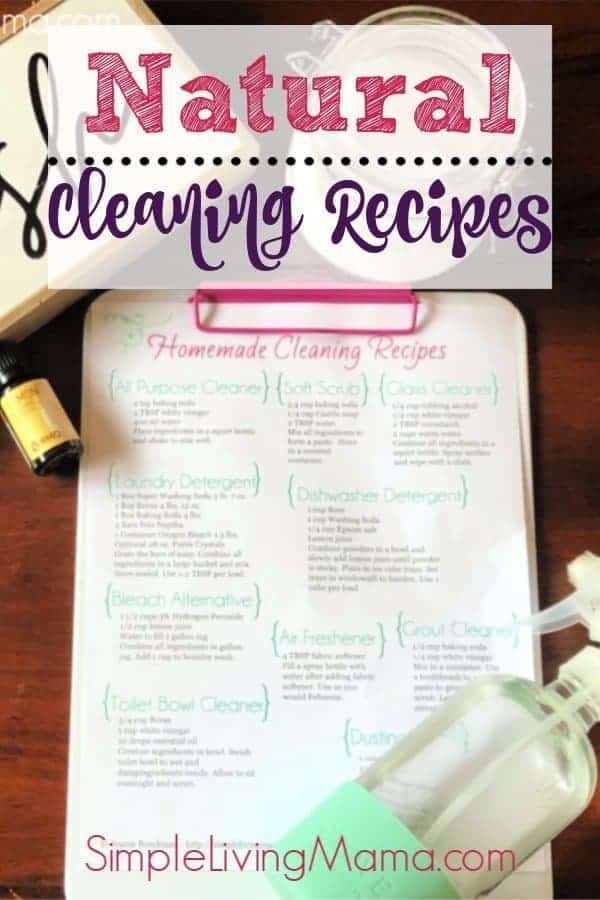 My Favorite Homemade Cleaners
Which homemade cleaner recipes do I use? Here's what you will find on my homemade cleaning recipes cheat sheet:
DIY All Purpose Cleaner – Great for cleaning laminate countertops, toilet seats, and other hard surfaces. (also try this DIY All Purpose Cleaner without vinegar)
Homemade Soft Scrub – You can also use Dawn dish detergent instead of Castile soap. I love using this to scrub the tub.
Glass Cleaner – Make your mirrors shine! This is a glass cleaner I'm fine with letting my kids use.
Laundry Detergent – The version on the sheet is for a smell-good detergent. You can use an essential oil instead of the Purex crystals. I think lavender would be an excellent choice. I get away with using just the super washing soda, borax, and Fels Naptha. I add Oxygen bleach as needed to individual loads.
Dishwasher Detergent – Yay for chemical-free, clean dishes!
Bleach Alternative – This is a great way to whiten your clothes without bleach!
DIY Linen Spray – I would spray my curtains and upholstered furniture with this rather than spray in the air.
Grout Cleaner- I will be whipping up a batch of this pretty soon to clean my grout!
Toilet Bowl Cleaner – I use orange essential oil in my cleaning products. The orange is so energizing and uplifting when you're scrubbing a toilet!
Dusting Spray – Another one you can use orange essential oil instead of lemon.
Homemade Carpet Deodorizer – This simple carpet refresher works for carpet and fabric!
Homemade Foam Soap Recipe – Try this easy recipe for homemade foaming hand soap.
I just love this list of free homemaking printables. Check it out!
I've also made a homemade soft scrub with Dawn dish soap and baking soda. It works like a charm if you don't have Castile soap!
What Is the Best Homemade All-Purpose Cleaner?
The best DIY all purpose cleaner is going to be the cleaner that gets the job done! I like to do equal parts distilled water with distilled white vinegar and 20 drops of my favorite essential oil as a basic cleaner to start with.
I plan to write more posts on various DIY all purpose cleaners with hydrogen peroxide and Castile soap so we can see which ones perform the best!
My Favorite Natural Cleaning Recipes Supplies
Here you will find my favorite supplies that I use to make my homemade cleaners. These are the supplies you want to keep stocked up in your cleaning cabinet so you can whip up any homemade cleaners on the spot!
Using Essential Oils in Homemade Cleaning Recipes
Let's be honest, the smell of vinegar while cleaning isn't all that appealing. My husband actually loathes it! One of the easiest ways to add natural scents to your homemade cleaning supplies is with essential oils. I'm a huge fan of Plant Therapy. I use all different types of oils in a variety of ways.
When I'm steam mopping, I'll sprinkle some orange or lemon essential oil onto the microfiber cloth of my mop. It makes the room smell nice without any added chemicals.
Other favorite essential oils for cleaning include:
Another great way to use essential oils in cleaning is to mix with baking soda to create an incredible deodorizer. You can even add Borax if you have a flea problem in your house to kill those pests and their eggs! You can also make this DIY linen spray with essential oils.
Other Places To Shop for Natural Cleaning Supplies
My most favorite place of all to shop for natural cleaning supplies is Truly Free. I get a lot of my favorite non-toxic cleaning supplies from them. They are American made and made with ingredients you can actually pronounce.
As a VIP member of Grove Collaborative, I often get free supplies and save money on my cleaning supplies! It's definitely a win-win!
You can get your copy of our homemade cleaning recipes cheat sheet by subscribing to our weekly newsletter. You will receive a recap of all of the weeks posts, plus homemaking/homeschool related freebies and deals I have found throughout the week.
No more scouring the Internet for a recipe. You will have all of my favorites right in your Clean and Organized Home Management Binder.
This cheat sheet is available in our Homemaker's Resource Library for subscribers. Sign up here!
Now let's put those cleaning supplies into action! Learn how zone cleaning can help you keep your house cleaner than it's ever been! I break my house into zones and only focus on deep cleaning one specific zone per week to keep my deep cleaning workload to a minimum!
More Cleaning Resources:
Favorite Dollar Store Cleaning Supplies
Free Monthly Cleaning Calendars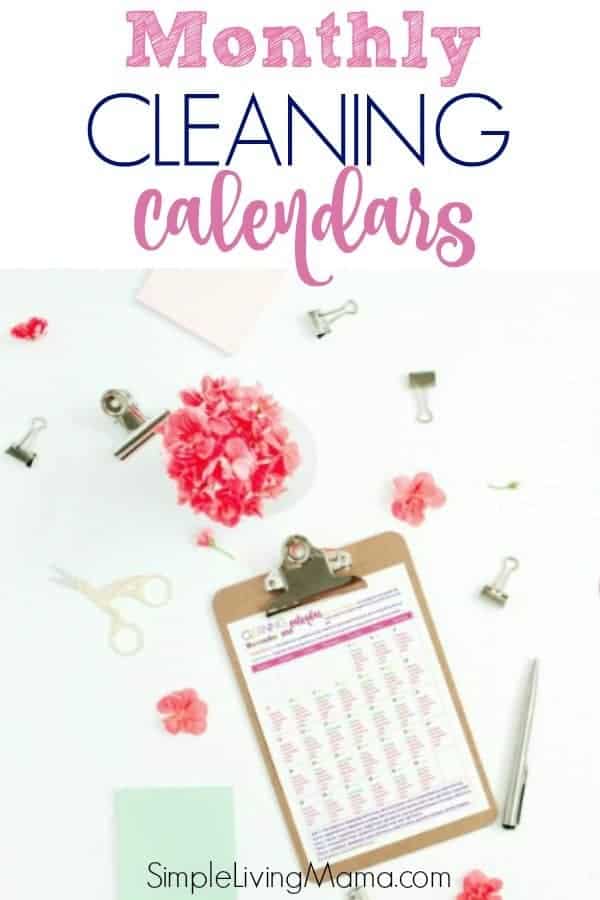 Save this free printable homemade cleaner cheat sheet for later!