DIY Linen Spray with Rubbing Alcohol
This post may contain affiliate links. Please see my disclosure and privacy policy for more information. As an Amazon associate I earn from qualifying purchases.
I always love when I find natural cleaning recipes that work. Today I'm going to share with you my absolute favorite DIY linen spray with rubbing alcohol recipe. The rubbing alcohol helps to give the linen spray disinfectant properties and depending on which essential oils you choose you can add other properties your fabric refresher.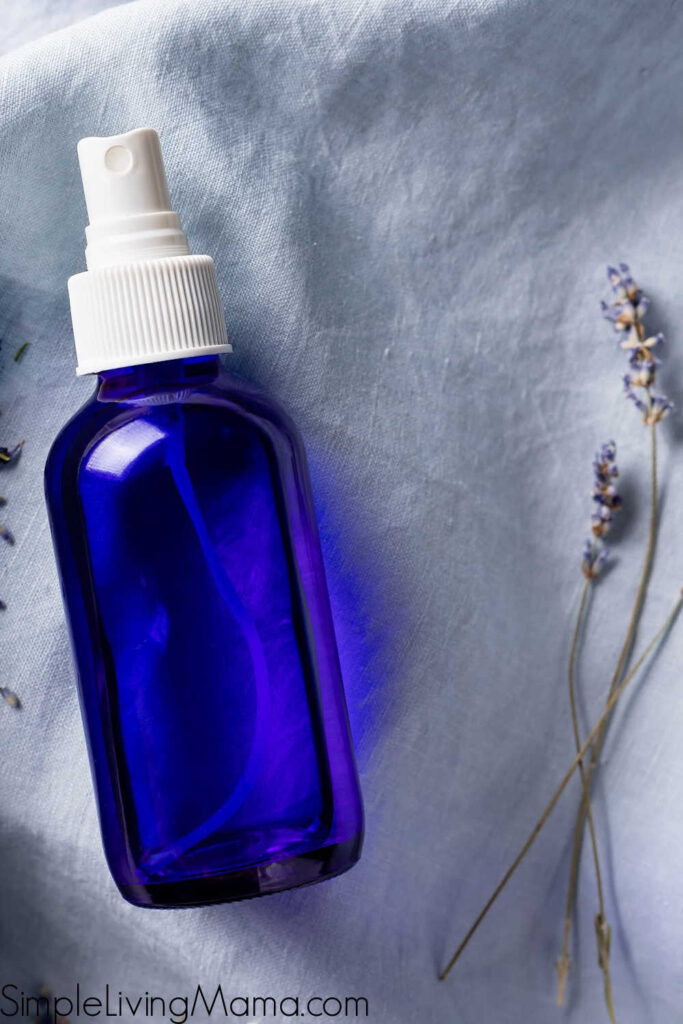 How To Make Your Own Linen Spray with Essential Oils
This DIY linen spray is make with rubbing alcohol and some of my favorite essential oils. I'm also going to give you some different essential oil options to add other properties to your spray.
Fabrics tend to hold smells in, so choosing essential oils that you like is important.
I love to use my DIY fabric refresher with rubbing alcohol on my couch, my area rugs, my curtains, and of course, my sheets! You can also spray your linens in your linen closet to freshen them up!
Here's what you need to make your DIY linen spray:
1 cup distilled water
1/4 cup rubbing alcohol
10-20 drops of essential oils
a spray bottle
I have gotten into the habit of saving my old spray bottles so I can just reuse them!
In a glass mix together the rubbing alcohol and 10-20 drops of your essential oils. Pour 1 cup of distilled water into the spray bottle and add the alcohol/essential oil mix. Shake well before spraying your linens!
This homemade room spray is excellent for making any stale room smell fresh! Use it after you've cleaned your couch or done a deep clean with your living room zone cleaning.
Now, let's talk about the therapeutic properties of different essential oils you can use in your DIY febreze fabric refresher!
Lavender Lemon
I love the calming affect lavender has, and it's perfect to use alone in your linen spray for your bedroom. Adding lemon gives it a bit more of an uplifting scent, which is great for living spaces!
Zesty Citrus
If you really want a combination that will wake you up and make your home smell fresh, you have to try this one! Bergamot is one of my favorite citrus scents. It's so good!
Sweet Floral
I like to use this combination when I'm in the mood for a sweet, yet flowery scent. It always gets the job done!
All of these oils are part of the Kidsafe line which is important to me since I have very young children in the house.
DIY Linen Spray with Witch Hazel
If you don't have rubbing alcohol or would rather not use it, you can replace it with witch hazel. While witch hazel is usually used topically to relieve inflammation and skin conditions, it won't come with the same disinfecting properties of rubbing alcohol.
We hope you enjoy this DIY linen spray recipe with rubbing alcohol and essential oils. Let us know if you try it!
DIY and Natural Homemade Recipes
More DIY and natural cleaning recipes to try!