The Best Big Van for Large Families
This post may contain affiliate links. Please see my disclosure and privacy policy for more information. As an Amazon associate I earn from qualifying purchases.
So, we made a pretty big purchase a few months ago, and we are pretty excited about it! When it comes to large family living, sometimes you have to do things a little to the extreme to make it work. We had been driving and riding in a 2015 Honda Odyssey for nearly five years, and while I LOVED that van, my six kids were pretty cramped. When we found out we were going to be adding baby #7 to the family, we knew we had to upgrade to a big van. Let's take a tour of the Ford Transit 350 XL 15 passenger van for large families!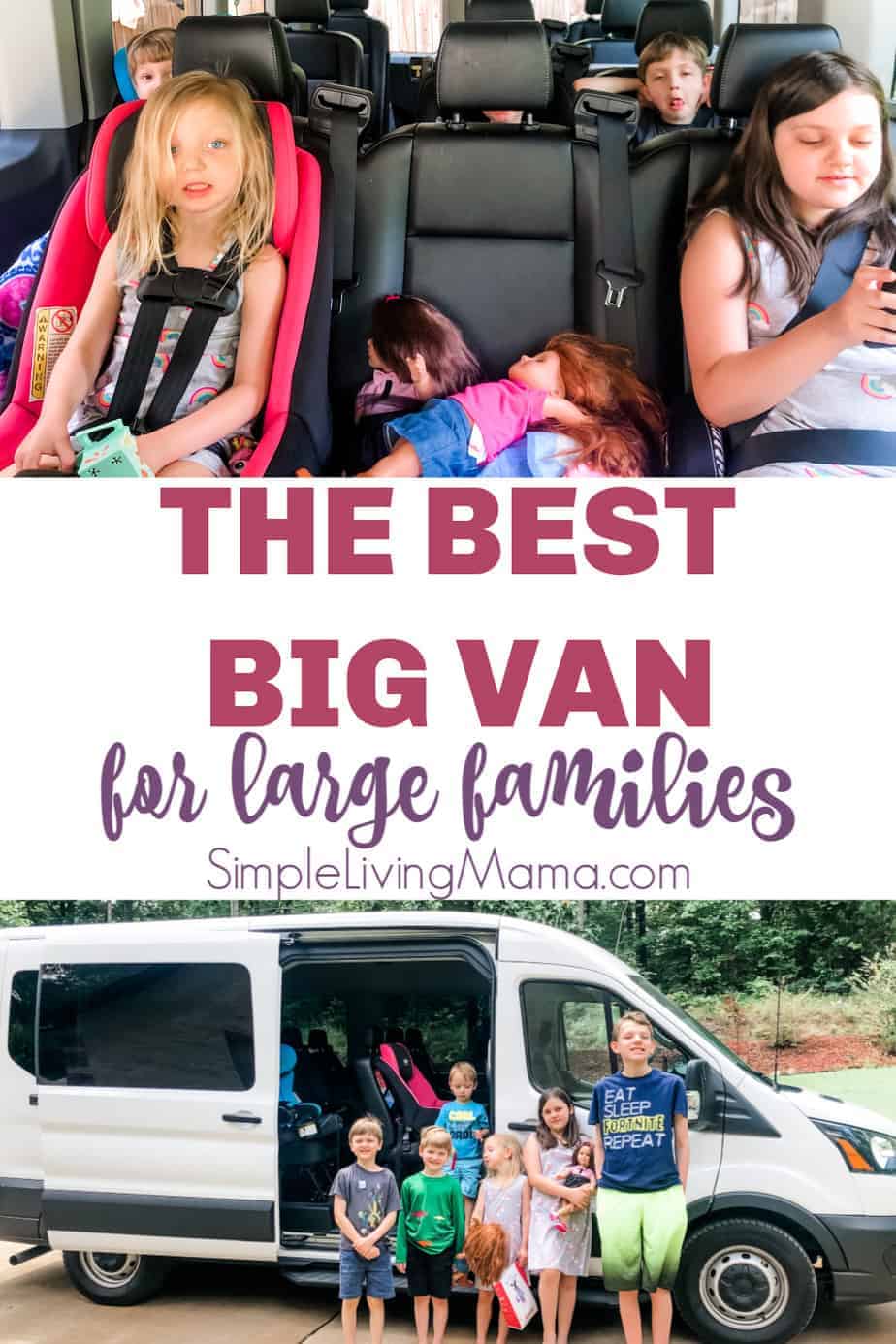 What is the best van for a large family?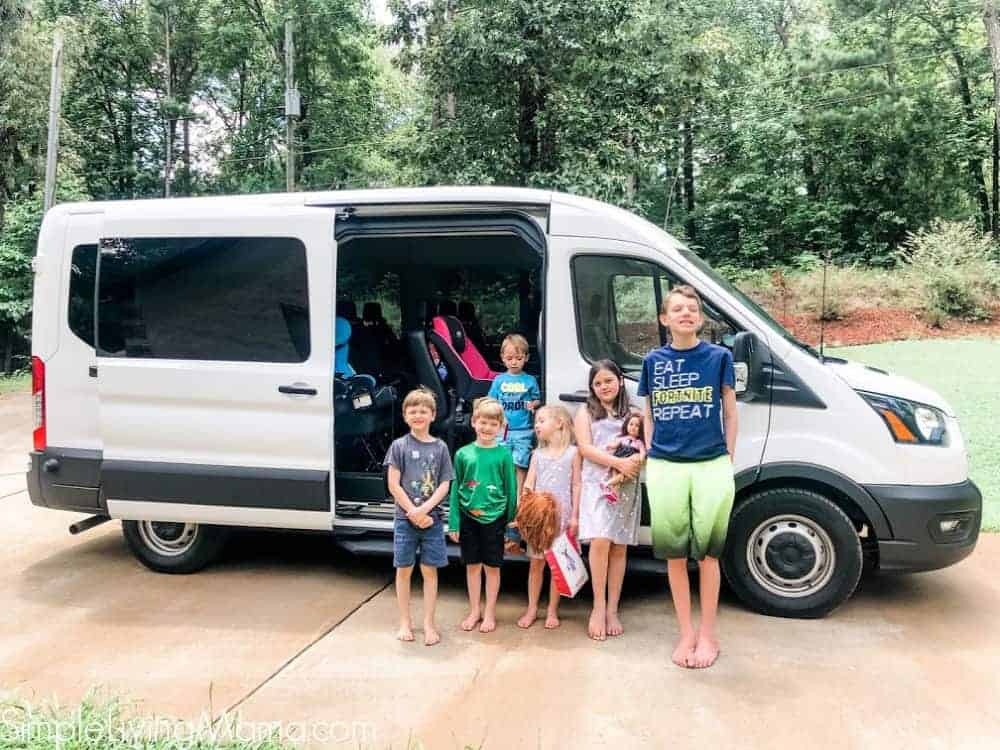 Before we purchased our Transit, we debated on purchasing the Nissan NV 3500 or the Ford Transit 350. I really liked the look of the NV, so we did a lot of research and watched a lot of reviews. Most of the reviews I watched said that the NV drove more like a truck and the Transit drove more like a van. I was really nervous about driving a bigger vehicle. Ultimately, after we got insurance quotes we decided to go with the Transit because the insurance was significantly less than the NV. And if you're wondering, yes my kids do own shoes, but will refuse to wear them unless we are going somewhere! Haha!
We purchased a new van and our choices within our driving range were rather limited. We ended up going with a Ford Transit 350 XL 15 passenger van. It ticked a lot of our boxes; it had vinyl seats, no carpet, a sliding door, and the larger screen for the backup camera. It also came with Apple CarPlay, which is pretty awesome.
Large Family Van Tour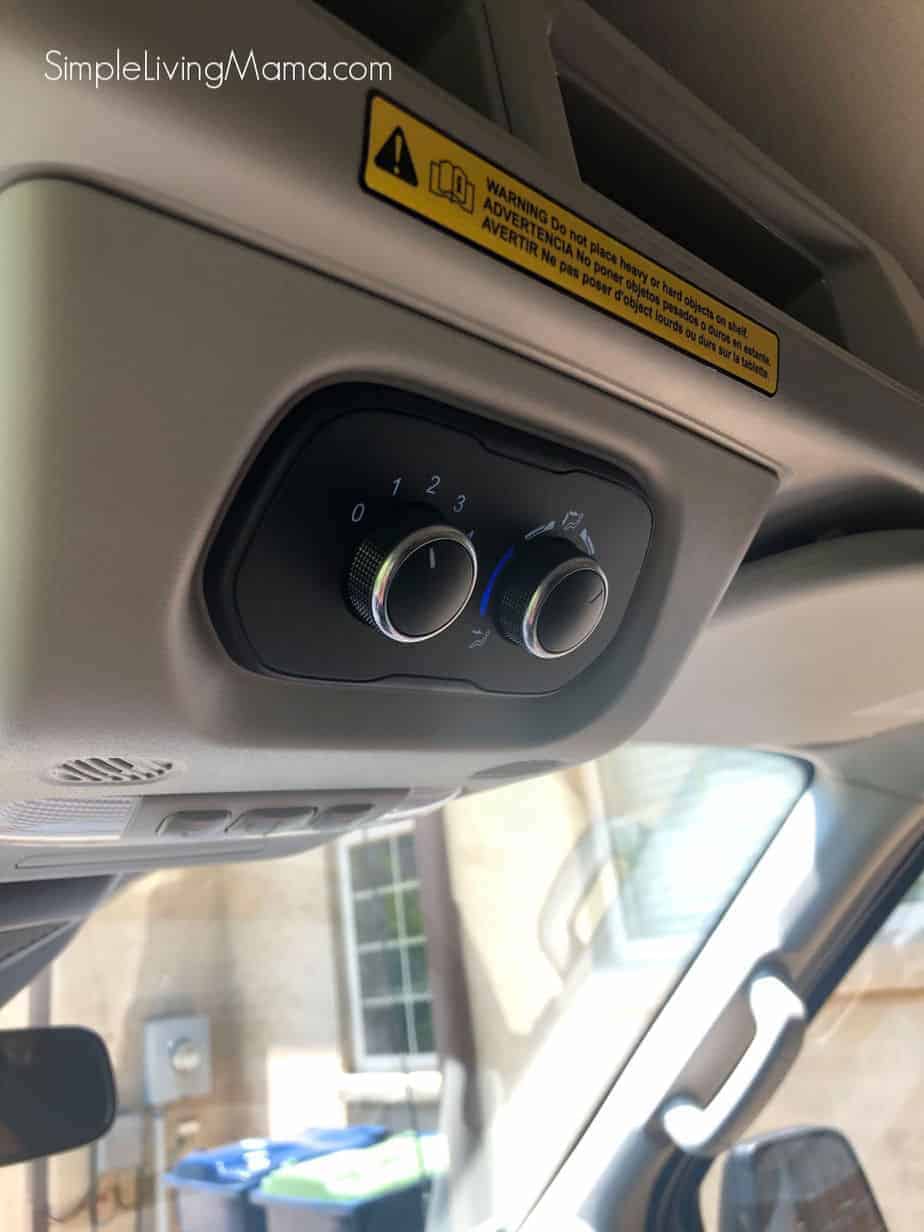 Here's a look at the rear controls for the heat and air. My kids actually get really cold and keep blankets in the van!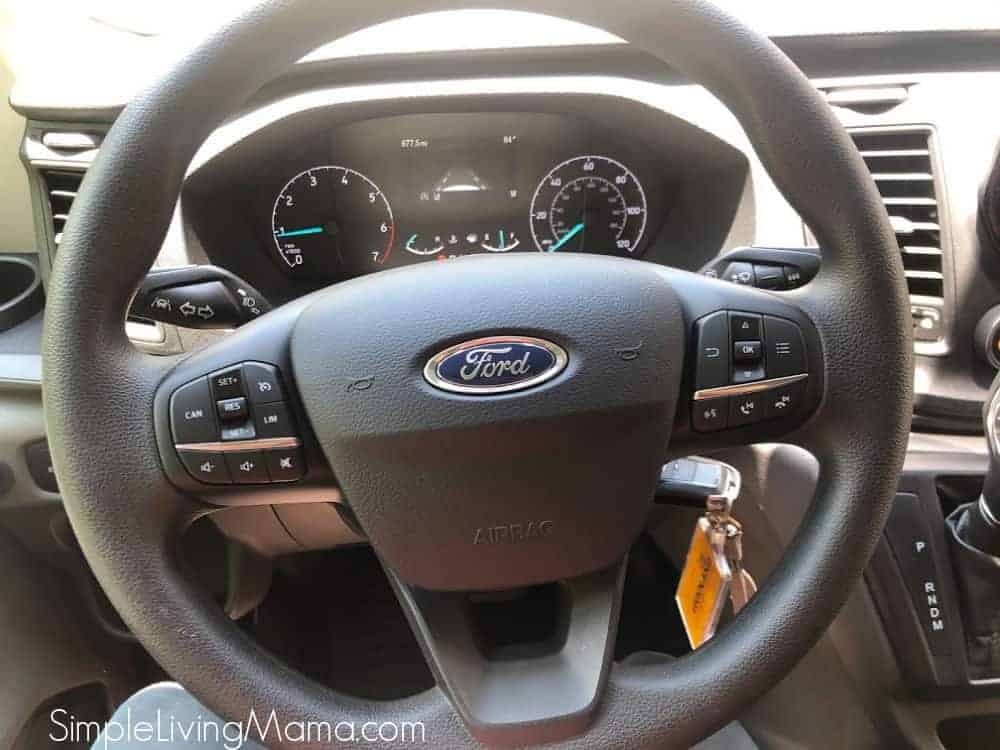 Here's steering wheel, which is actually smaller than you would expect. A few things I forgot to mention in my video, the van keeps track of the lanes and there are actually warnings if you're drifting or getting too close to a vehicle in front of you. If you drift too much, there is an option where the van will self-correct. Also, I love the blind spot indicators in the side view mirrors. They help so much when changing lanes.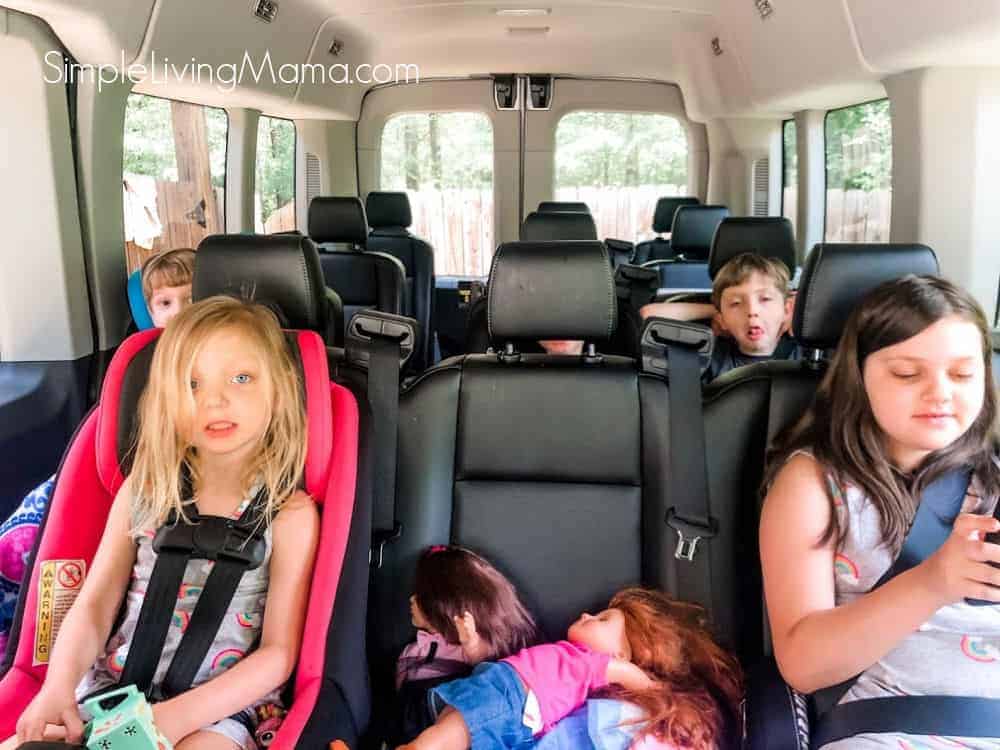 Here's a look at the back of the van from the front. We took out two seat in the very back to make space for cargo. The seats are very roomy. I can actually fit in the seat between my girls. There is no console in between the two front seats, so if I'm riding shotgun I can easily walk from the front of the van to the back.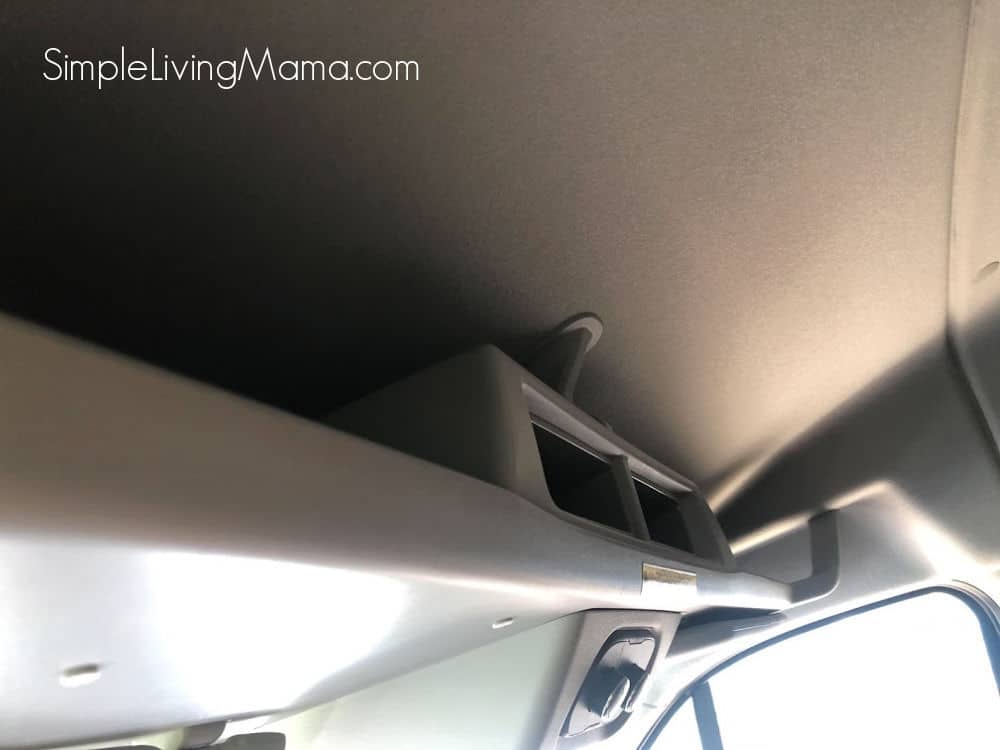 There's a huge storage compartment up above the windshield. There are grips to keep things from sliding, but we are still careful about what we put up there.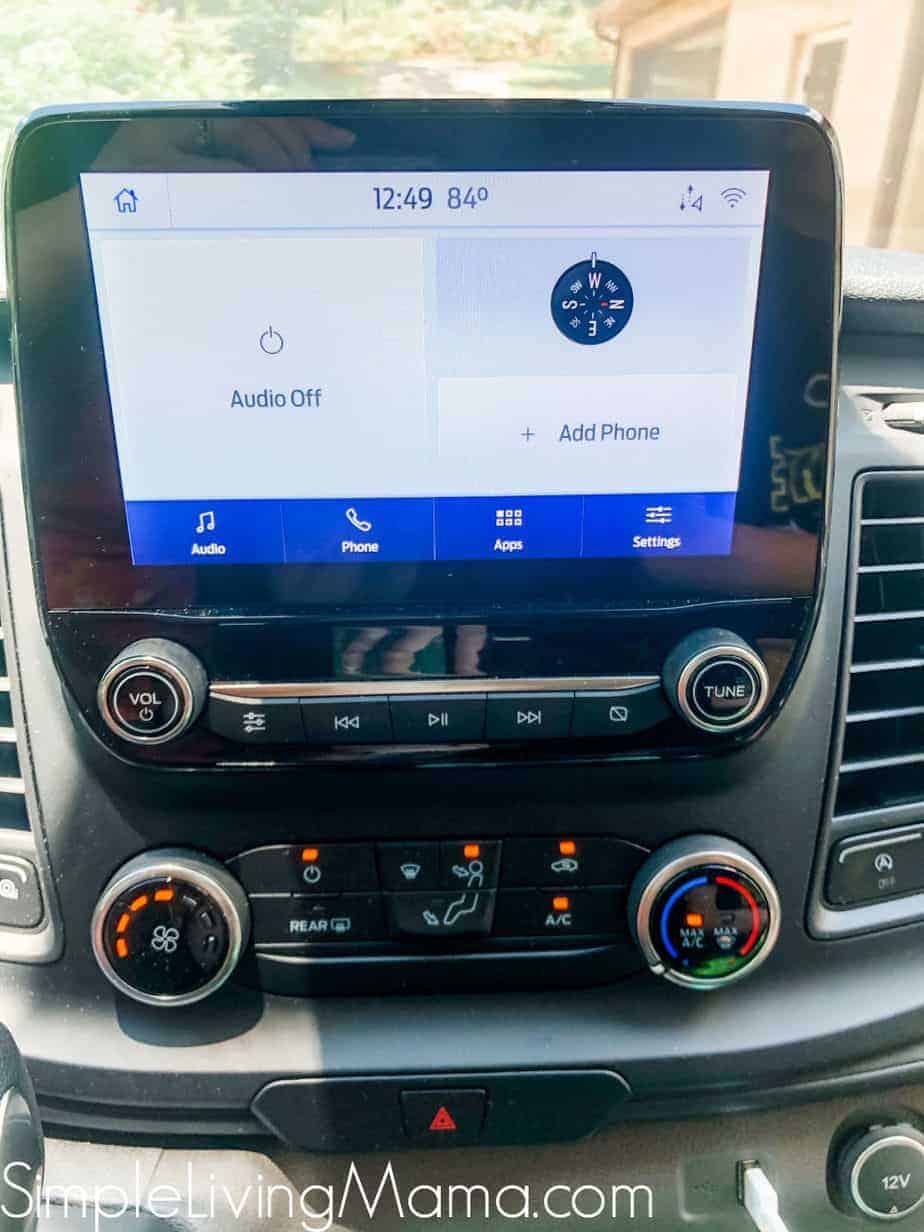 Here's a look at the screen. When my phone connects to the van, I can use the screen for navigation, to play my music, make calls, or play podcasts. Apple CarPlay is definitely one of my favorite features. I also like the large screen for the backup camera. There are lines that assist with backing this beast up, which is so helpful for me. It also beeps if you get too close to anything.
Our van is the EcoBoost and gets around 21 mpg on the highway. It has lots of cup holders and USB plugs for the kids' devices while we are traveling. It is definitely the best large van for our family! We are really enjoying it.
Pros and Cons of the Ford Transit 350
I think I've mentioned all of the pros. We love the vinyl seats, the lack of carpet, Apple CarPlay, and all of the space. We do have the Ford Transit 350 XL mid-roof. The mid-roof is great because we can easily stand up in the van, so we are all comfortable. It also doesn't sway too much on the highway when there is wind.
The mid-roof is a problem for some drive-thrus and parking garages. We can still get through the Chick-Fil-A drive-thru and Panda Express!
A few other cons to this van: It doesn't have heated seats, the front seats aren't automatic, either. Other than that, I don't have any complaints.
Do you drive a large family vehicle?