This post may contain affiliate links. Please see my disclosure and privacy policy for more information. As an Amazon associate I earn from qualifying purchases.
Since Luke and I downsized our home and I am finally coming out of my pregnancy haze, I have sat down with pencil and paper and began eeking out our budget. We have some major goals for next year and we want to get serious about accomplishing those goals. After all, the whole reason we downsized was to better place ourselves in a position to gain financial freedom. Now, I am no stranger to frugal meal planning, but here lately the grocery bills + eating out have been totally draining our budget. My number one priority right now is to get this area of our spending under control and plan frugal meals.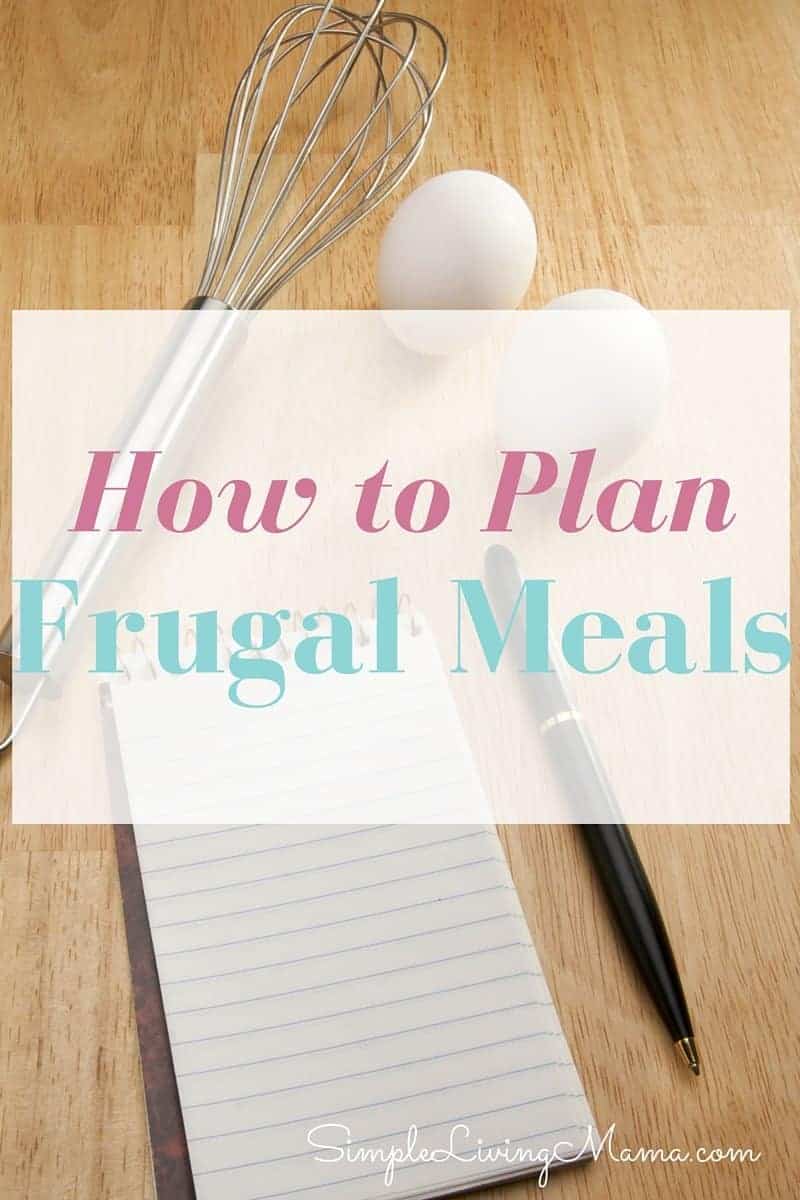 My budget is $225 a week. That covers groceries and toiletries. Remember, we are a family of 9. If you have less people in your family, your budget may be lower.
With inflation causing the price of gas and groceries to go up higher than I've ever seen, I've had to get creative with my grocery budget.
So, I've been thinking a lot about what meals I want to plan this summer. We do very basic things for breakfast: cereal, eggs/bacon, yogurt, etc. Lunch is usually leftovers or a grilled cheese or salad.
So, what about dinner? There are so many simple and delicious meals you can make with less expensive ingredients.
Here are just a few of my favorite frugal recipes; salmon patties, chili mac, and pinto beans and rice.
How To Plan Frugal Meals
Once you have an idea of the frugal meals you want to make, it's probably a good idea to check the sales at your local grocery store. We shop at the commissary on base, so I use their website to look up sales and load my rewards card.
Many other grocery stores also have websites that include their sales, so I encourage you to check out your store's website, sign up for any rewards cards they may offer and plan ahead.
Taking a little time to plan your trip will make all the difference.
My Frugal Meal Action Plan
Decide how often you want to shop.
We used to shop once a month, but that is not working for us right now. We shop weekly and occasionally every other week. I have an ebook available all about once a month grocery shopping if you're interested.
Round up your family's favorite meal ideas and make a master list of meals.
This will be your master list of meals that you can pull from if you're stumped for ideas. I've started keeping all of my shopping lists and my favorite meals list in my Clean and Organized Home Binder.
Peruse sales flyers of your favorite stores and mark any items you can use.
Adjust your meal plan.
Is there a great sale on turkeys? Add that to your plan. Sale items can really help lower your grocery budget.
Perfect your meal plan.
Run through your meal plan one more time and make sure that you have enough meals planned.
Make your shopping list.
Go through your pantry and figure out what items you will need to purchase on your shopping trip.
Look for any coupons you can use, but DO NOT use coupons to buy items you would not normally purchase.
Go to the store with a full belly, and if you can swing it, without your entourage of little ones.
That's not always, but it helps me concentrate if I'm alone.
Take cash and a calculator.
Stick to your list and your budget! My iPhone makes it really easy for me to keep my grocery list and calculator handy.
Don't forget leftovers!
You can use leftovers creatively. You can have the same meals twice in one week, or you can use leftover side dish as an accompaniment to your main dish the next night. You can also use leftovers for lunch. Don't waste your food! For example, we had leftover rice and broccoli from last night's meal. I simply baked some chicken breasts with McCormick's chicken seasoning and used our leftover sides again. Easy, peasy, and tasty!
Now you're all set to save on your grocery budget.
Want access to all of our homemaking printables including my master grocery list and a printable version of the frugal meal action plan? Join our homemaking community to get access to the Homemaker's Resource Library below!
More Tips for Planning Frugal Meals
Plan for some meatless meals. Meat can be a big budget buster, so try some meatless dishes.
Buy in bulk. Be careful with this one, but you can save money by buying in bulk. Make sure you check the price per unit to ensure you are indeed saving money.
Learn to cook from scratch. There's no way around this. Making your own snacks, pancakes, muffins, etc will save you money over buying pre-made, pre-packaged items.
More Resources to Help Plan Frugal Meals
You may also like:
Our 2016 One Income Budget (The Real Numbers)
How To Raise a Family on One Income