Because I think it's fun and I love frugal menu planning, I thought I would challenge myself to come up with a $75 one week menu plan. Now, this idea isn't original to me. In one of the homeschool Facebook groups I am in, a mama asked what others would feed a family of six for one week with only $75. There were tons of awesome suggestions in that thread.
In my opinion, $75 a week is totally manageable. There isn't much room for extras, but this budget can be done! This mama said there was absolutely nothing in the house. No spices, no pantry items, nada. So, this particular budget includes it all! Obviously, if you have some of these pantry staples on hand, you'll spend even less.
I priced all of these items on Walmart.com. I love Walmart's grocery pick-up system when we don't use our military commissary. You can try it yourself and get $10 off your first purchase with my referral link!
Don't forget you can also save money with the Checkout 51 app!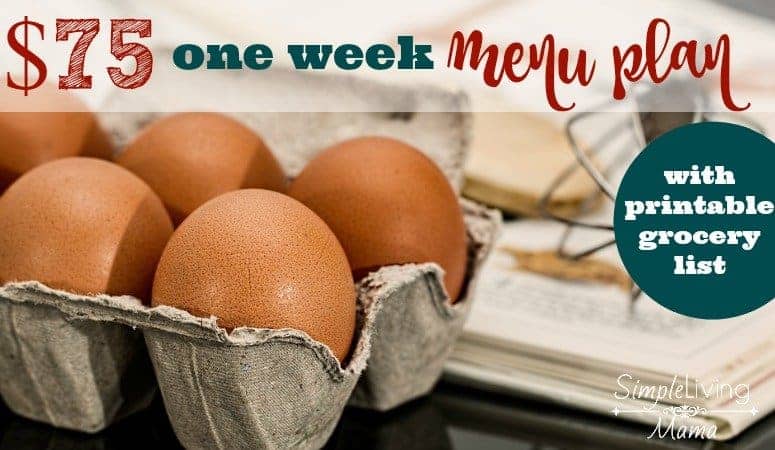 $75 One Week Menu Plan
Breakfast – Oatmeal (add sugar, sliced bananas, apples, and/or peanut butter), yogurt and apple or banana, eggs and toast
Lunch – Tuna salad sandwiches, peanut butter and jelly sandwiches, sliced fruit, sliced carrots/celery, leftovers
Dinner –
$75 Grocery List Breakdown
10 lbs. fresh chicken leg quarters – 6.48
5 lb. roll ground beef – $9.90
4 lbs sugar – 1.86
5 lbs all purpose flour – 1.72
Iced tea bags – 1.48
32 oz elbow macaroni – 1.97
2 loaves Nature's Own whole wheat bread – 5.16
.5 gallon milk – 1.93
2 lbs. white onions – 1.74
26 oz. salt – .54
Chili powder – .98
Garlic powder – .98
Onion powder – .98
Chicken bullion – 1.98
3 dozen eggs – 4.14
Peanut butter – 2.18
Jelly – 1.72
Spaghetti – 1.00
2 cans pasta sauce – 2.00
Celery – 1.48
Carrots – 1.36
10 lbs. potatoes – 4.74
12 oz. frozen mixed veggies – .98
1 can tomato sauce – .72
4 cans diced tomatoes – 2.88
3 cans kidney beans – 2.16
Mayonnaise – 2.98
2 lb. vanilla yogurt – 2.54
3 lbs. apples – 3.44
2 lbs bananas – 1.10
Quick oats – 1.64
Baking powder – 1.24
Baking soda – .50
6 cans tuna – 2.96
2 lbs. butter – 5.27
Grand total – $74.83
How I'd Meal Plan with this Grocery List
So, here's how I would break down all of our meals. I don't strictly plan breakfast, but we would have either oatmeal sweetened with a bit of sugar and maybe some diced apples. If I had cinnamon on hand, I would add a little bit. I could also serve oatmeal with a dollop of peanut butter and some sliced bananas.
Another breakfast option would be eggs and toast or yogurt and some fruit. I would be careful with portioning our fruit. The kids could share apple slices from one apple. Each child will only eat half a banana anyway, so I would make sure to portion everything accordingly.
My kids like sandwiches for lunch. I would serve peanut butter and jelly or tuna salad sandwiches. Tuna salad is easily made with mayonnaise, a diced boiled egg, and a bit of onion if you like. I would also cut up a few carrots and stalks of celery for the sides. I could also make oven fries with a couple of the potatoes. Another great lunch option would be leftovers, which my husband often takes for his lunch at work.
Let's talk dinner. I would try to get two dinners out of that bag of chicken quarters. For the first night I would bake half the bag of the chicken leg quarters. I would season them with some salt, onion powder, garlic powder, and a little of the bullion. In the baking dish, I would place chopped carrots, celery, potatoes and onion and let it all roast together.
The next night I would make a big batch of homemade chicken and dumplings. The chicken leg quarters would boil and make a broth that is the base for the entire dish.
On Wednesday, we would have leftovers. There should be plenty of chicken and dumplings left.
I would get at least four meals out of my 5 lbs. of ground beef.
The first meal would be a simple goulash. Serve any leftover veggies or fruit on the side to help round out the meal.
I would also make a basic chili, spaghetti with ground beef sauce, and shepherd's pie with mashed potatoes and the bag of frozen mixed veggies.
For drinks, I would make a large gallon of iced tea every day and water is always an option, too. There's a half gallon of milk that will be used for making mashed potatoes, but could also be served to the kids. (My kids do drink milk every day and 1/5 gallon a week wouldn't cut it, but if things are tight…)
Finally, everyone needs a good treat every now and then. I would make peanut butter cookies and sugar cookies for dessert.
Not in the budget this week, but if I had it on hand, I would use yeast to make homemade bread sticks and homemade rolls to go with some of our meals.
How would you spend $75 for a week's worth of food if you were starting with nothing? I'd love to know!
Here are some of my favorite sites for helping you save money on food:
Grab the printable version of this meal plan!


My Favorite Meal Planning Resources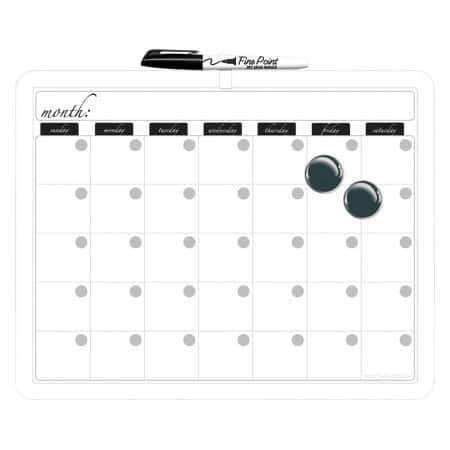 I use a dry erase calendar in my kitchen. I can write down our menu and also any big events and everyone in the family can see.
My favorite planner pens!
You'll Also Love: