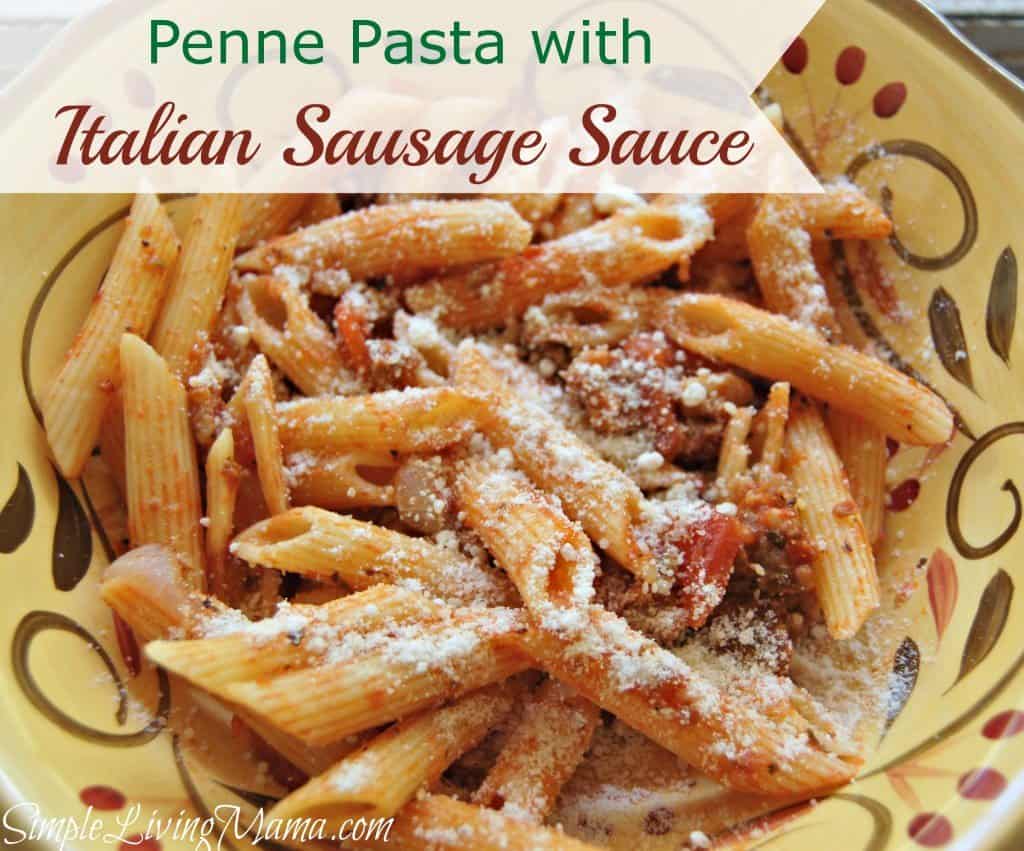 There's nothing quite like a big bowl of pasta to bring comfort. This penne pasta with a homemade Italian sausage sauce is one of the first meals I learned how to cook after I got married. We ate a lot of pasta in those days! I was very intimidated by large pieces of meat and bacon, but I was fine cooking with sausage.
I knew Mr. Simple enjoyed this dish when he got up to get seconds and ended up eating everything that was left. I was a bit disappointed there would be no leftovers for lunch, but I knew I was on to something and this meal was a keeper. I have been making it at least once a month ever since.
Italian sausage is delicious. We prefer the "mild" or "sweet" variety over the "hot." I used mild Italian sausage in this recipe and every single member of our family gobbled it up!
If you're intimidated by making your own pasta sauce, don't be! It is incredibly easy to whip together with just a few ingredients from your pantry.
This meal is very frugal and can be put together in as little as 20 minutes. As with any pasta sauce, though, the longer you let it simmer the more flavorful it is!
Serve with a big salad and a hunk of crusty bread for a complete and delicious meal!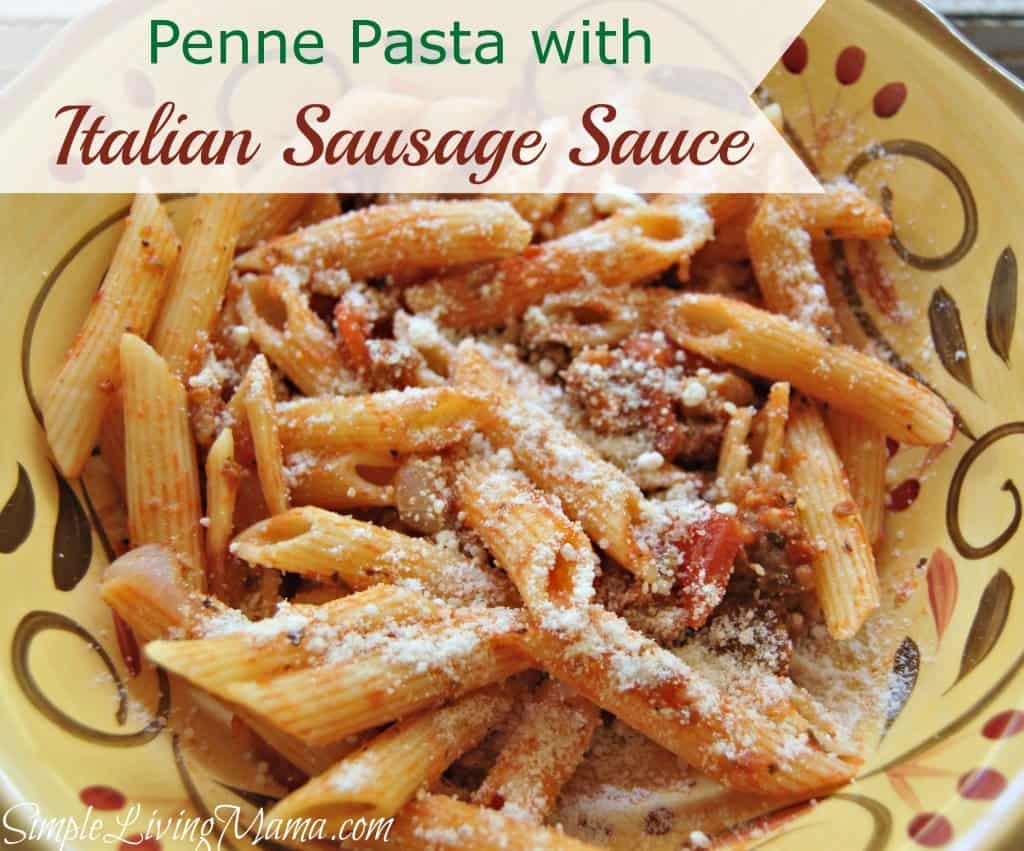 Penne Pasta with Italian Sausage Sauce
2014-05-23 03:34:01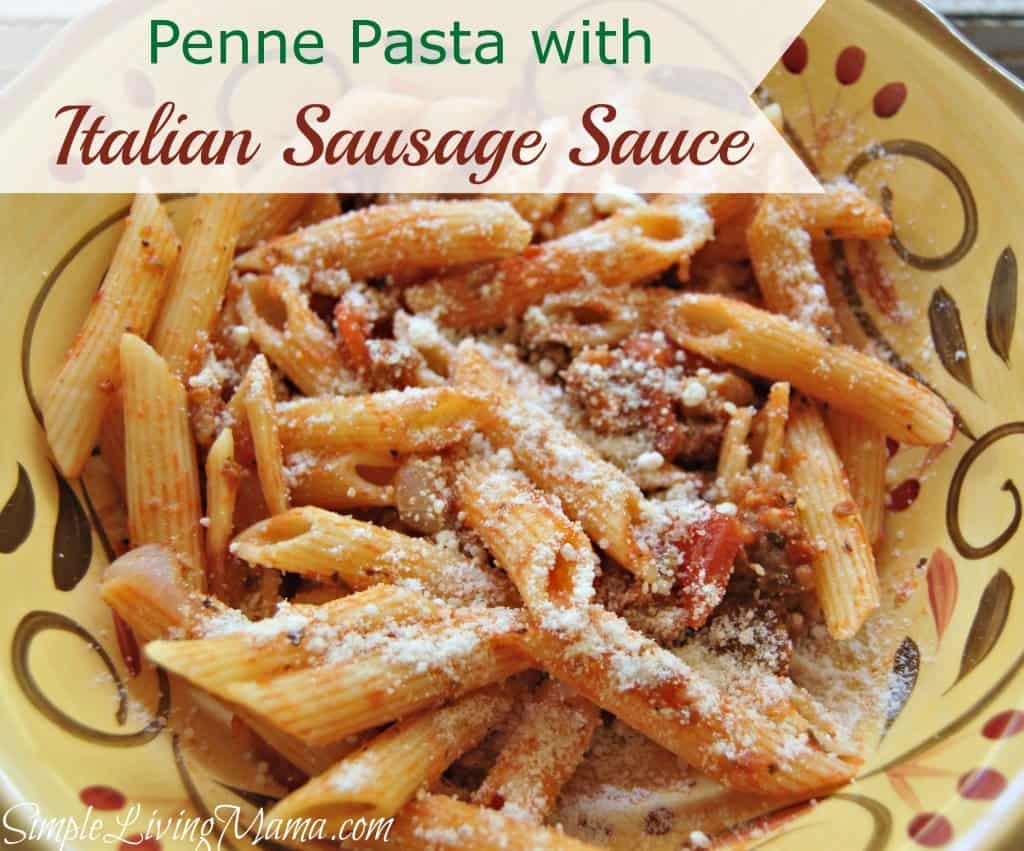 Serves 4
A delicious penne pasta cooked to al dente and served with a homemade Italian sausage sauce.
Ingredients
1 lb. Italian sausage
1 onion, chopped
1 14 oz. can diced tomatoes
1 28 oz. can tomato sauce
2 tsp. dried oregano
2 tsp. dried basil
Pinch of garlic powder
Grated Parmesan cheese to top the pasta
Instructions
In a large stockpot, bring water to a boil.
Add penne pasta and cook until al dente.
Meanwhile heat a large, deep skillet.
Crumble sausage and cook with chopped onion in skillet until browned.
Drain sausage/onion mixture and return to skillet.
Add diced tomatoes, tomato sauce, oregano, basil, and garlic powder.
Taste and adjust seasonings if necessary.
Simmer for at least 20 minutes.
Stir cooked pasta into the pasta sauce.
Serve immediately with Parmesan cheese.
Simple Living Mama https://simplelivingmama.com/
Linking to:
Weekend Potluck