This shop has been compensated by Collective Bias, Inc. and its advertiser, Mars, Incorporated.All opinions are mine alone. #BensBeginners #UncleBensPromo #CollectiveBias
We are now fully back into the swing of school time. Between our homeschool work that we do during the day, plus the activities we have the kids involved in, we are now a bit busier than we ever have been! Sis is doing dance, scouts, and Awana this year, and Bug is doing scouts and Awana. Even if we are busy with the kids, family dinners are still so, so important to us.
Now that Bug and Sis are a little older, I have started involving them in cooking with me. They love helping me in the kitchen and I love teaching them the basics of cooking. My goal is to prepare them for the day that they are on their own. They will be able to cook themselves a meal!
Last night Sis helped me with a simple, yet delicious recipe. We made vegetable rice pilaf and we are going to share with you how we made it!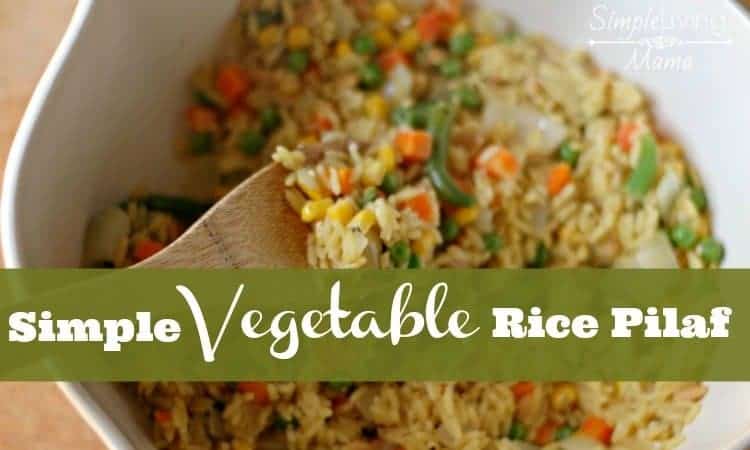 Simple Vegetable Rice Pilaf
First, gather the ingredients. This recipe couldn't be simpler.
We used Uncle Ben's Ready Rice in the rice pilaf flavor. You will also need one onion, 16 oz. of frozen mixed vegetables, a little olive oil, and garlic.
You can find Uncle Ben's Ready Rice in the rice aisle at Walmart.
Next, I had Sis help me chop the onion. We are working on her cutting skills.
Then we heated some olive oil in a skillet and added the onions and garlic.
Once those were cooked until the onions were translucent, we added the frozen mixed veggies.
We let the veggies get heated through, and then we added two packages of Uncle Ben's Ready Rice in the rice pilaf flavor. It was so, so easy. I broke up the rice a little bit and then added about a tablespoon of water and let the entire dish heat through. Then it was done!
Sis was so excited that she helped me make the side dish for our dinner. Cooking is such an essential life skill and I want to encourage you to cook with your family! Get your kids in the kitchen with you and whip up something yummy! You can even start with this recipe.
October 15th is Cook With Your Kids Day! Ben's Beginners wants to encourage you to cook with your kids. You can teach your kids an essential life skill and have fun doing it! Plus, you can win great prizes!
#UncleBensPromo Sweepstakes
Ibotta offer – $0.75 off Ready Rice products exclusively at Walmart
You can also enter to win $15,000 for your family and $30,000 towards a cafeteria makeover for your child's school with Ben's Beginners! Isn't that amazing?
Get more inspiration for cooking with your kids here!
Simple Vegetable Rice Pilaf
2016-10-04 14:49:39
An easy recipe for vegetable rice pilaf.
Ingredients
2 bags of Uncle Ben's Ready Rice - rice pilaf flavor
1 onion, chopped
2 cloves garlic, minced
16 oz. frozen mixed vegetables
2 tbsp. olive oil
Instructions
Heat olive oil over medium heat.
Add onions and garlic. Cook until onions are translucent.
Add frozen mixed vegetables. Cook until heated through.
Add Ready Rice. Break up with spatula and heat through. If needed, add a tbsp. of water to soften the rice.
Simple Living Mama https://simplelivingmama.com/