Chicken and Dumplings from Scratch
This post may contain affiliate links. Please see my disclosure and privacy policy for more information. As an Amazon associate I earn from qualifying purchases.
My husband loves comfort food. One of his favorites is chicken and dumplings. I never cared much for the meal, but decided I should learn how to make it since he loves it so much. When I first started making chicken and dumplings from scratch, I had a hard time making them thick and creamy. I had always preferred a thinner broth for my dumplings, but Luke would carefully remark about how his mom always made her thick. Whenever we go to Cracker Barrel he always orders the chicken and dumplings because they are thick and creamy.
After trial and error, I have finally figured out how to make chicken and dumplings from scratch and they are thick and creamy. This meal is truly from scratch. You have to use a whole chicken and the bones. There are a couple of ways you can do this. You can use a rotisserie chicken, pick the meat off, and then make broth with the carcass, or you can use a raw whole chicken and make broth by boiling the whole chicken. You'll pick the meat off after it cooks and then return it to the broth. This meal takes a bit of time, and the dumplings are going to be messy when you make them, but it is definitely worth it, especially if it is one of your man's favorite meals!
Chicken and Dumplings from Scratch
Chicken and Dumplings from Scratch
2014-11-07 14:56:54
Serves 8
For the broth
1 whole chicken, either raw or rotisserie - If using rotisserie go ahead and pick the meat off
8 cups water
1 onion, quartered
2 cloves garlic, smashed
Pinch of salt
For the dumplings
2 cups flour
1/2 teaspoon baking powder
Pinch of salt
2 T. butter
1 cup milk
Instructions
Place a whole chicken, or chicken carcass into a stockpot.
Cover with water.
Add onion, garlic, and salt.
Bring to a boil and allow to simmer until raw chicken is cooked.
If using a carcass, let it simmer for at least two hours. If boiling a whole chicken, let it cook for at least 90 minutes until meat is falling off of the bone.
Remove chicken, bones, and veggies. Skim fat off the top of the broth.
Allow chicken to cool, and pick the meat from the bones.
While chicken is cooling, prepare your dumplings.
In a bowl combine flour, salt, and baking powder.
Cut the butter in using a fork. Dough should be crumbly.
Stir in the milk, mixing with a fork to form a ball.
Heavily flour a working surface and also flour a rolling pin. The more flour you use, the thicker your soup will be.
Roll the dough into a thin rectangle.
Using a butter knife or pizza cutter, cut long strips into your dough, then cut across the dough to form small rectangles.
Bring broth back to a boil, add chicken back to the pot.
Carefully place dumplings into boiling broth, one at a time.
Continue cooking for about 20 minutes until stew thickens and dumplings are done.
Notes
You may want to add more seasonings to your broth. You can add more salt and pepper. Taste the broth before you add your chicken and dumplings back into the pot and adjust the seasonings for your taste.
Simple Living Mama https://simplelivingmama.com/
You may also like: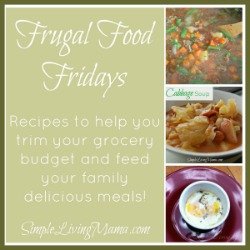 Linking to: Motivation Monday