Pineapple Strawberry Limeade Mocktail
This post may contain affiliate links. Please see my disclosure and privacy policy for more information. As an Amazon associate I earn from qualifying purchases.
This shop has been compensated by Collective Bias, Inc. and its advertiser. All opinions are mine alone. #NewWayToSparkle #CollectiveBias
As a pregnant mama who just recently graduated to nursing mama for the fifth time, I'm always looking for yummy new drinks that I can indulge in. One of my absolute favorite drinks ever is a strawberry limeade. I decided to come up with my own tropical version that is both light and refreshing. It's perfect for spring and summer evenings out on the patio, or lazy afternoons by the pool.
Here's what you'll need to make my pineapple strawberry limeade mocktail:
Half a Lime, Plus Lime wedges
4 Tbsp. Sugar
1 can Dasani Sparkling Tropical Pineapple
1 can Dasani Sparkling Lime
6 Tbsp. Simple Syrup
6 Strawberries, Sliced
Frozen Pineapple Chunks for Garnish
Start by rimming your glass with a lime wedge.
Then place it in a plate with sugar to coat the rim.
Slice the strawberries.
Squeeze half a lime into a cocktail shaker with the strawberries and simple syrup. Using a muddler, mix all the ingredients together, then shake!
Pour half of the strawberry/lime mixture into one glass and half in the other over frozen pineapple chunks.
Then pour half the Tropical Pineapple Dasani Sparkling in one glass and half in the other. Top with Dasani Sparkling Lime.
You can find Dasani Sparkling at Target in the sparkling water aisle. They have new, sleek cans and come in a variety of flavors! You can get Dasani Sparkling for an intro price of 3 for $9 and a 5% Cartwheel offer until 5/14/16!
So yummy and refreshing!
I really enjoyed sipping this mocktail and pretending I was on the beach somewhere in between feedings for my two week old baby. If you're pregnant or nursing, definitely give this mocktail a try if you want a fancy drink!
Pineapple Strawberry Limeade Mocktail
2016-05-02 16:17:29
A sparkling drink made with Dasani Sparkling Tropical Pineapple and fresh strawberries and limes.
Ingredients
Half a lime, plus lime wedges
4 Tbsp. sugar (for rimming glasses)
6 strawberries, sliced
6 Tbsp. simple syrup
1 can Dasani Sparkling Tropical Pineapple
1 can Dasani Sparkling Lime
Frozen pineapple wedges for garnish
Instructions
Rim glasses with lime wedge and then dip in sugar to rim glasses with sugar.
In a cocktail shaker use a muddler to combine the strawberries, lime juice from half a lime and simple syrup. Shake.
Pour into two glasses over a few frozen pineapple wedges.
Pour half the Dasani Sparkling Pineapple into one glass, and half in the other.
Top with Dasani Sparkling Lime.
Simple Living Mama https://simplelivingmama.com/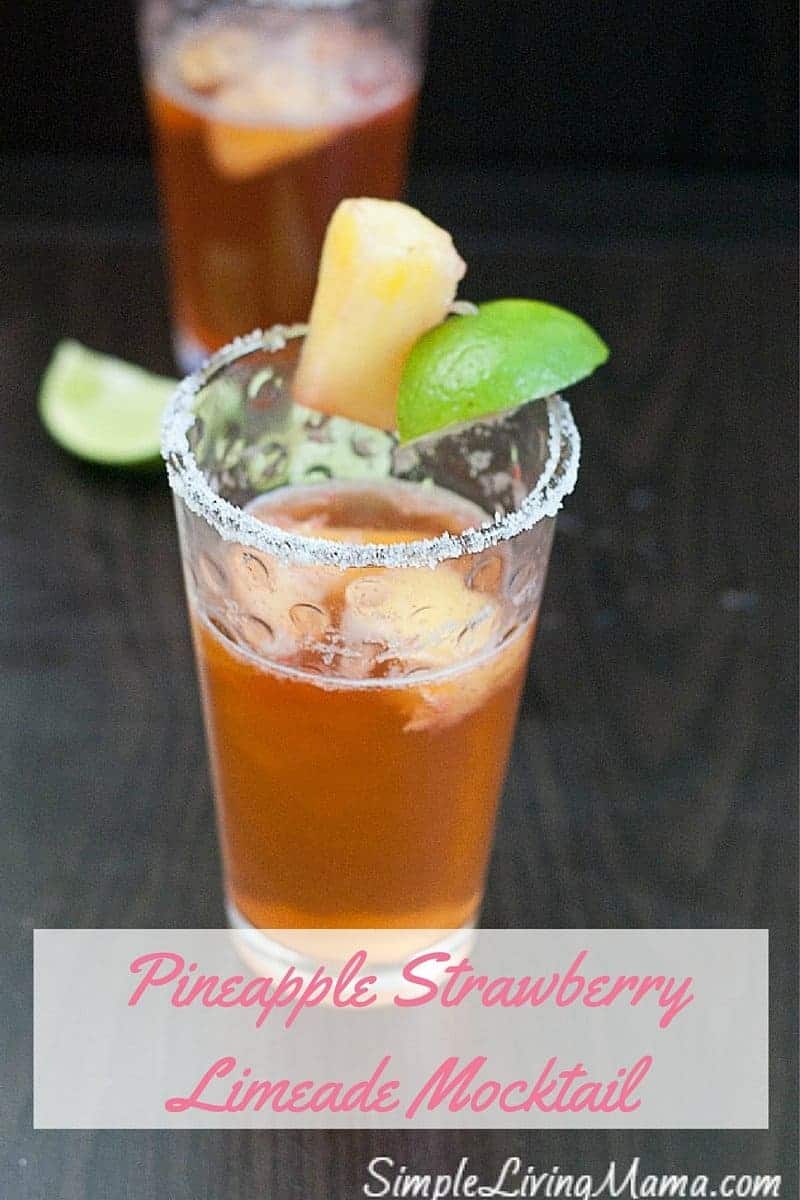 Find more recipes and a NewWayToSparkle!