Slow Cooker Chicken Burritos
This post may contain affiliate links. Please see my disclosure and privacy policy for more information. As an Amazon associate I earn from qualifying purchases.
You know what I love? Easy, simple meals. Slow cooker meals top my list of easy meals. I believe every mom should have a few favorite slow cooker meals tucked away in her back pocket. Slow cooker meals literally save us from the drive through. As long as I plan ahead on a busy day, I can put dinner in the Crock Pot in the morning and it's ready for us in the evening. Those are the best simple living recipes. These easy slow cooker chicken burritos are no exception.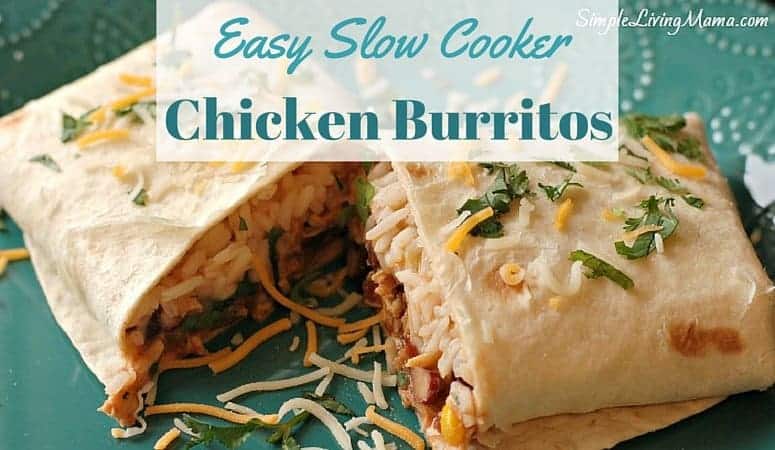 Slow Cooker Burrito Filling
My hubby actually came up with the concept of slow cooker chicken burritos. He was looking for a something to make while I was on bedrest after having our fifth baby, so he decided on this recipe. The first time he made it was on a day that I had a doctor's appointment. I came home to a clean house and dinner. That's a win in my book!
These slow cooker cheesy chicken burritos are beyond delicious and incredibly easy to make!
A lot of these ingredients are items I include in my pantry and they are always on my master grocery list. Even if we don't have all of the ingredients, this recipe is so easy to improvise.
All you do is throw a few ingredients into the slow cooker and let it cook for several hours.
Shredded Chicken Burrito Recipe
Let's start with our list of ingredients:
4 chicken breasts
1 onion, chopped
1 can of black beans
1 can of kidney beans
1 can of corn
Cooked Rice
Shredded Cheese
Place all ingredients except for rice, cheese, and tortillas in the slow cooker. Cook on low for 6 hours, or high for three hours.
Remove chicken from slow cooker and shred it. My favorite way to shred chicken is in my Kitchenaid stand mixer.
Place the shredded chicken back into the slow cooker and mix.
Now you're ready to begin assembling your burritos!
Place some cooked rice on a burrito size tortilla. Then, top with the chicken mixture. Add any other toppings you want such as chopped cilantro, salsa, or guacamole.
Fold the burrito.
And get ready to enjoy a simple, yet delicious meal! This meal is now in our regular rotation of frugal meals. We all love it! The best part is that this recipe makes a ton of leftovers, so we can eat it for lunch the next day!
Slow Cooker Chicken Burritos
Delicious chicken burrito filling made in the Crock Pot.
Total Time
6 hours
5 minutes
Ingredients
4 chicken breasts
1 onion, chopped
1 can of black beans
1 can of kidney beans
1 can of tomatoes and chilies
1 can of tomato sauce
1 packet of taco seasoning
1 can of corn
1 TBSP. chili powder
1/2 TBSP. cumin
Cooked Rice
Shredded Cheese
Burrito tortillas
Instructions
Place all ingredients except for rice, cheese, and tortillas in the slow cooker. Cook on low for 6 hours, or high for three hours.
Remove chicken from slow cooker and shred it. My favorite way to shred chicken is in my Kitchenaid stand mixer.
Place back in slow cooker and mix.
Assemble burritos with and top with your favorite toppings (rice, cilantro, salsa, sour cream, etc)