Mama's Pinto Beans and Rice with Sausage
This post may contain affiliate links. Please see my disclosure and privacy policy for more information. As an Amazon associate I earn from qualifying purchases.
My mom is the queen of delicious frugal recipes, but we did eat a lot of beans and rice. As a child, I got sick of that meal quick. After I got married, I refused to cook beans for a long time because I thought I didn't really like them. Now that I've been out of my parents' house for a few years, I find myself wanting my mama's cooking more and more. She makes the best pinto beans and rice with sausage. I had to get the recipe from her and make some.
It's a simple living recipe and can be made in the Crock Pot. Your house will smell amazing if you let this simmer all day! When Mr. Simple came home after I made this he was thrilled. He even made the comment, "I got to come home to some good cooking today!" Yes, folks, good country cooking is where it's at!

Pinto Beans and Rice with Sausage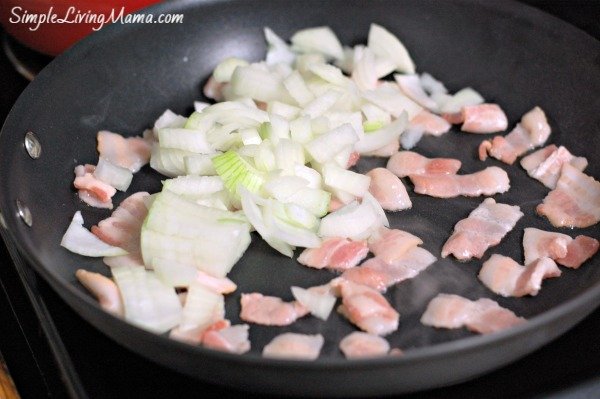 The first thing you're going to do for this recipe is fry up some bacon and onions. All good meals start with bacon and onions. You just can't recreate that delicious smell with anything else! Mmmm!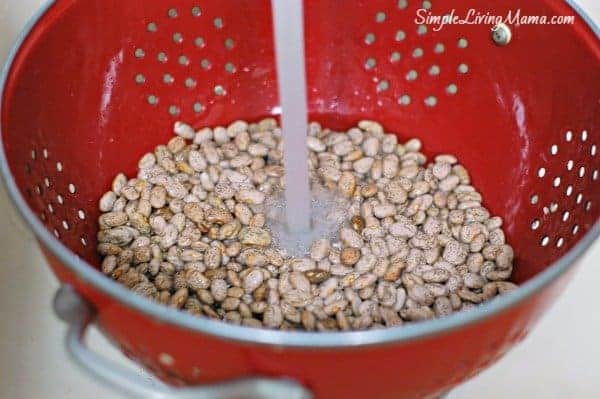 Go ahead and wash and sort your beans in a colander. Some people soak their beans. You can do that over night if you want. If you're like me, you never remember to soak them.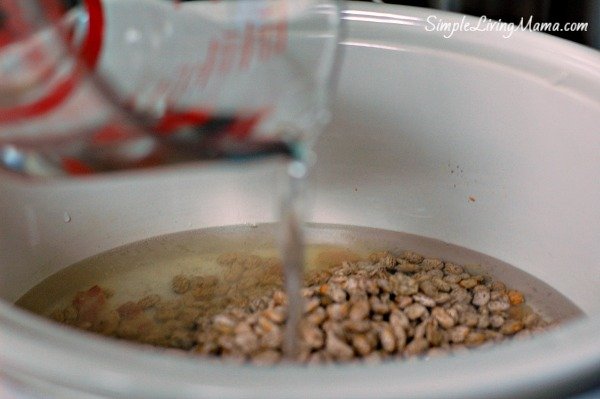 This is where you throw all your yummy ingredients in the Crock Pot. You want to add ALL the bacon and onions WITH THE GREASE, your beans, and the seasonings. Mama uses garlic powder, onion powder, chicken bullion (this is my favorite), salt, and pepper.
Pop a lid on your Crock Pot and let it go for about 6-8 hours.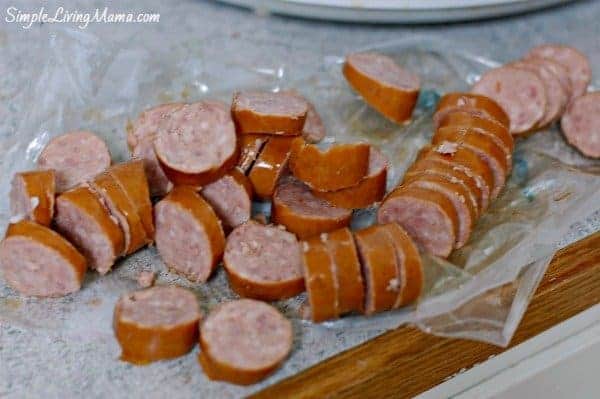 About 30 minutes before you're ready to serve your beans, cut some smoked sausage into little rounds and add it to the Crock Pot. If you want some extra heat, you could add a diced jalapeno or habanero pepper, too.
While the beans are cooking, you'll need to prepare the rice on the stove top. Serve your beans over the rice!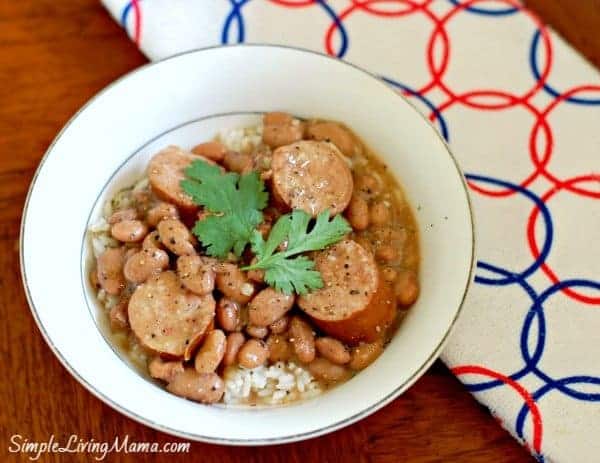 We also like to stir in a little cilantro if we have it. It's just fine without, too. The only thing missing from this picture is a slice of good cornbread. I cook it in the cast iron skillet. So good!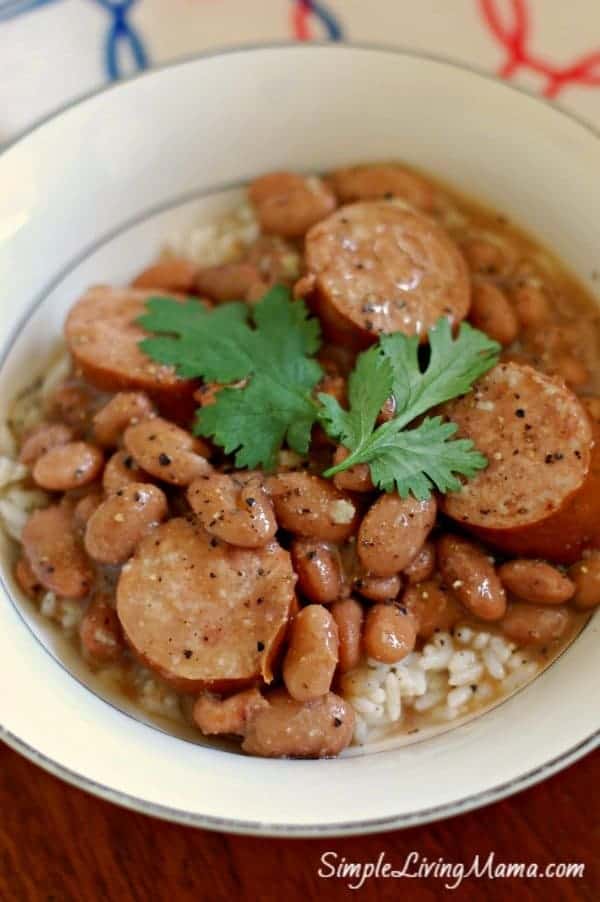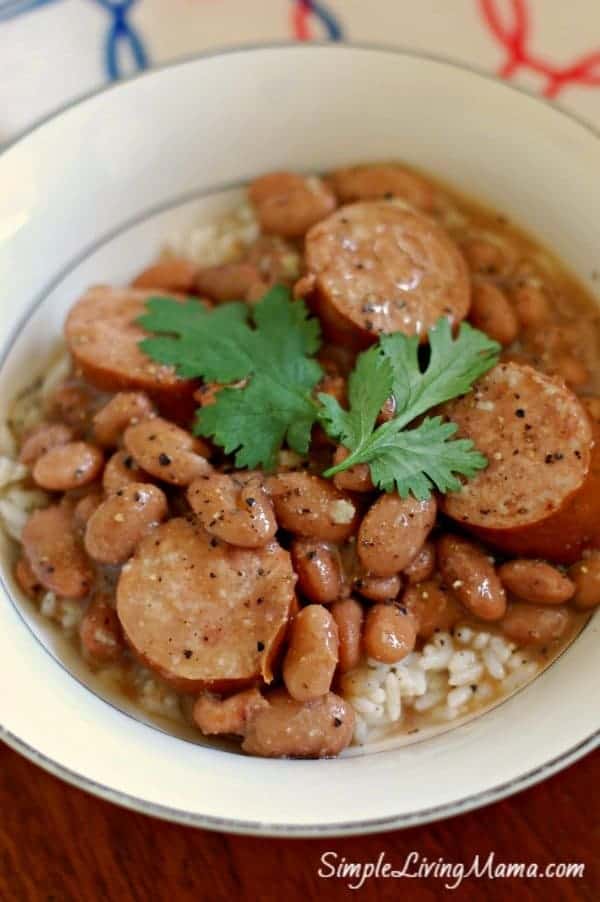 Pinto Beans and Rice with Sausage
2015-06-20 15:35:37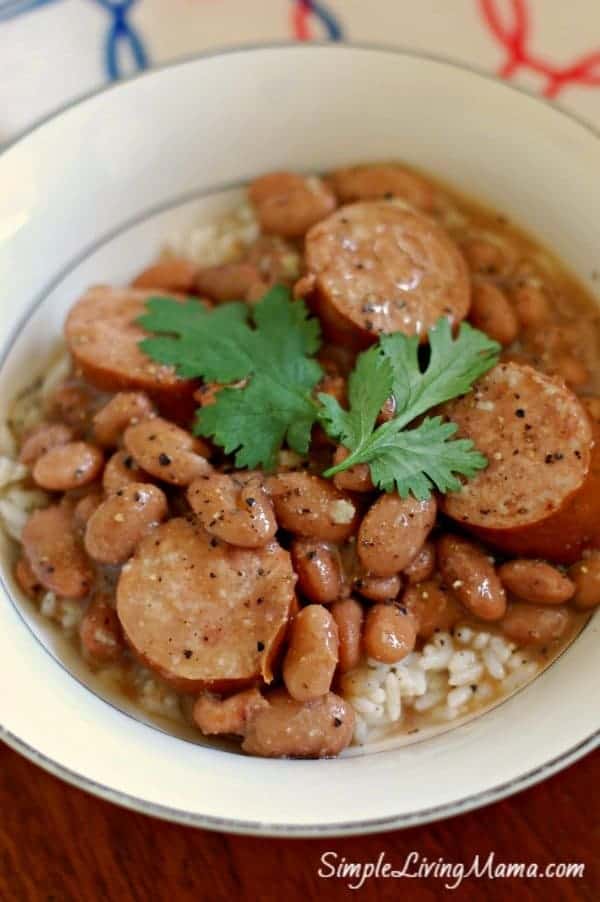 Serves 6
Pinto beans and rice with sausage is a flavorful and frugal recipe that can be made in the Crock Pot.
Ingredients
1 onion, diced
6 slices bacon, chopped
1 lb. bag Pinto Beans
2 tsp. chicken bullion
1 tsp. onion powder
1 tsp. garlic powder
Pinch of salt and pepper (more depending on taste)
8 cups water
1 lb. smoked sausage, sliced
Optional: diced jalapeno, chopped cilantro
2 cups rice
4 cups water
Instructions
Fry onion and bacon in skillet.
Rinse beans.
Add beans, seasonings, onion and bacon with the grease, and water to the Crock Pot.
Cook on low for 6-8 hours.
30 minutes before serving add sliced sausage and optional diced hot pepper.
Stir in cilantro just before serving if desired.
While beans are cooking prepare rice on stove top according to package directions.
Serve pinto beans over rice.
Simple Living Mama https://simplelivingmama.com/

You may also like: