Thank you Council for Responsible Nutrition for sponsoring this post. This is #MyWeekSupplemented.
One of the things I love sharing with you here on the blog is what I am doing to keep myself healthy. Today I thought I would share with you the supplements I take over the course of a week. These include my daily supplements for new moms. Since I have been pregnant, breastfeeding, or both for so long I feel it is important to supplement my diet to ensure I am getting enough nutrients.
Did you know that a new survey from the Council for Responsible Nutrition found that the majority of US men (73 percent) and women (79 percent) take dietary supplements? It is important to remember that dietary supplements are just that, a supplement to a healthy diet. They can help fill dietary gaps to promote overall wellness.
Please note, there are a lot of choices out there when it comes to dietary supplements. It is important to talk to your doctor or other healthcare provider about which supplements are right for you.
Let's take a look at my dietary supplements over the course of a week!
Day 1
I like to start the day with a good breakfast and my typical vitamins. These are the vitamins I take every day no matter what. So, this morning I'm having fried eggs on top of roasted portobello mushrooms topped with diced red onion and tomato. Yum!
I'm taking a prenatal vitamin since I am breastfeeding. My vitamin also contains DHA. I always make sure to take extra calcium. My obstetrician told me since I have been pregnant and breastfeeding for so long that I need to make sure I am taking extra calcium.
Day 2
Time for a quick lunch! On this particular day I was knee-deep in trying to get through some homeschool work with the kids and I needed something easy for lunch. I used a yummy vanilla protein powder to whip up an easy shake.
All I did was add a banana and some almond milk with a little ice and the powder and blend it up. Delicious and filling!
Day 3
Time for my afternoon tea. I like to relax in the afternoon with a little tea. Today I'm having green tea with a touch of honey. Green tea is full of antioxidants.
While green tea does contain caffeine, it is less than what is in coffee.
Day 4
When I'm having tummy troubles, I like to take magnesium. This is magnesium citrate and I add it to juice.
This helps keep your digestive system regular. I never take magnesium with my calcium because together they can interfere with the way the body absorbs them, so I will take my magnesium in the afternoon.
Day 5
Probiotics are an important part of my supplement regime. I usually take a probiotic pill, but I just ran out. Today I am drinking a tea that actually has probiotics in it. You can also get probiotics from yogurt. Probiotics help keep your digestive system regular and are also great for balancing your gut.
Which dietary supplements are you taking right now?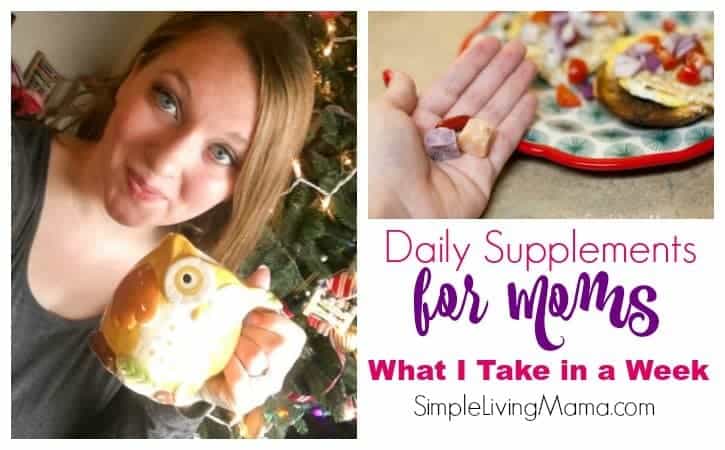 I was selected for this opportunity as a member of CLEVER and the content and opinions expressed here are all my own.