So, one of the most common questions I get when people find out we have six children is, "How do you have the bedrooms set up?" Amazingly, I think we live in a culture where people think children need their own rooms. I grew up in a family with three children and I was the only girl, so I had a room to myself. While I did like having a room to myself, I will say I wasn't a big fan of having to sleep by myself. My kids actually prefer to share rooms with each other. Today, I'm going to show you how to fit three kids in one bedroom. Now, I know that is really not a crazy amount of children to put into one room, but it's the most we have in one bedroom as of right now. Large family living is pretty fun for us!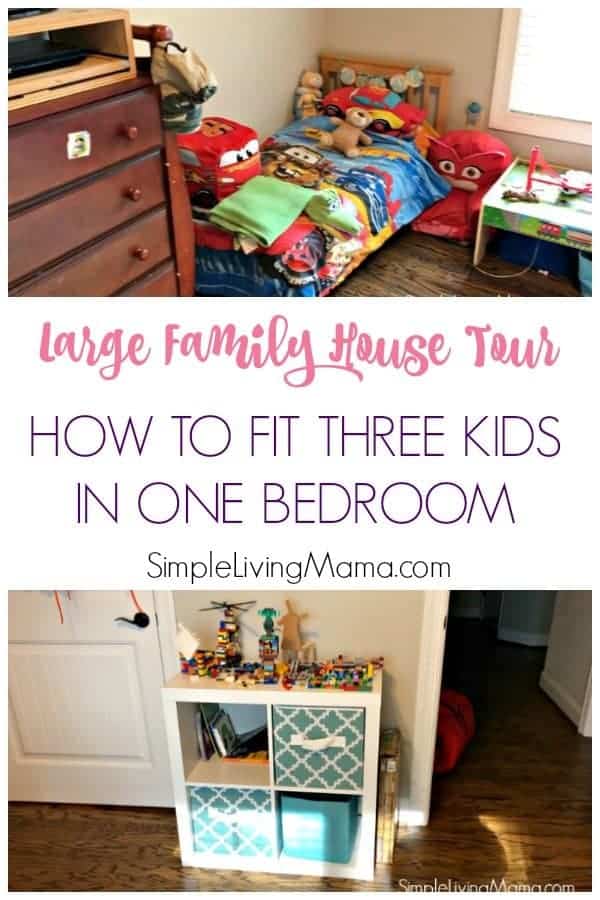 Ways to Fit Three Kids in One Bedroom
---
<———————Large Family Living / Large Family Small House————————>
---
So, when you're trying to come up with a room configuration for three children I think the main thing to figure out is the bed situation. Bunk beds are the most obvious choice. I've seen several really awesome bunk bed configurations on Pinterest. I've seen triple bunks and bunk beds placed in an L shape.
In our house, we have placed a bunk bed on one side of the room, and a toddler bed on the other side of the room. When my toddler graduates from his toddler bed, we will add another bunk bed to his side of the room and also move our youngest son into the room with them.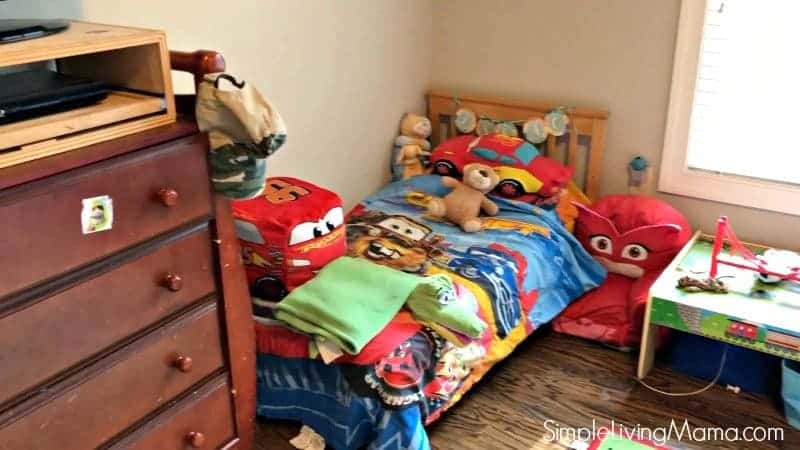 My kids' bunk bed is old. Believe it or not, they didn't use to make bunk beds with guard rails on top. So, we added our own Safety 1st rail. Yes, it's seen better days, but it has done its job. He doesn't get close to falling out of the bed anymore anyway. We plan to get two new sets of bunk beds, but what we have now is working just fine. You know how it goes when you're living simply. Use it til you can't anymore!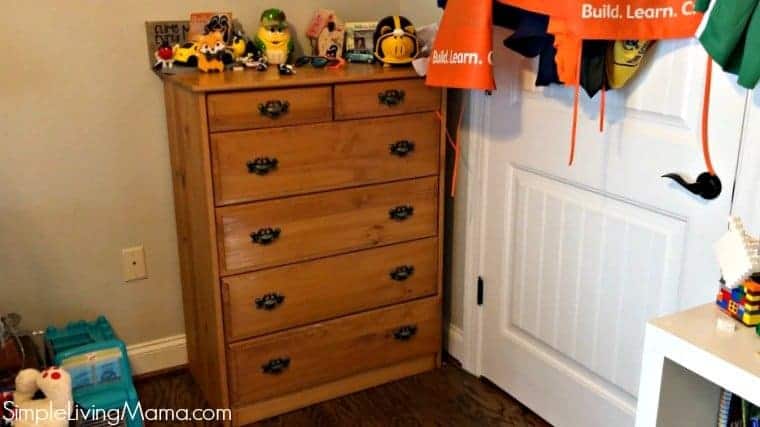 Currently, we have two dressers in this bedroom. My oldest son uses the small dresser, and my other two sons share the larger dresser. We do have a TV in this room with a DVD player. The kids really only watch DVDs on occasion. I personally hate TVs in kids' bedrooms, but my opinion isn't the only one that matters in this house if ya know what I mean. LOL! And we do anchor dressers to the walls! We use these anchors.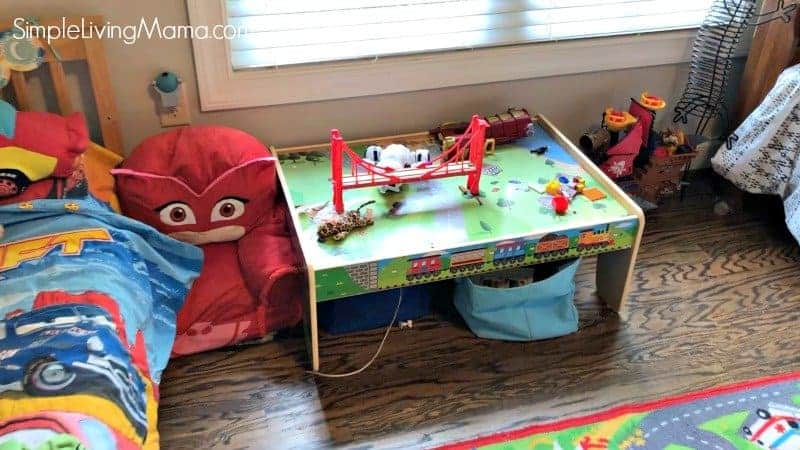 We don't have a playroom, so toys are stored in bedrooms here. The boys have a train table with some storage bins underneath. One has LEGOs and the other that I forgot to show has a wooden train set. They mostly build LEGOs at the train table.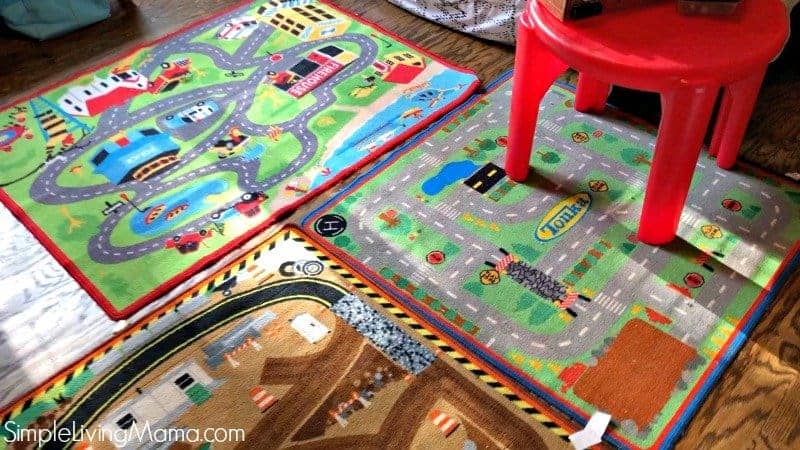 The boys also have road rugs down on the floor that they like to use to play with their cars.
I have some cube storage in this room. The boys display LEGO creations on top of it. One bin has my oldest sons LEGOs and books, another has some random stuff in it, another has their toy animals, and they have a cube for books. Most of our books are stored in the living room, though.
The closet holds nicer shirts, a toy box with larger toys, the boys' sleeping bags, science kits/snap circuits, Lincoln logs, bike helmets, toy cars, and some miscellaneous linens and hand me down clothes.
And that's about it. Definitely not a designer bedroom, but it works for us!
Watch the full tour below!
Do you have multiple kids in one bedroom? How do you do it?