Well, we just finished up week 2 of our Clean and Declutter Challenge and I was really excited with my major project. For the longest time I kept our medicine in a small cabinet in the kitchen. When I was growing up, our medicine was always in the kitchen. My husband grew up the same way. It never really occurred to me to try to store it anywhere else. Well, with our family growing and our little kitchen not growing, I had to free up some space. We have a large cabinet in our bathroom, so that's where I relocated our medicine! Let me show you how to organize your medicine cabinet easily with these ideas.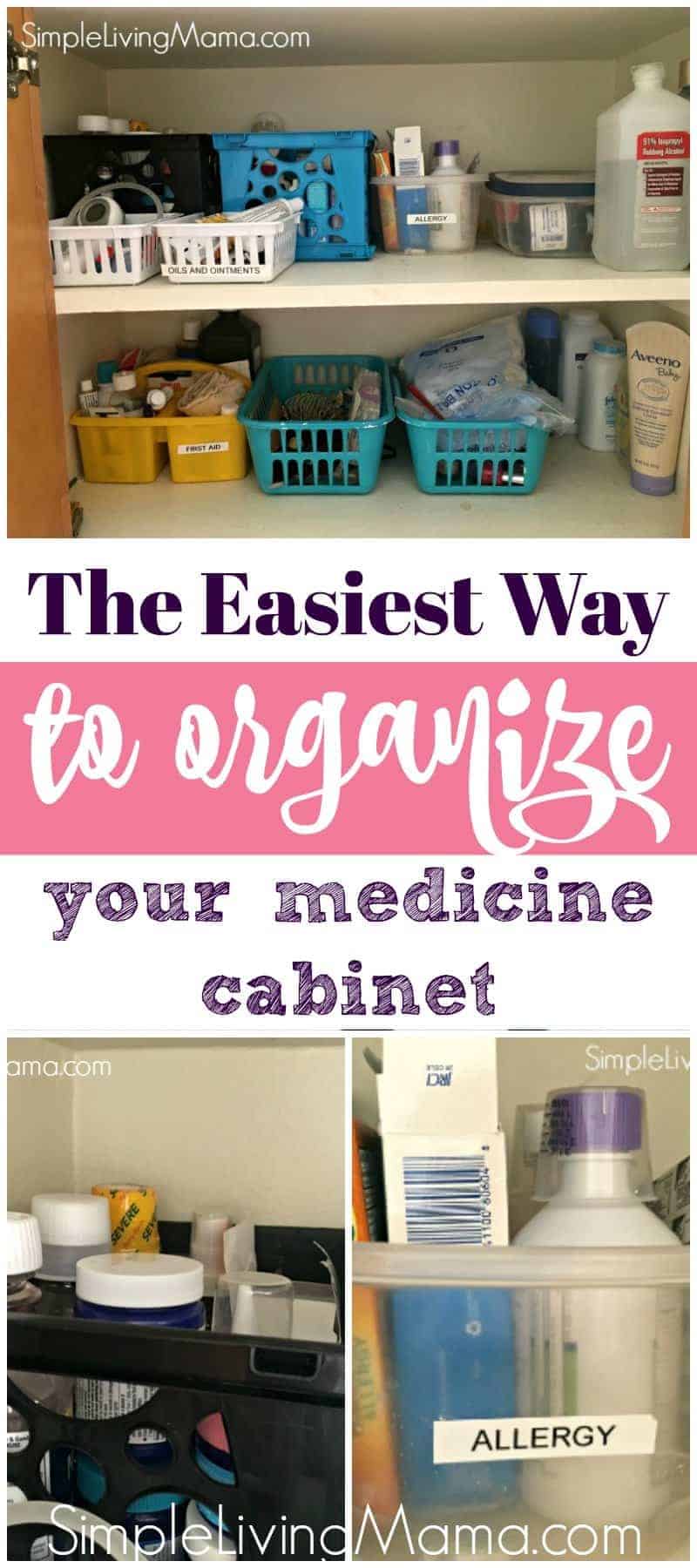 How To Organize Your Medicine Cabinet
The first thing you need to do when planning how to organize your medicine cabinet is figure out the perfect space. Maybe you have enough room in your kitchen, maybe you'll have to put it all in your bathroom. Choose a cabinet that has the best space possible.
Next, pull out all of your medicines. Go through each bottle and get rid of expired medicine you can no longer use. You may be able to cut down on boxed medicines if you just clip the instructions from the box, toss the box, and keep the medication.
Watch me declutter!


Now that you have all of your medicine decluttered, begin grouping it together by categories. I grouped all of our allergy medication in one pile, cold and sinus medication in another, pain and fever relievers, children's medications, ointments, and then thermometers/nasal aspirators.
Ideas for storing medicine
Of course, you could buy coordinating storage bins to make your cabinet pretty. I just used what I already had.
These crates are awesome for storing like items. I also used food storage containers, and some Dollar Tree small storage bins.
A label maker makes it easy to put things away, and also helps other members of the family understand your system.
Let me talk a few minutes about my first aid kit.
My first aid kit is located in a convenient caddy. Inside I have bandages, peroxide, Neosporin, alcohol wipes, and a few ointments for bug bits. When one of the kids gets a boo boo, it's easy to grab the kit, doctor them up, and then put the kit back.
If you look in my photos you will also see two other baskets. Since this is a bathroom cabinet, one basket holds hair accessories, and the other holds my daughter's nail polish.
You don't see any vitamins here. I left the medications and vitamins we take on a daily basis on one shelf in the kitchen cabinet.
And, that's pretty much it. Easy peasy. The easiest way to store your medicine is to group it into categories and keep all like items together. That way you know exactly where to look when you need a certain medication. Keep daily medications and vitamins easily accessible, and you're good to go!