I have had so much fun creating preschool lesson plans based on books for preschoolers. Today, I am sharing my Preschool and Kindergarten lesson plans for If You Give a Mouse a Cookie by Laura Numeroff. It has been such a joy to do these lesson plans with my little guys. They are learning so much! School time is becoming a joy for them, and I absolutely love our time together.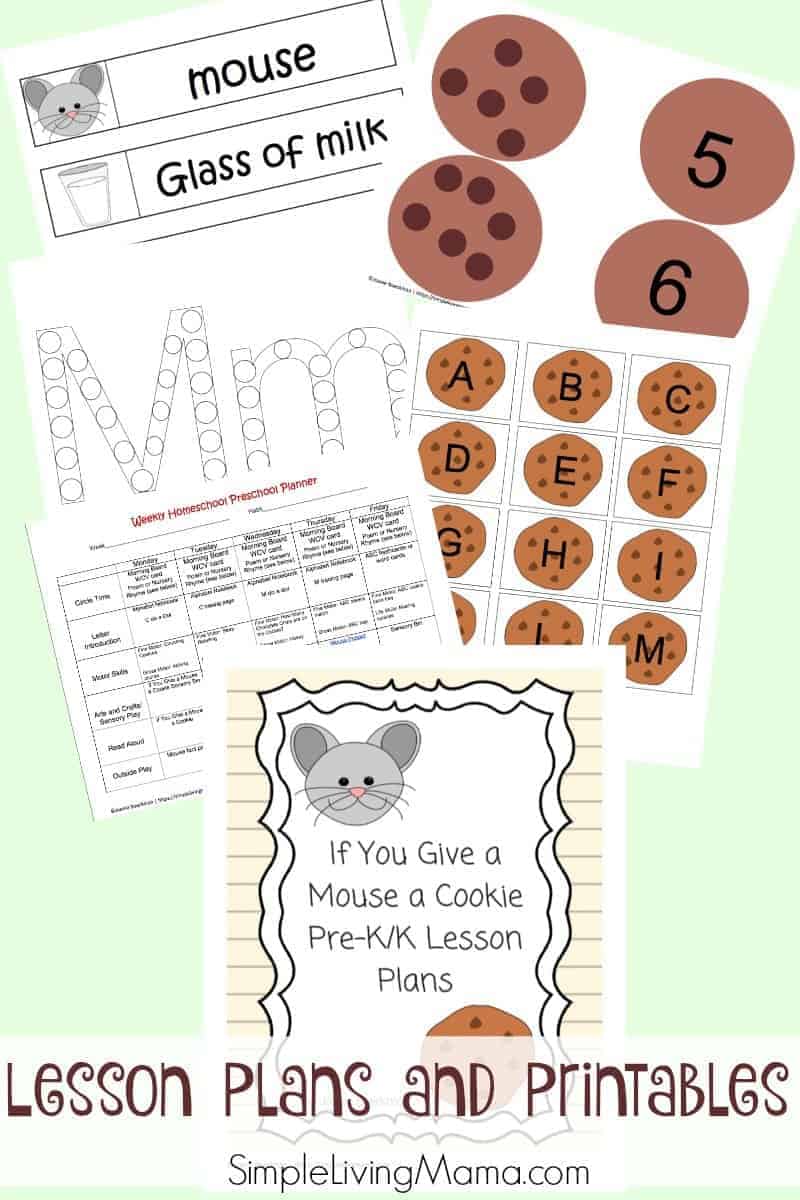 If You Give a Mouse a Cookie Preschool Activities and Printables
These lesson plans are designed similarly to my Brown Bear, Brown Bear lesson plans. There is a calendar that includes enough activities for one full five day week. It usually takes us two weeks to actually do all of the activities. There are also daily instructions written out to tell you how to use the lesson plans and printables.
You'll notice this lesson plan mirrors My Homeschool Preschool Planner perfectly. There are circle time activities, letter introduction activities, motor skills, arts and crafts, of course the read-aloud with suggested book list, and outdoor play, which is mostly unstructured.
The printable pack includes activities for fine and gross motor skills, as well as counting, sequencing, and story retelling.
This pack includes pocket chart strips for story retelling.
ABC cookie printables for playing capital and lower case matching games, using as flashcards, or doing other games.
Chocolate chip counting mats for matching and counting real chocolate chip cookies.
C and M do-a-dot pages.
C and M letter tracing pages.
Mouse facts page to read with your child. My son loves animals, so he had so much fun looking up information about mice with me to round out our mouse facts.
A mouse notebook page. This is another fun If You Give a Mouse a Cookie activity. Let your child or student create their own mouse!
Instructions for sensory and art activities.
Two nursery rhyme posters.
Mouse themed book list. There are so many cute and wonderful stories with mice characters out there.
And a planning page.
Do you want to use these lesson plans with your child? Check out the If You Give a Mouse a Cookie Lesson Plans and Printables.


If You like these preschool lesson plans you'll love:
Brown Bear, Brown Bear Pre-K/K Lesson Plans