Alphabet Notebook for Preschool and Kindergarten
This post may contain affiliate links. Please see my disclosure and privacy policy for more information. As an Amazon associate I earn from qualifying purchases.
This year my little preschooler will be four years old. He's showing an interest in "doing school" like his older siblings and gets really excited about having his own school supplies. I decided to create his very own Alphabet Notebook for him. He is so excited about learning his ABCs and doing more homeschool preschool this year!
Alphabet Notebook for Preschool and Kindergarten
Since he had very little interest last year, we did not work on many academic skills. This year we will be focusing on learning letters, letter sounds, and numbers. He already knows shapes and colors, but we will review those, too!
This specific notebook is just for his alphabet letters. In my Plan Your Own Homeschool Preschool Curriculum course, I discuss teaching one letter per week. While we do preschool themes that are not directly related to letters, I think introducing one letter per week is just fine.
I chose to put our alphabet notebook pages in a three ring binder for a few reasons. One of those reasons being that I could add other letter related pages to the binder. For example, as long as he interested we will do a craft for each letter. I will make sure to have him glue the craft onto a sheet of regular printer paper, so I can just hole punch it and add it to our notebook.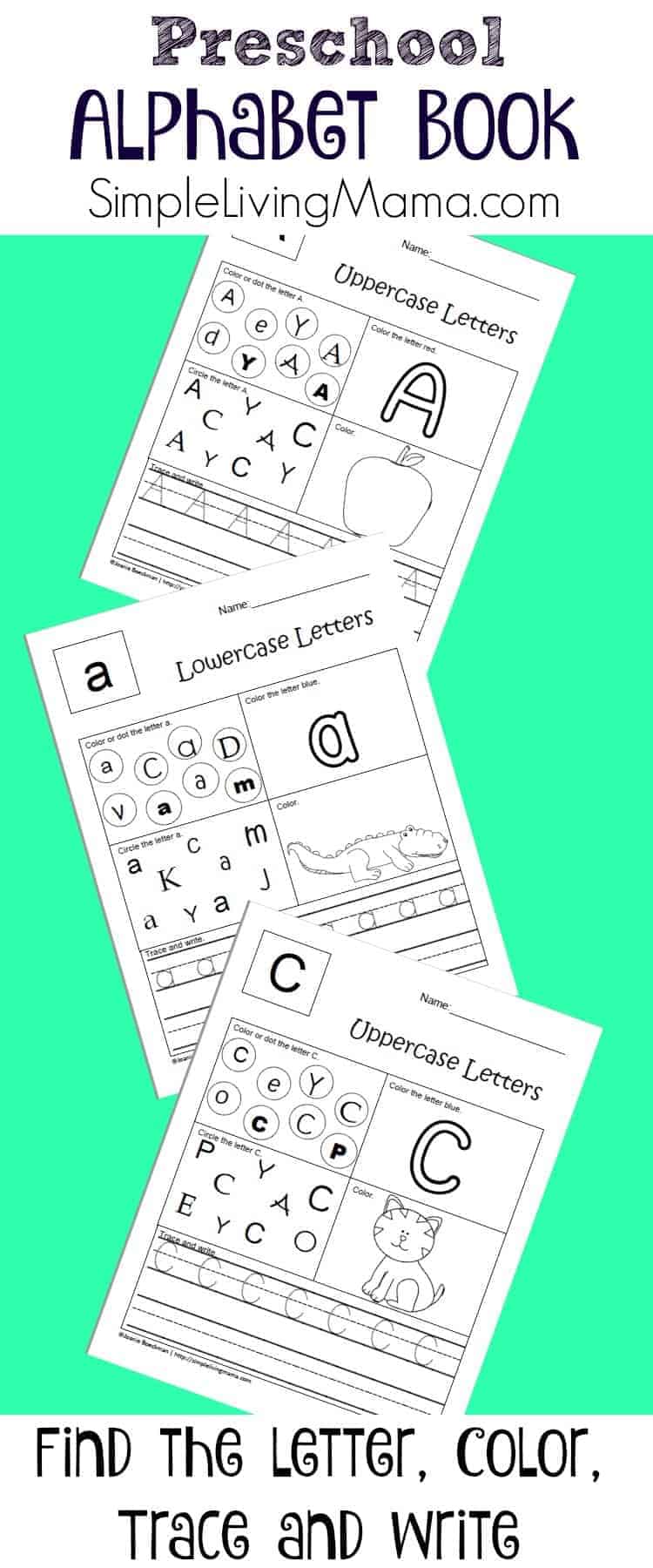 The binder also allows me to add other interactive alphabet activities that he completes. At the end of the year he will have a finished portfolio of his work.
The Alphabet Notebook for Preschool and Kindergarten includes over 50 pages of printables. There is a cover page for your child to color and add his name. There are two pages per letter, one for the uppercase and one for the lowercase letters.
You will find five sections for your child to complete on each page. The first is a do-a-dot letter find box. Your child can also color in the circle of the correct letter. There is a place for your child to color the letter a specific color, another letter find where your child circles the correct letter, a fun picture to color and practice beginning sounds, and a trace and write section to practice handwriting.
For a limited time you can get these alphabet notebook printables for FREE in my shop!