What to Pack in Your Diaper Bag for a Short Outing
This post may contain affiliate links. Please see my disclosure and privacy policy for more information. As an Amazon associate I earn from qualifying purchases.
This shop has been compensated by Collective Bias, Inc. and its advertiser. All opinions are mine alone. #HappierFirstMoments #ForBetterBeginnings #CollectiveBias
When I had my first child I can remember that leaving the house felt like a huge ordeal. I thought I needed a million things for the baby. Since then, I have simplified a lot. I no longer take a million things with me whenever I leave the house. So, if you're wondering what to pack in baby's diaper bag for a short outing, I've got you covered! You do not have to take the whole house!
What To Pack in Baby's Diaper Bag for a Short Outing
So, here's the short and sweet version of what I carry in my diaper bag for my one year old. I always make sure to bring one or two toys, a burp cloth, an extra set of clothes, diapers, wipes, a ziplock bag or a plastic trash bag for dirty diapers/soiled clothes, and my daughter's favorite Playtex Baby™ VentAire® baby bottles. She just turned one, so she's not quite off the bottle yet, and it's a must for us on a short or long trip!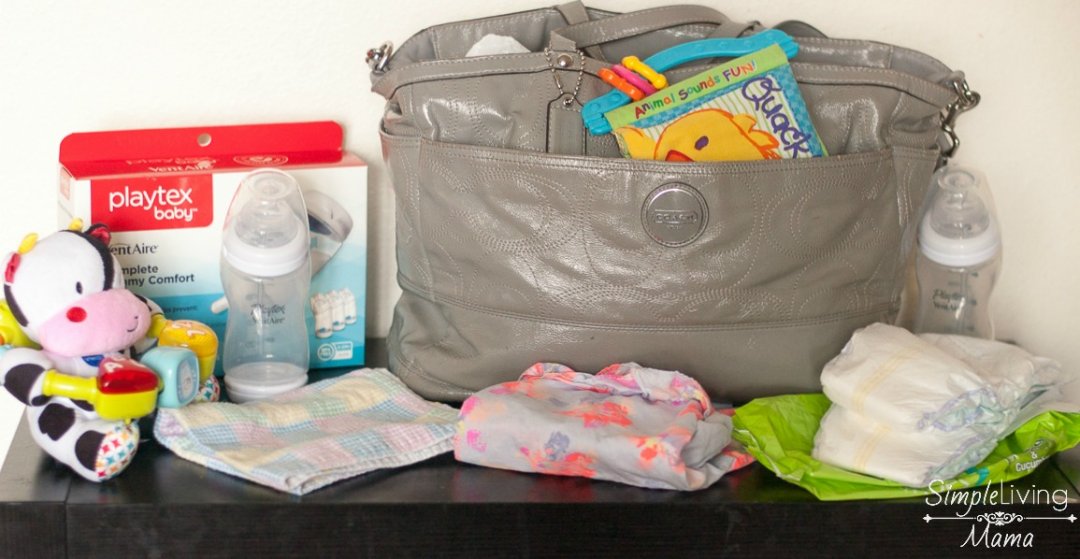 Interested in purchasing Playtex Baby VentAire bottles? Hover over the photo above to go to Target.com and buy them!
Let me tell you a little bit about the VentAire bottles. I have struggled to get my breastfed babies to take bottles. They want absolutely nothing to do with them. The ONLY bottles I have been able to get my babies to take is the Playtex Baby VentAire bottles. They are a lifesaver for me when it's time for me to wean due to another pregnancy.
I think it's the NaturaLatch nipples that my babies have accepted so easily. It has a wide shape and raised texture that is similar to Mom's. Playtex makes several different types of nipples and nipple flows to help meet any baby's needs.
The bottom of the bottles is very interesting. It comes in two pieces. One of the pieces is actually a vent that keeps air at the bottom of the bottle and out of your baby's belly.
I found my Playtex Baby VentAire bottles at Target in the baby aisle with all the bottles.
Here's a look inside my diaper bag before I pack the bottles. I've got the diapers/wipes, extra outfit, my planner, a book for me to read, baby's toy, and my wallet stuffed in here.
I always prepare bottles for a short outing beforehand, and pack them with an ice pack. If you're formula feeding, you don't have to mess with making the bottles if they are all ready to go!
And here is everything packed and ready!
Baby's changing pad is tucked in the back of the diaper bag and always available.
She's so happy with her Playtex Baby VentAire bottle.
Sweet girl! What do you think should be packed in baby's diaper bag for a short outing?


Are you expecting? Check out all of my pregnancy tips!