Nature Study with Preschoolers
This post may contain affiliate links. Please see my disclosure and privacy policy for more information. As an Amazon associate I earn from qualifying purchases.
It's Day 6 of our 10 Days of Nature Study series! This is a post I wrote a few years ago, but thought it would fit this series perfectly!
I'm a big advocate of nature study as part of a homeschool education. Since we are leaning toward a Charlotte Mason preschool, I have learned so much about incorporating nature study with preschoolers into our outside play time. It has been such a wonderful addition to our homeschool preschool.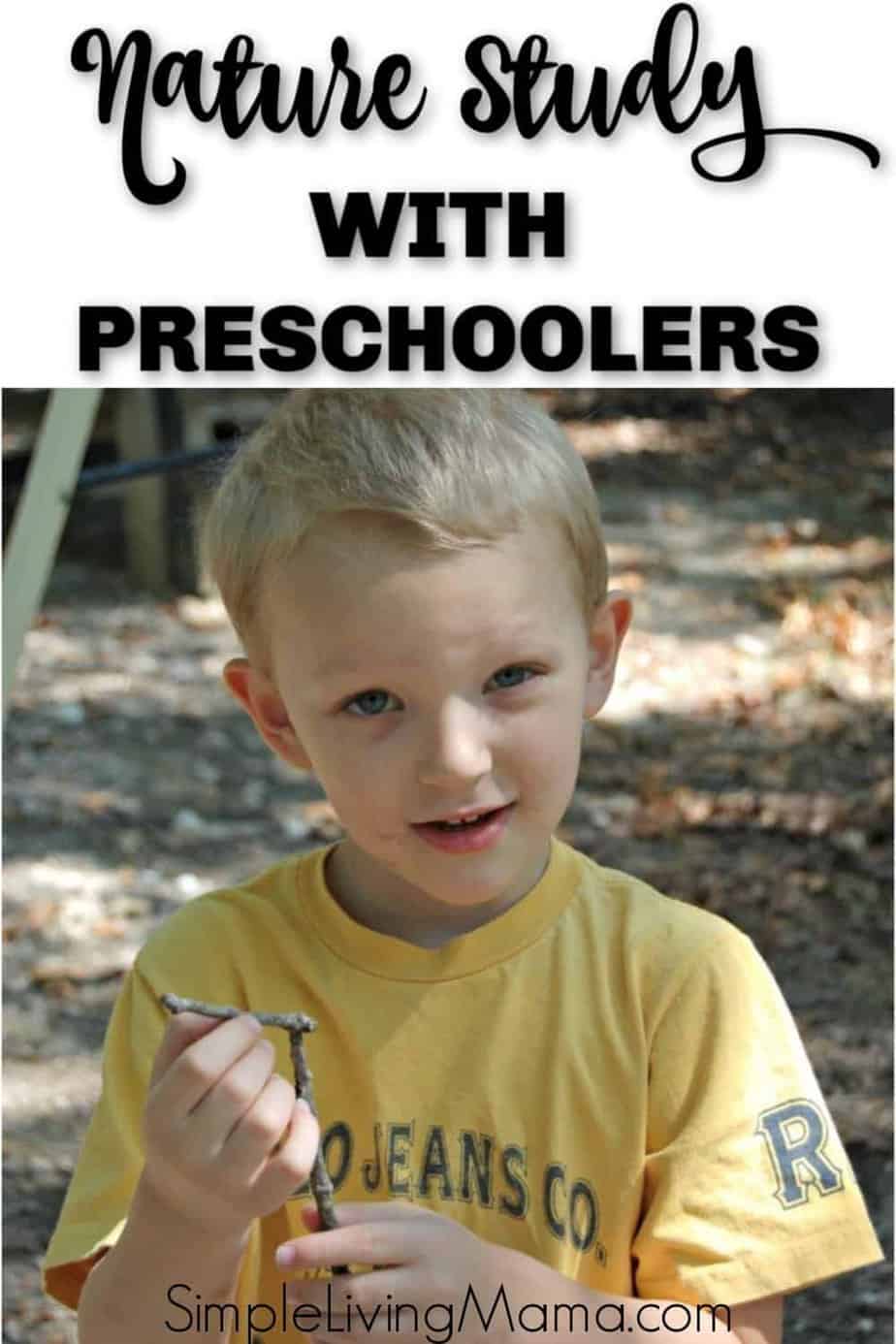 You may be wondering, what is the purpose of nature study? I love Simply Charlotte Mason's 8 Reasons to Do Nature Study as an answer to that question. Here are a few key points that they mention:
Nature study lays a foundation for formal science lessons.
Nature study cultivates a love of investigation.
Nature study gives a child a sense of stewardship toward the earth.
Nature study prepare a child's heart to worship God.
Nature study is fun and I can see it already enriching our lives. We look at ordinary, every day things that we might not take the time to notice normally. We talk about why the leaves are falling from the trees and where all of the rocks in our yard came from.
How I do nature study with my preschooler (and toddler!)
When you're doing nature study with the preschool set, it's important to let them lead. Remember, we aren't trying to force learning at this point. We want the natural curiosity of the preschooler to initiate fun discussions about what's going on outside.
We do most of our nature study in our yard. I guess that's the fun thing about living in the woods. We have a huge yard full of all kinds of things to study and talk about. While I do prefer to let the kids lead and play outside at their own pace, that doesn't mean I won't prompt them if I find something interesting.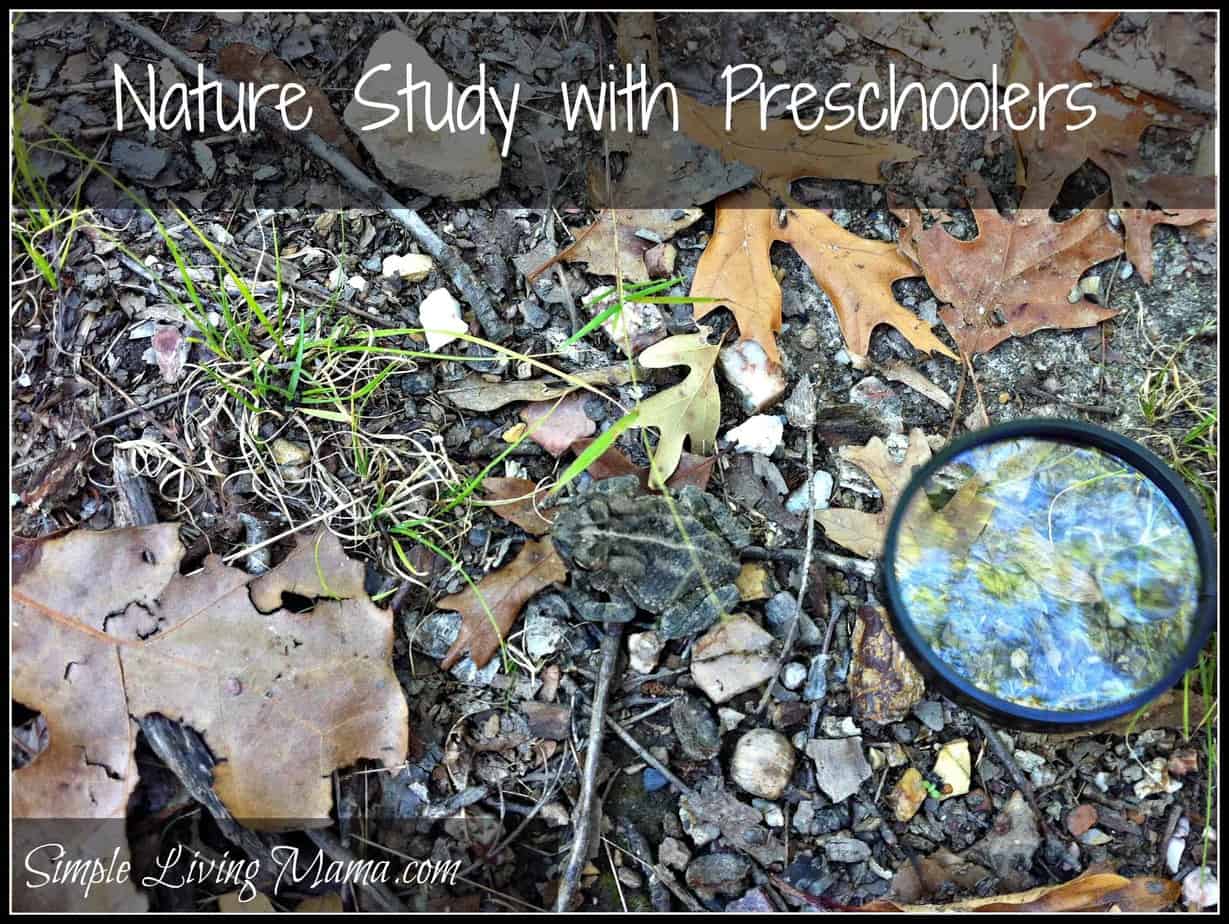 Look at the photograph above. Can you see the little friend we found on this particular day?
While playing by the kids' swing set I noticed a little toad blending in with the ground. Of course, I couldn't pass pointing him out to the kids. He blended in so well with the ground, and we got to talk about camouflage! Oh, we also got to talk about how important it is to watch your step when studying toads that are camouflaged. Poor Bug accidentally stepped on him, but I think he was okay!
You could point out anything interesting. When the leaves start changing colors, we will talk about fall. We talk about our plants and animals. We talk about where to watch for snakes and other dangerous critters. Whatever it is you see outside, you can talk about with your kids!
Toddlers and preschoolers naturally love to be outside. Above is my little toddler girl enjoying the refreshing temperatures and sunshine while we played outside!
I bought both of the kids some cheap magnifying glasses to use outside while we do nature study. They love using magnifying glasses. We can examine rocks up close or watch the ants march around the yard. There never seems to be a shortage of ants around, we just have to keep a safe distance because some of them like to bite toes!
It's so easy for kids to find things to explore and play with on their own when they are outside. Dirt, rocks, and sticks transform into a race track for Hot Wheels cars. A bucket, some rocks, some water, and some sticks become rock soup. Kids need the fresh air and the sunshine. They need the freedom to use their imaginations and just be kids.
Now, I know not everyone has a big yard to play in and explore. That's okay! You can do still do nature study. Take your kids to the local park once a week and see what you can find. There are several national parks in our state that are free to visit and make excellent nature study field trips. I can't wait to take the kids hiking on some trails.
If you do have a yard of any kind, I'm sure you can find something to study and point out to your kids. Watch how a tree in your back yard changes with the seasons. See if you can find any little animals hanging out. Set up a bird feeder and watch different birds. Trust me, once the birds figure out you have tasty food they will spread the word and you'll get to see a variety of birds. You might want to invest in a squirrel-proof feeder, though. The squirrels will also figure out you have tasty treats!
Preschool Nature Journal
Keeping a nature journal is something Charlotte Mason advocates for. I think this is an excellent idea, but I haven't quite started this with Bug yet. I don't really think he is ready to start sketching what he's seeing. We will start this when I feel like he is ready to "draw" what he sees outside. For now, I want him to just enjoy being outside.
If you decide to do a nature journal with your preschoolers, this DIY nature journal would be perfect for them!
Whatever you do, just get outside with your kids. Have some fun, notice the small things. Kids are wonderful at pointing out the beautiful things that God has created in our world.

Learn More!