It's Day 9 of our 10 Days of Nature Study series and today I'm sharing tips for going on a nature walk! Nature walks don't have to be complicated. I'll never forget my mom telling me the story of when she was in Brownies and was so excited to go on a nature walk. She thought they were going to go somewhere new and exciting, but instead her leader led her troop around the grounds of the church! She may have been disappointed, but there is a lot to see even in your own backyard if you look close enough!
Where to go on a nature walk?
Let's start off with the basics. You know what to pack in your backpack, so now you need to decide where to go! Well, if you can't leave home go in your backyard! I can't even tell you all of the wonderful things we have found. Wildflowers, birds, bird nests, slugs, snails, really creepy white millipedes, beetles, all kinds of butterflies and moths, toads, moles, and chipmunks!
Of course, there are times you may want to venture a little farther. Local parks are an excellent place to start. Many have nature trails and can be used for free!
We always enjoy visiting state and national parks. You may have to pay a fee before entering, so check on that first, but there are all kinds of trails from beginner trails to advanced trails for more experienced hikers.
We also enjoy exploring creeks. We have a local park with creek access that has been a fun spot for us.
What do you do on a nature walk?
We just go for a walk and see what we can find! You can do guided nature walks where you would look for specific things, too. It's really up to you and the ages of your kids. Young kids can do well just discovering. Everything is new and exciting to them. Older kids may enjoy identifying trees or wildflowers on the trail.
Things to look for on a nature walk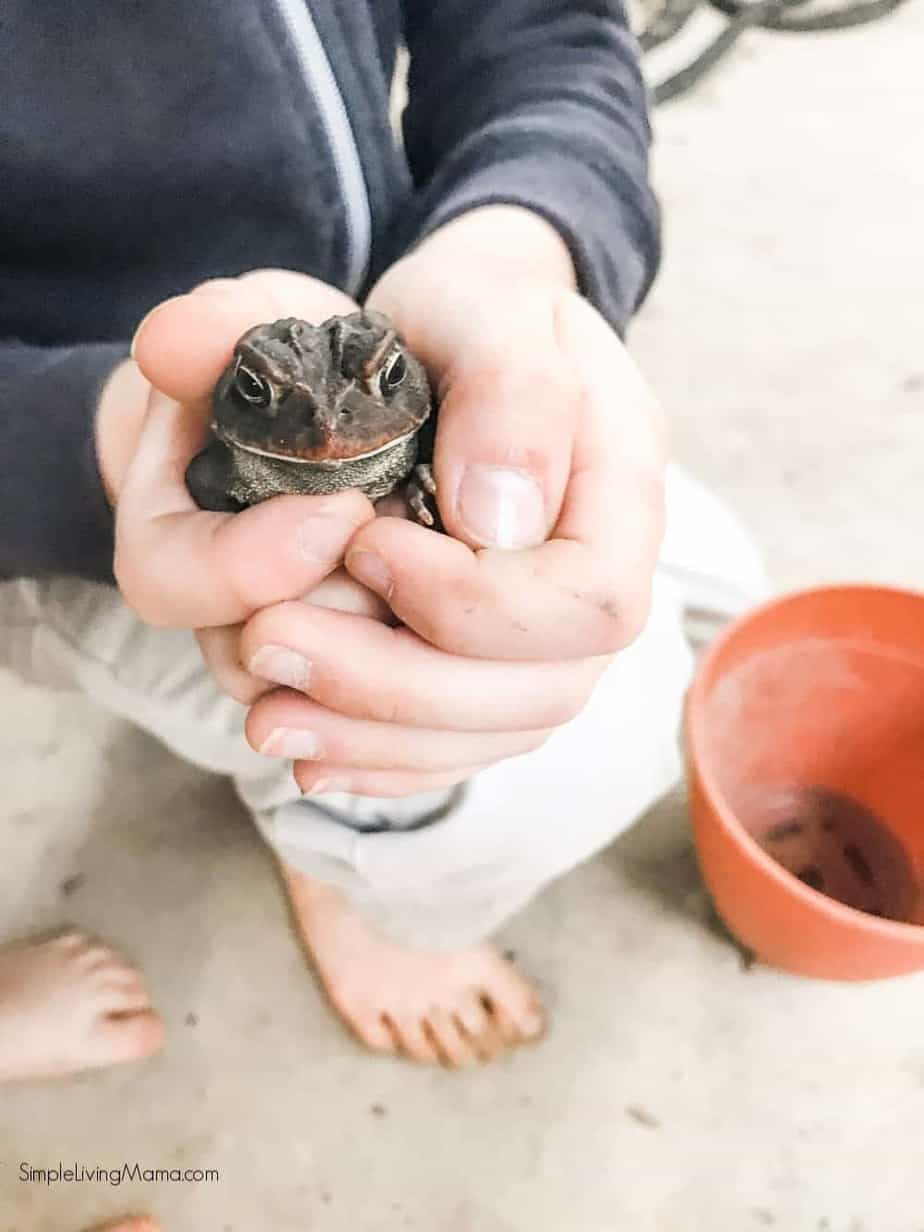 Look for trees, flowers, herbs, bugs, frogs, turtles, toads, butterflies, squirrels, any sings of life! You can also observe the clouds and write down the temperature and what's going on with the weather.
Collect rocks, identify the differences in the soil, and have fun exploring! Don't forget to smell the flowers, breathe in the fresh air, and enjoy the sunshine on your skin!
You'll also want to watch out for things that can hurt you! Look out for poison ivy, poison oak, and venomous snakes. We ran into some water moccasins during our last creek trip. Not fun!
Nature Walk Activity Sheet
Need a little help motivating your kids to pay attention to nature? Next time you go on a nature walk, bring along this free printable nature walk activity sheet. They can write or draw pictures to fill in the boxes! Pop on over to the shop to get it for free!