My Father's World Language Arts Review – Language Lessons for Today
This post may contain affiliate links. Please see my disclosure and privacy policy for more information. As an Amazon associate I earn from qualifying purchases.
I love sharing homeschool curriculum reviews with other homeschool moms because they let you get an inside look at a curriculum and decide if it will work well for you. Today, I am excited to share with you this My Father's World language arts review. I'm going to share our experience with Language Lessons for Today for the 2nd, 4th, and 6th grades. Let's get right into the review!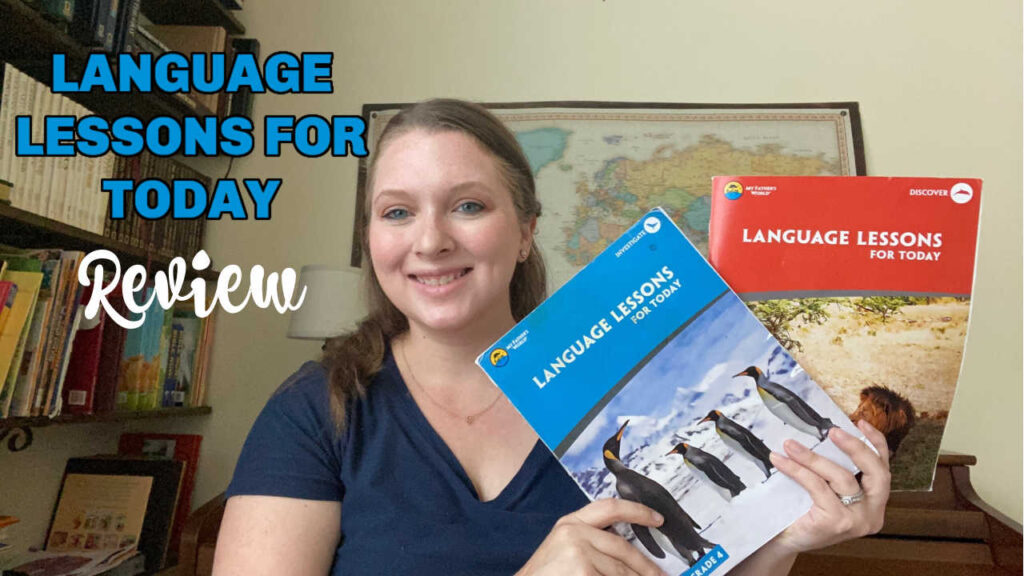 My Father's World Language Arts Review
Let's get started with what exactly is My Father's World language arts? My Father's World recommends using their language arts program, Language Lessons for Today three times a week for children in grades 2-6. Once children are in the 4th grade, you can add in their Writing Skills for Today program two days a week.
In this review, I am only covering Language Lessons for Today. LLFT is based on Emma Serl's Primary Language Lessons which was written in 1911. My Father's World updated the book with modern language and usage rules. I made a small mistake in my video on the subject, MFW changed the covers of their books, but did not make major revisions to all of them.
Each grade level of LLFT comes in a non-consumable book that can be used for multiple children and years to come.
Here's the overview from their website:
A Charlotte Mason and classical approach with short, easy-to-teach lessons for English usage, punctuation, composition, oral language skills, letter writing, and more. Includes narration, picture study (some printed in color), copywork, and dictation, as well as fables and poetry by famous authors such as Christina Rosetti, Edward Lear, and Robert Louis Stevenson. This non-consumable book (not a workbook) has enjoyable oral and written activities that may be used exactly as written or adapted to a child's specific needs and learning style. Includes teacher instructions and answers.
How much does Language Lessons for Today cost?
Language Lessons for Today is affordable at only $22.95 per book for grades 2-4 and $26.95 per book for grades 5-6, and as I stated, it is non-consumable.
How we use Language Lessons for Today in our homeschool.
I gave each of my children a regular spiral notebook to keep track of anything they needed to write down for their lessons. For three days a week, my children would complete one lesson from their language arts book. Each day's lesson was something different. They may work on possessive nouns one day, do a picture study the next day, and read a poem the following day. There were days they worked on capitalization, poetry memorization, and copywork.
Each lesson took no more than around 20 minutes each day. My older children were able to do their lessons fairly independently with me checking their work My oldest kept an envelope with his grammar cards that he created himself.
What we like about Language Lessons for Today
There's so much I like about LLFT. I love the gentle lessons and the Charlotte Mason approach. I love the picture study, narration, copywork, and dictation included. I appreciate the spiral approach to learning grammar in the elementary grades. Children are gently introduced to concepts and the concepts come up again throughout the curriculum.
I love that my children are being introduced to wonderful writers, artists, and poets. Everything is covered, and when used in conjunction with MFW's cycle, I know my kids are getting a full curriculum in reading, writing, and speaking.
Cons of Language Lessons for Today
LLFT is not an all-in-one language arts curriculum. You will need to add spelling and reading assignments. I used The Good and the Beautiful before this, and unlike TGTB, geography is also not included. Your child may also struggle to remember certain grammar concepts since they are not covered in depth in earlier lessons. Remember, this is a Charlotte Mason approach, so it may be gentler than other grammar curricula you have seen.
Overall, Language Lessons for Today works for our family. It has made our homeschool days so much smoother!
My Father's World Homeschool Curriculum
More My Father's World Homeschool Curriculum Resources.