My Father's World Adventures in U.S. History Review
This post may contain affiliate links. Please see my disclosure and privacy policy for more information. As an Amazon associate I earn from qualifying purchases.
Well, we finished My Father's World Adventures back around Christmas, and now that we are settled into our new home I am ready to give my full review. We have been using My Father's World for years now, and this curriculum will always have a special place in my heart. My kids and I have made so many great memories! Let's jump into this My Father's World Adventures in U.S.History Review!
What is My Father's World Adventures?
My Father's World Adventures in U.S. History is a boxed curriculum designed for children in 2nd or 3rd grade. It's a one year program designed to be used by children with no older siblings in the My Father's World Cycle.
In this program you and your child will explore U.S. history and patriotic symbols from a Christian worldview. Included in the curriculum is lessons for Bible, history and geography, and science. The deluxe package also includes art and music.
The teacher's manual is the main brain of the curriculum. Everything you need to know is in it. There is an explanation for how to teach all of the subjects, including the subjects not included in the curriculum package. My Father's World does recommend resources for each subject.
You will find weekly lesson plans with details on which books to read and which pages to read from the books. You will see every assignment you should give your child, along with helpful tips for teaching each lesson.
In the back of the teacher's manual, you will find a recommended booklist for each week. These books are great for the Book Basket and most can be found at the library.
Here's a look at the main curriculum and what your child will be learning:
Bible – I love My Father's World Bible lessons. During this curriculum, your child will explore the different names of Jesus. There are scripture readings and questions to ask that can lead to some great discussions. Your child will also complete a poster with all of the names of Jesus.
History/Geography – Your child will study early American history and complete a timeline. He will learn about the Vikings and Leif Ericsson, the Pilgrims, George Washington, Benjamin Franklin, pioneers, Native Americans, and a whole lot more! For geography, you will cover each state. You'll teach a little history about each state, learn the state birds and flowers, see the state flags, and complete notebooking pages for each state.
Science – For science you will do a study of birds, be introduced to science concepts with a general overview, and complete experiments with Science in the Kitchen and Science with Air.
Art – The deluxe package includes I Can Do All Things, which will help your child develop a variety of art skills. There are also art projects included in the teacher's manual.
Music – Your child will learn Patriotic songs, and will explore Tchaikovsky's Nutcracker and more.
How We Used My Father's World Adventures
This curriculum is designed to be used for one year. I did stretch it out over a year and a half. It's also designed to be used with just a 2nd or 3rd grader. My younger daughter, who was in kindergarten and first grade while we used this curriculum, tagged along with her older brother.
We used the curriculum pretty much as is. The only thing we did not do was the art from the deluxe package. We did leave out several experiments because of time constraints, and we only really studied the Nutcracker and not the other ballets.
I loved teaching early American history, and did add my own supplements, including Little Passports U.S. edition. I mention the map in the video, and I highly recommend that map from Little Passports. My kids loved it and used it so much!
We kept up with all of our readings and completed our notebooking pages. When we finished the curriculum, I bound the notebook with my comb binder to keep for our records.
What I Loved About My Father's World Adventures
If you're wanting to give your child an overview of U.S. history and introduce him or her to the states in our great country, this curriculum is amazing. We loved reading all of the different stories and completing projects.
This was also the year that our read-aloud time flourished. I read most of the included novels aloud to the kids and we had some great discussions and made memories I will cherish forever.
The only thing we struggled with was the state study. I think it was a little too much for this age, but that was okay. The kids really weren't interested in all of the information on the back of the student sheets. But, hey, it's in their bound notebooks if they ever want to go back and reference the information.
To help my children really learn information about the states, I bought an app called Stack the States. My oldest child still loves playing that game.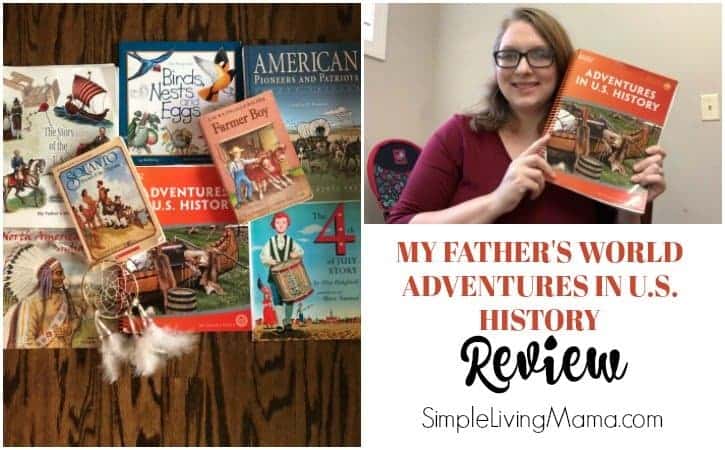 Our Plans for Using My Father's World in the Future
Now that we have been homeschooling for nearly five years, I am finding myself an eclectic homeschooler. I think a lot of that has to do with me becoming more confident and comfortable with my teaching abilities, as well as me learning my kids' learning styles.
I wrote about using My Father's World Exploring Countries and Cultures, but decided since we were in the middle of moving and adding a new baby to our family to take the last semester and just do a focused astronomy study, as well as try some new things with both language arts and math.
I do plan to do ECC this coming fall, but I won't be following MFW's suggestions so closely anymore. I have some new things coming our way that I'm really excited about adding to our homeschool! I can't wait to share those things with you!

How to Prepare for My Father's World Adventures – Recommended Resources and Supplements
More Posts about My Father's World Adventures in U.S. History
How to Prepare for My Father's World Adventures – Recommended Resources and Supplements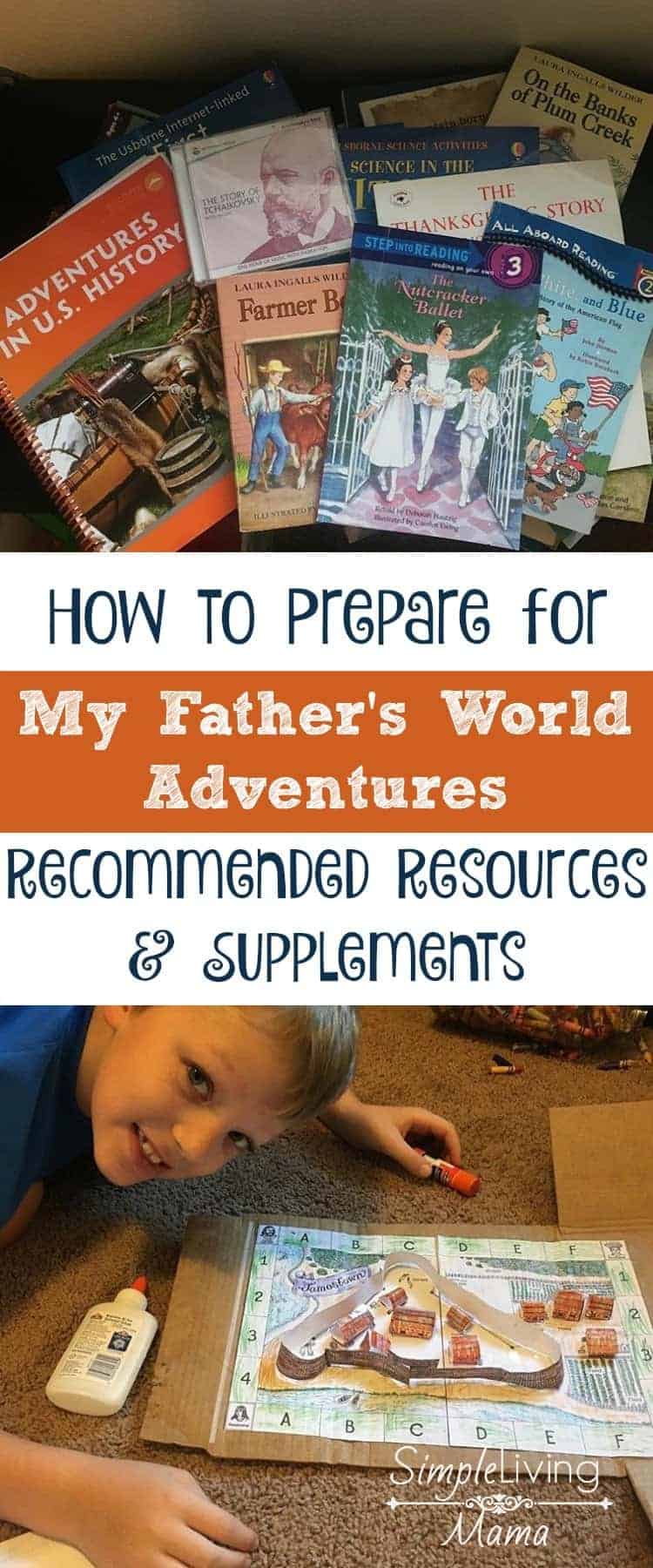 How To Organize My Father's World Adventures in U.S. History