July. The dog days of summer. One of the hottest months of the year in the south. It's been miserable. If I'm being really honest, I haven't kept up with my cleaning routine much. I'm doing good to get my daily and weekly stuff done. The bed isn't get made as often as I'd like, and zone cleaning has switched over to an as-needed basis. I hate being "busy," but right now I am. I'm homeschool planning and rearranging, taking my kids to library events, and doing lots of reading aloud and playing games. It's a good busy, but cleaning isn't a priority. Sometimes it's just not. But, when it's time to get back on track, I have my printable July cleaning calendar to turn to. I love how these monthly cleaning calendars give me an idea on where to start!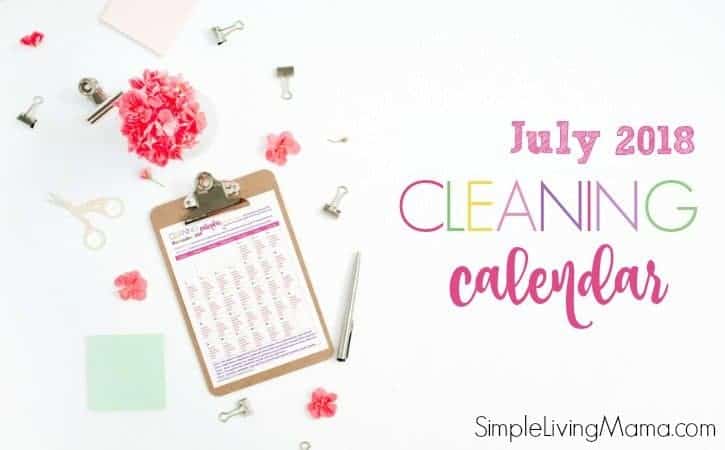 July 2018 Printable Cleaning Calendar
My cleaning calendar lays out each task you should complete each day. It's simple and straightforward, and if you've been getting the calendar for a few months, then you know that the tasks regularly repeat. Unfortunately, cleaning has to be repeated, but hey, if your house gets dirty then you know it's a well-loved and lived in home!
Don't want to wait every month to get the new cleaning calendar? Head on over to my shop to purchase the entire 2018 set and you'll also get a blank editable/fillable cleaning calendar that you can customize.
Missed a month? See all of the past free monthly cleaning calendars.


If you need even more help with cleaning and organizing, my Clean & Organized Home Planner can help.