It's almost St. Patrick's Day! I decided to create a fun St. Patrick's Day Color by Number page and I've also added some fun coloring pages to the pack, too! My kids really enjoy doing color by number pages. They help so much with color and number recognition, and it's always fun when they have a cute holiday theme. I love to pull out these coloring pages when the kids are bored and I need them quiet and occupied. They are also very handy for the little ones while I'm teaching the older ones. This pack of coloring pages will be fun for kids of all ages!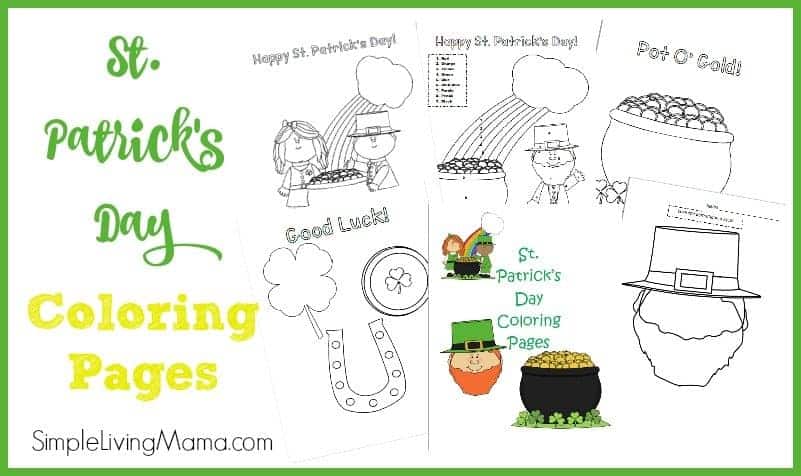 One of the ways I keep my younger kids occupied while I'm homeschooling my older children is with coloring pages! They have so much fun getting out their box of crayons and coloring the pages. the great thing about printable packs is I can print however many pages I want so the kids aren't fighting over who gets what.
St. Patrick's Day Coloring Pages
In this printable pack you will find:
Leprechaun, rainbow, pot of gold color by number page
Draw the face on the leprechaun page
Pot o gold coloring page
Good luck charm coloring page
Rainbow and Irish children coloring page
I have never known much about St. Patrick's Day beyond just wearing green and talking about leprechauns, rainbows, and pots of gold. I want my kids to know a bit more about St. Patrick and who he was. I found a free St. Patrick's Day unit study at Paradise Praises to help me teach the kids about St. Patrick's Day.
When my husband was coming home from Afghanistan during his last deployment, he had a layover in Ireland, and brought home some gorgeous postcards and two cute and authentic Irish folktale books for the kids. We had a lot of fun reading those stories and we made a very simple rainbow craft out of Fruit Loops. So fun!
If you're looking for an easy way to teach St. Patrick's Day, just gather up some books, use our coloring pages, and plan some fun crafts and snacks and you're all set for a fun St. Patrick's Day lesson!
Our Favorite St. Patrick's Day Books
There was an Old Lady Who Swallowed a Clover
Happy St. Patrick's Day Curious George
The Night Before St. Patrick's Day
Our Favorite Supplies for St. Patrick's Day Coloring Pages