One of my very favorite holidays is Thanksgiving! I love everything about it. I love the cool weather, I love the cozy atmosphere of the house, and I love the smells of all of the yummy food. One of the things I decided to do this year was make an entire Turkey color by number and more printable pack for my subscribers to celebrate the season. These coloring pages are great if you are planning a Thanksgiving unit study with your kids!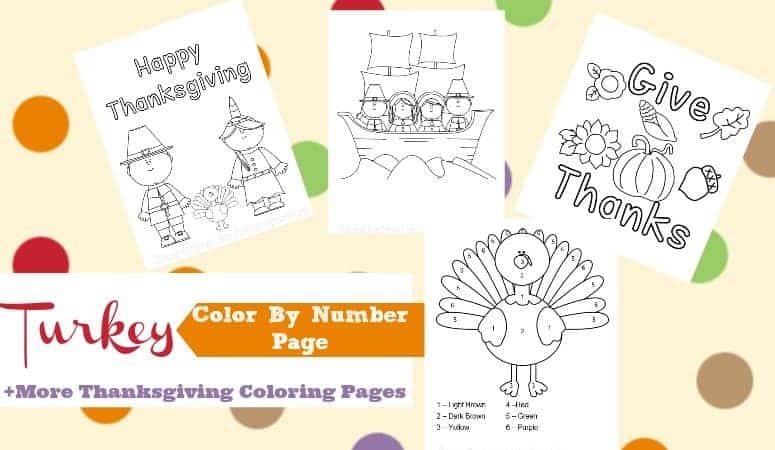 Turkey Color By Number And More Printable Pack
So, what's included in the printable pack?
Turkey color by number page
Give Thanks coloring page
The Mayflower coloring page
Happy Thanksgiving coloring page
Pilgrim and Indian Thanksgiving feast coloring page
Pilgrims and Indians coloring page
I love to print several copies of these coloring pages and leave them out as an activity for the kids while I am preparing our Thanksgiving meal with the other adults. There are even a couple of these coloring pages that I enjoy coloring myself!
My kids absolutely love this turkey. He's been a very popular printable on this blog for the past three years. He's just so cute, and I knew it would be even more fun to include him in a bigger printable pack.
Want even more Thanksgiving printables? Check out this amazing list and stock up!
Thanksgiving {Printable} Activity Pack from Play Dough & Popsicles
Kids in the Kitchen: Festive Thanksgiving Roundup from Crafty Mama in ME
Feed The Turkey High Frequency Words from Adventures of Adam
Pilgrims & the Mayflower {A Free Unit Study Resource Round Up} from Faith and Good Works
Giving Thanks for Nature from FrogMom
Thanksgiving Dressing from Tales of Education at Home
Children's Picture Books about Turkeys from The Jenny Evolution
Thanksgiving Free Printables from iGameMom