The Good and the Beautiful Science Review, Set-Up, and Tips
This post may contain affiliate links. Please see my disclosure and privacy policy for more information. As an Amazon associate I earn from qualifying purchases.
*The Good and the Beautiful did send me some of the science units to review, while I have purchased others with my own money. All opinions are my own.
One subject that I have always really loved, but had a hard time figuring out to teach in my homeschool is science. I always felt like I needed a complete curriculum to walk me through how to teach the science subject in an engaging way. When I found The Good and the Beautiful homeschool curriculum and their science units, I was hooked! We have now completed five of their science units and are currently working on our sixth. With all of the units now done, I wanted to give you a Good and Beautiful science review, as well as share some of my favorite tips and tricks!
The Good and the Beautiful Science Units
The Good and the Beautiful currently offers 13 science and health units for grades K-8 with plans to offer more. The first science unit we did with their curriculum was the Safety unit. I wanted to give my kids a good foundation in basic safety concepts, and this curriculum fit the bill in a very simple way for me. I actually posted an entire look at how I set-up The Good and the Beautiful Safety Unit .
I use the same system to set up all of my science units from TGTB.
Here's a detailed list of all of the science units we have completed so far:
Safety
Arthropods
Maturation
Marine Biology
Introduction to Energy
Energy: Heat, Light, and Sound
-We are working on Water and Our World
Our final unit for this school year will be Meteorology, which was requested by my fifth grader.
I have been extremely happy with the ease of use of this science curriculum. The science units are printed on nice, high quality paper and are not bound, so you have the freedom to assemble your units as you wish.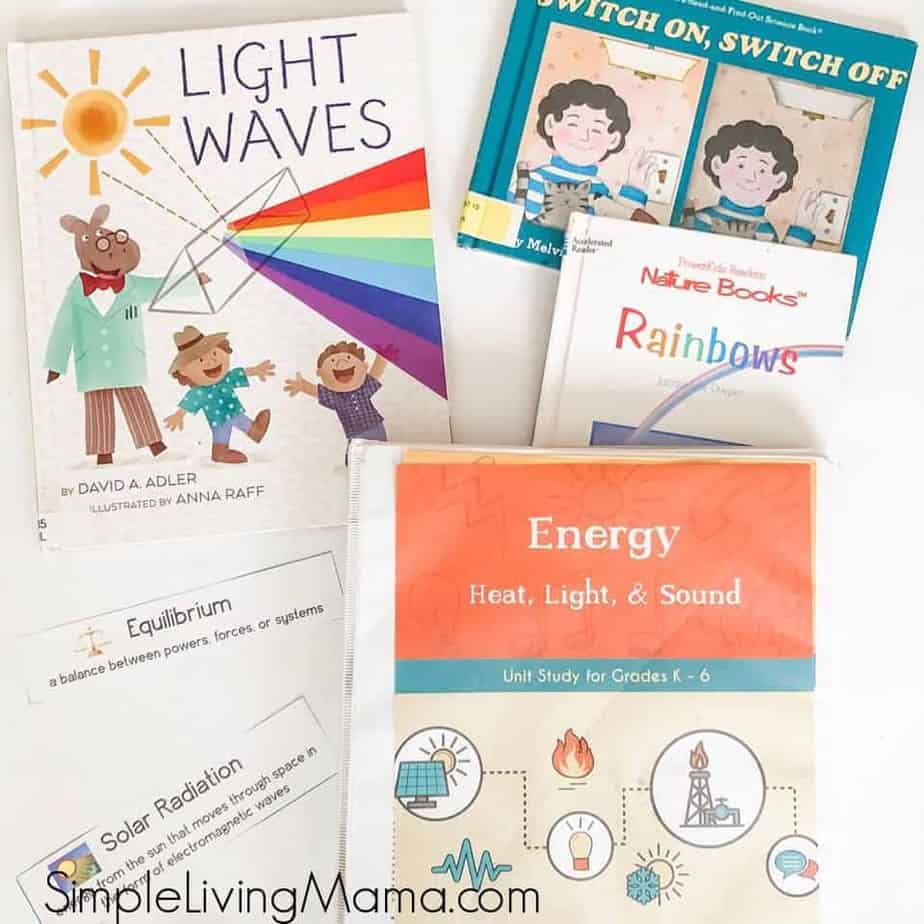 I use a one inch three ring binder for each unit and page protectors for all of the pages. I have begun printing the vocabulary cards to use on our science wall. I make copies of any sheets used for the kids' science journal before the lesson. This way the entire unit stay intact, and I'm only using printed copies for journals and the science wall.
The last unit I blogged about was the Arthropod unit. We really enjoyed it because I have an insect loving son. We learned so much about bugs last spring. I wrote a post about Resources for an Insect Unit Study that we used throughout the entire unit. It was so much fun!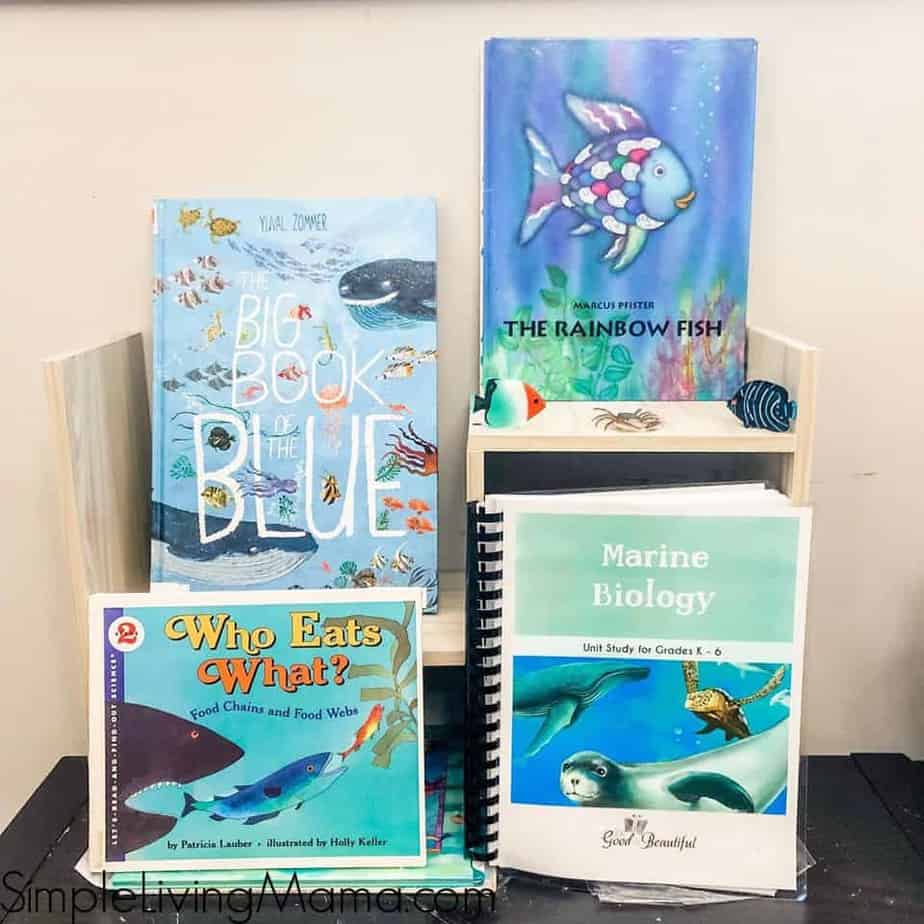 I hope to do individual reviews on the maturation unit and the energy units in the future. The marine biology unit was fun, but it was choppy since I was trying to do it as a summer study. I may revisit that one again in the future. We are currently learning all we can about water! A few lessons in, and I definitely recommend checking out the library books mentioned in the study to help tie all of the information together.
The Good and the Beautiful Science Wall Ideas
Let's chit-chat for a minute about one of the most fun parts of The Good and the Beautiful science units. The science wall! I love the science wall because it allows us to easily access and review information we have learned during the unit. I am going to give you a couple of ideas for making a science wall.
A Regular Science Wall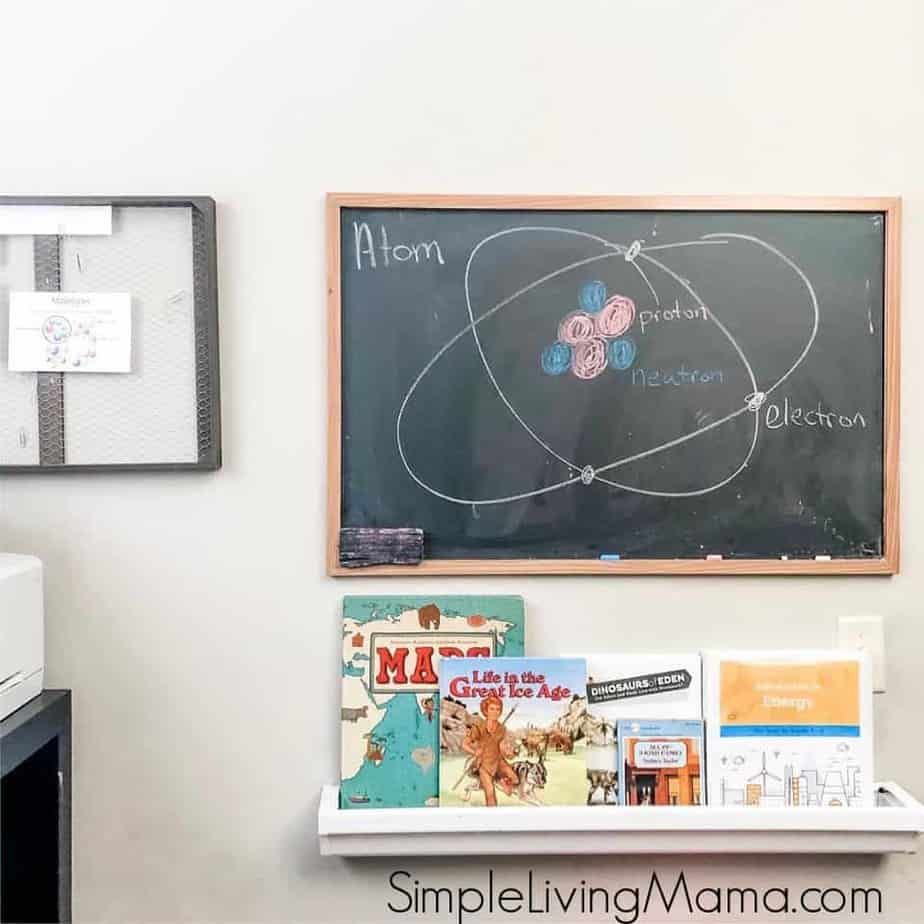 The Good and the Beautiful recommends just posting the vocabulary cards on a wall in your homeschool room. We didn't exactly have the space for this, so with the Marine Biology and Energy units I actually used a chicken wire frame for our vocabulary words. This was my least favorite option because I did not have enough space for all of the materials. I had to take things down as we moved forward through the unit, and I felt like I had little creativity with this method.
Poster Board Science Wall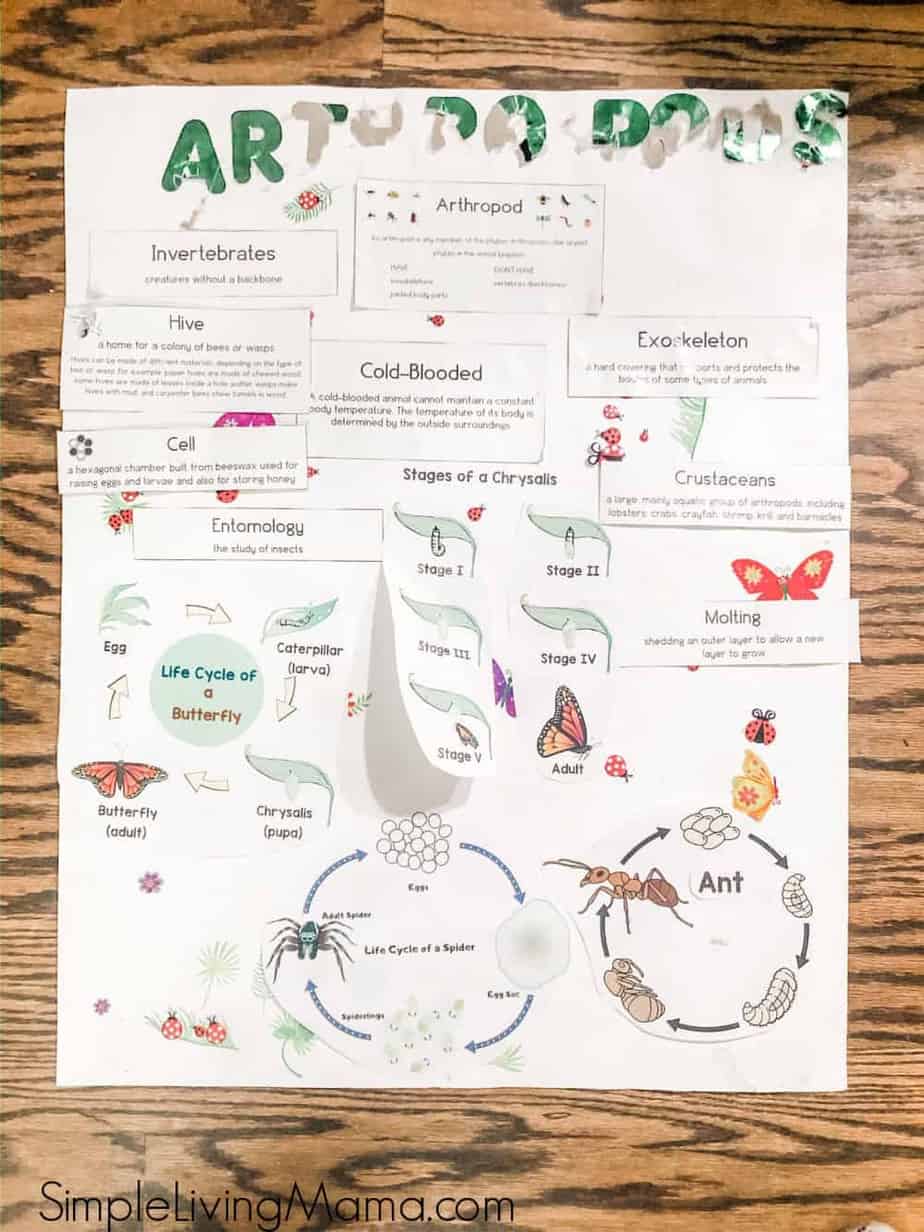 For the Arthropods unit, I actually used a regular poster board. I was able to fit all of the vocabulary cards on the poster board, plus some of insect life cycle diagrams and some other information. I will say that the poster board is less durable if you do not have space to hang it on the wall.
Trifold Board Science Wall
I love using a trifold board for our science wall because it is easy to customize and can be hidden behind our cube storage system when not in use. It is much more durable than a poster and I just happen to have a lot of fun with it. I did a trifold board for the safety unit and we are currently using a trifold board for the water unit.
Lapbook Science Wall
The lapbook science wall looks like an amazing option. I am planning to go back over the maturation unit with my older kids very soon, and I think individual lapbooks for this unit would work very well. Also, my oldest son will be taking the chemistry course next year without his siblings, so I'm thinking a lapbook on this unit just for him would work well.

I have not actually made a lapbook myself. They require using the PDF version of the science unit and scaling pages down so they will fit in the lapbook. I have seen some amazing examples and tutorials in The Good and the Beautiful science Facebook group, and am planning to make some tutorials myself when I actually create ours.
TGTB Math Level K Organization