G is for Goat, C is for Cow, H is for Horse – MFW K
This post may contain affiliate links. Please see my disclosure and privacy policy for more information. As an Amazon associate I earn from qualifying purchases.
I'm going to combine the G is for Goat, C is for Cow, and H is for Horse units in this one post because they are all farm animals and we sort of combined these units together. It's great that they are sequential in My Father's World Kindergarten! I'm really enjoying the themed units in My Father's World.
G is for Goat – My Father's World Kindergarten
During our goat unit, we made a small puppet theater out of a cardboard box and we used the animal worksheet that came with the unit to make little stick puppets. The kids sang "Old MacDonald" with the puppets and had fun putting on their own show.
C is for Cow – My Father's World Kindergarten
For the cow unit I wrote our poem out and Bug illustrated it with a purple cow. It is so cute and I still have it hanging in our schoolroom.
One of our favorite restaurants is called The Purple Cow and it's a fun 50s-themed diner. We definitely had to take a trip there and eat burgers and hot dogs and have some Purple Cow pie!
We got to attend our local agriculture museum's homeschool day and the kids got to try their hand at making butter the old fashioned way!
They also got to pump water by hand!
H is for Horse – My Father's World Kindergarten
The horse unit was pretty fun. We did a craft by cutting out a lowercase h from construction paper and then adding some elements to make it look like a horse.
We read "Billy and Blaze" and the kids had fun reenacting the story with our rocking horse.
We used homemade playdough to make animals!
The weather is wonderful so we are enjoying our time outdoors.
My son really wants to be a veterinarian when he grows up. He talks about it all the time. I don't recommend this for everyone, but we let him watch an episode The Incredible Dr. Pol on the National Geographic Channel. This particular episode showed some goats getting their horns removed and two cow births. Like I said, if you have a sensitive child, I don't recommend showing them this show! My son is just so into wanting to be a vet that he enjoyed the show.
I have a new plan that I will be blogging about that will have us stretching out MFW K for 2 years. From now on we are going to take 2 weeks per unit and when we finish we will circle back around and review units we may not have spent much time on. I've changed my mind exactly how I want to do things a couple of times, but I think this will work. We are going to do a lot more crafts and extras from now on to really make the most of our curriculum!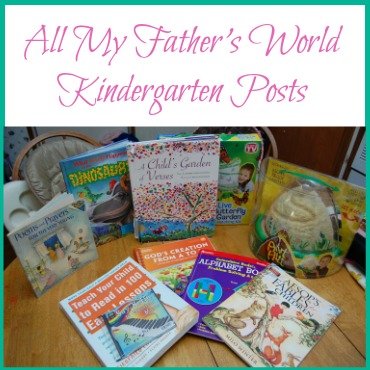 Linking to: Weekly kids Co-Op,