Decluttering Ideas and Tips for Kids' Rooms
This post may contain affiliate links. Please see my disclosure and privacy policy for more information. As an Amazon associate I earn from qualifying purchases.
One of the biggest jobs when decluttering your whole house has to be the kids' stuff! We all know that here in America we think we need so much stuff for our kids. We have never had a separate play room, so we have had to figure out how to store all of our kids' clothes and toys in one room! Today I'm going to walk you through how to declutter kids' rooms.
Decluttering Tips for Kids' Rooms
Now you may be wondering why we are starting in the kids' rooms. The biggest reason is because it is March and time to change out the seasonal clothes here where I live! I want to do a huge purge of the kids' clothes, along with any toys I missed on our last decluttering go-around.
We will be dividing the kids' rooms up and categorizing objects by type. Our declutter calendar will help you declutter one type of object at a time. Here's my best tips for decluttering a kids' room!
How To Declutter Kids' Clothes
Kids outgrow clothing so quickly, don't they? And if your kids are like my kids, those cute clothes get holes and stains quickly. When decluttering your kids' clothes, pull out all of the clothing.
Make three piles: Keep, Donate, Trash
Throw away stained and unusable clothing.
Put clothing that is outgrown or disliked and can be donated in a bag to go to the donation center ASAP.
Put clothing you want to keep in one pile. If it is out of season, put it in another pile to be stored. I have started storing our out of season and hand-me-down clothing in plastic totes like these in our attic. Every time the season changes, we bring down the totes and go through them during this process.
Once you have all of the clothes you want to keep and if it fits and is in season, put it away in the dresser or closet. Remove all other clothing from your child's room.
I used to sell and shop for kids' clothes at consignment sales a lot. I don't do that as often now. Our clothes are usually too worn out to be sold by the time they've gone through all of our kids, but they are a good option.
How To Declutter Kids' Toys
Ah, kids toys! You know, I look at other blog posts and Instagram photos of these "perfect" kids rooms and it honestly makes me feel like I'm doing something wrong. My kids love their toys! And they love playing with them and leaving them in the floor! I don't think my kids will ever have a "minimalist" looking room, but that's ok. The toys are temporary, y'all.
With that said, we do need to regularly declutter them. I actually like to categorize my kids' toys. For example, one bin will hold baby dolls, another dress-up clothes, another bin is for cars, and another holds a wooden train set. I'm working on helping my kids keep them organized.
Go through one category at a time and discard broken toys. Decided which toys can be donated and then keep the rest. Organize them into bins by category and put away. If your kids have a traditional toy box like mine do, I really love these Hefty bins for categorizing and storing smaller toys.
How To Declutter Kids' Electronics
Now it's time to deal with kids' electronics. If your child has a lot of old electronic tablets that no longer work, it's probably time to recycle them. Donate electronic items that they have outgrown. Weed through cords and get rid of any that no one knows what they belong to.
It's also a good time to go through DVD's, Blu-Ray's, and video games. We have actually started purchasing movies through iTunes so we no longer have to keep up with discs. It makes life so much easier for us!
How To Declutter Art Supplies and Artwork
I have a couple of budding artists in my house. We have to be diligent about only keeping loved works. Quick drawings and scribbles get trashed regularly.
If you have a child that just doesn't want to let go of a huge amount of paper, make a special file folder just for their artwork and keep it in a drawer in their room. You can also display your child's favorite pieces. We have a wire display in our dining room just for my kids' artwork.
How To Declutter Kids' Books
I'm a homeschool mom. Books hold a special place in my heart. Because of that we have dedicated bookshelves all around our house. I do make it a habit to throw away trashed books that were not favorites, but many are kept on our shelves. My husband even built these cool rain gutter bookshelves that would be perfect for a child's room or play room!
Need more decluttering help? Take the 30 Day Declutter Challenge!
Cheap Ways to Organize a Child's Room
So, I already mentioned the DIY rain gutter bookshelves, so you don't have to spend a ton of money to organize your kids' room! Yes, there are a variety of organizers on the market, but make use of what you have!
Under the bed storage containers work well for storing out of season clothes, or even toys that are played with on a regular basis. Use plastic bins with lids to keep items contained and separated in toy boxes. Large ziploc bags can hold small items together.
We do enjoy our cube shelves and fabric bins, although I'm planning to purchase wooden ones the next time I buy because the fabric bins do not hold up over time.
I also love over the door shoe organizers. I am planning to use them for shoes in my kids' rooms, but I also use them to hold craft supplies!
Are you ready to get your kids' room organized? Find the decluttering calendar in the Homemaker's Resource Library.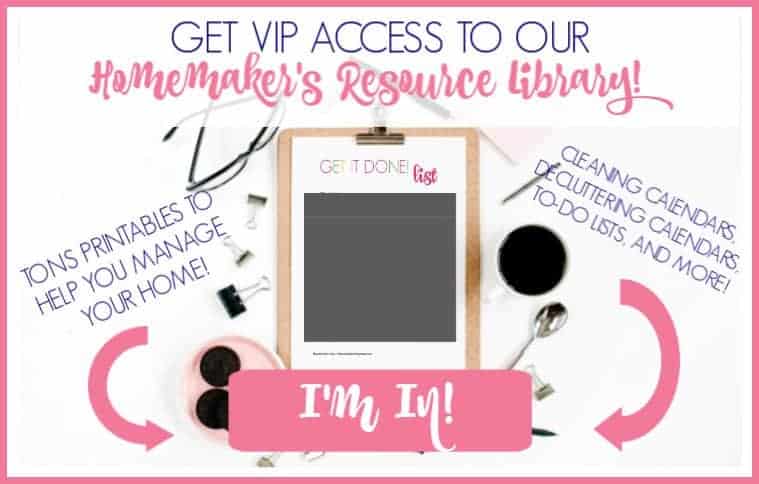 More Decluttering Inspiration
How We Fit Three Kids in One Room