Raising a Large Family on One Income
This post may contain affiliate links. Please see my disclosure and privacy policy for more information. As an Amazon associate I earn from qualifying purchases.
Some days I just have to pinch myself because I am expecting my sixth child. Y'all, I never imagined I would be THAT mom. The one with many kids. But, God has blessed our marriage with children and they make life a lot more fun! We have been a one income family since the beginning. Part of large family living often includes raising a large family on one income. How do we do it in today's world? Let me explain.
Raising a Large Family on One Income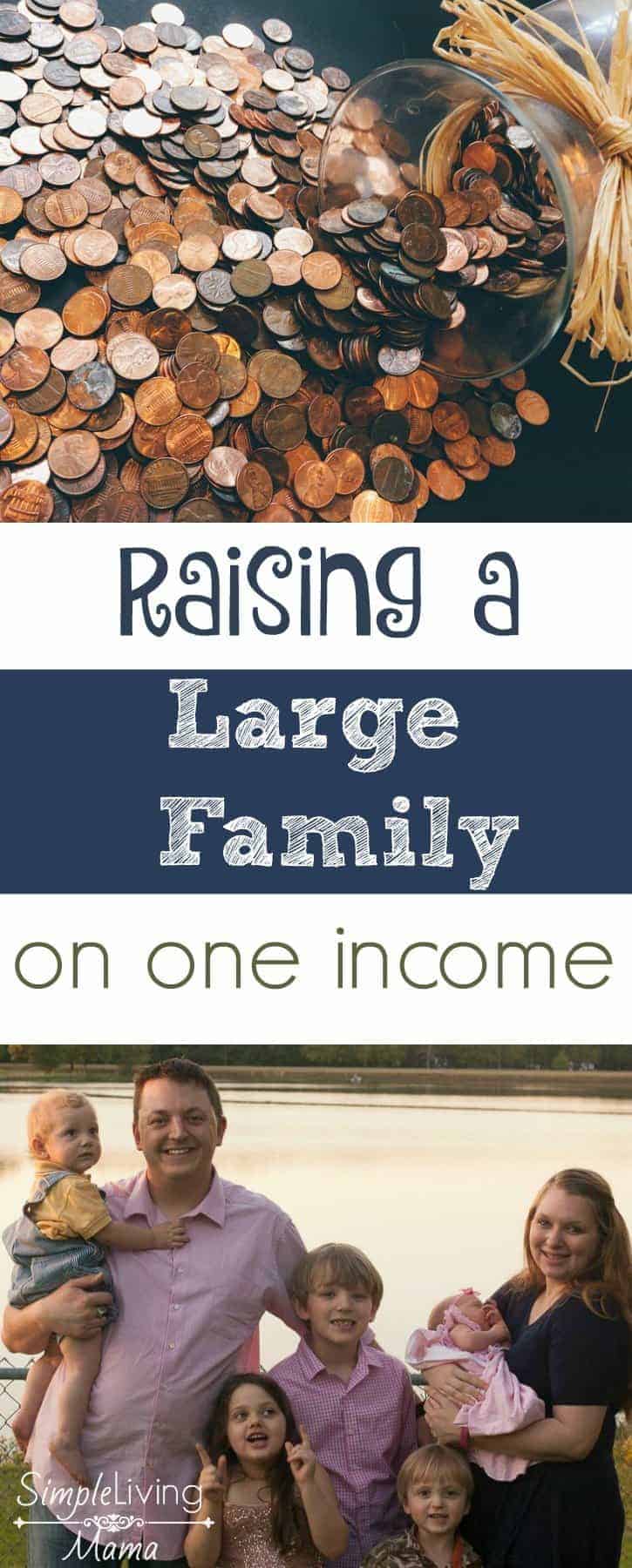 One car payment at a time
If you're raising a family on one income, you're probably cannot afford two car payments. I would say ideally no car payment would be the way to go. We have never been able to swing that, but we keep our car payments to one at a time, and we learn how to maintain older vehicles.
Frugal meal planning
I will tell you the majority of our money goes to food. It is essential to practice frugal meal planning when you have a large family. It costs a lot less money to pack a lunch when we head out the door as a family than it does to stop at the drive-thru.
One of my favorite apps for saving money on groceries is Checkout 51.
Shop sales and take hand me downs
I try hard to find the best deals on all of our clothes. My husband and I don't get to shop much for ourselves. I will check clearance racks at Walmart and occasionally shop consignment sales and thrift stores. I keep many of our kids' clothes to pass down to the next child.
Use your skills to make extra money
Many mothers who stay at home make extra money on the side. I'm sure you've heard this before, but you do not have to work a 9-5 job to bring in income. I blog and make some extra money for our family doing something I enjoy! You could babysit, sell crafts, anything you can think of to bring in extra spending money.
Pray
We live in a society that makes it very difficult for a family to live on one income. My best advice is to pray about your situation. Is this the direction God wants you to go? Be faithful, and He will provide. I have felt strongly called to stay at home and homeschool our children. We don't always have all the new stuff, and it isn't always easy trying to make everything work, but He provides.
Resources for Raising a Large Family on One Income
How To Raise a Family on One Income
How to Raise a Family on One Income
Living on One Income – The Ultimate Post