If you were to ask me what is the one thing that has revolutionized my cleaning routine my answer would be zone cleaning. I am the type of person who likes order and I like to follow a series of steps to get a job done. Before I knew about zone cleaning, I would look around my house and feel nothing but complete overwhelm over the things that needed to be done. My mind would bounce around between the fridge that needed a cleaning, to the table and chairs that needed to be wiped down to the dirty shower in the bathroom. The overwhelm made it impossible to know where to start, so I just didn't! If you're feeling that overwhelm yourself, I'm going to explain how to create a zone cleaning schedule.
But first! Zone cleaning is only effective if your house is relatively decluttered. I say "relatively" because decluttering is an ongoing process, but if you are dealing with an overwhelm because of STUFF you need to start with How To Declutter Your Whole House, and then come back here. Ok?
Now, let's get to zone cleaning!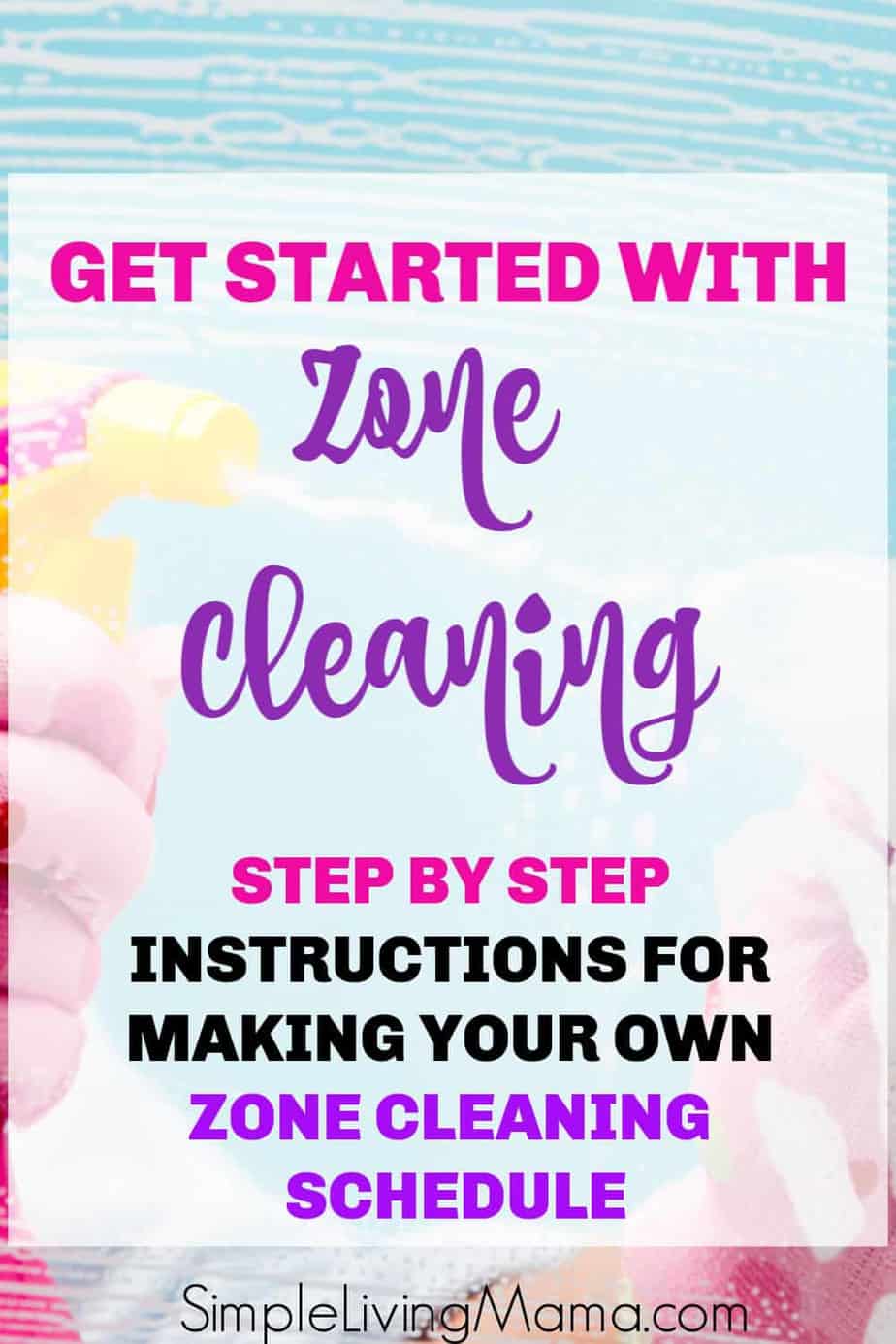 What is zone cleaning?
I think Flylady may have been one of the first to coin the term zone cleaning. I have taken the idea of zone cleaning from Flylady and tweaked it to work for my family. I do this because I prefer to spend an entire week on one area or a couple of small areas and space those zones out over an 8 week period rather than cycle through them every four months. This works for me because I am also handling my morning and evening cleaning routines each day, so my house is never a total disaster. (Ok, well maybe that isn't entirely true with six homeschooled kids living here!)
I also like to hit most all of the areas of my home. This way I can make sure to stay on top of the whole house rather than just the main parts of the home.
Let's see which zones we have!
Zone 1 – Kitchen : baseboards, oven, fridge/freezer, light fixtures, wipe out cabinets/drawers, microwave, table/chairs
Zone 2 – Entryway/Coat Closet : baseboards, declutter closet, door, light fixtures
Zone 3 – Living Room : Baseboards, carpet, light fixtures, polish furniture, spot clean upholstery, launder draperies
Zone 4 – Hall Bathroom : Light fixtures, clean out cabinets, wipe down cabinets, clean windows
Zone 5 – Laundry Room : Clean washer/dryer, clean underneath, declutter, wipe shelves
Zone 6 – Linen Closet: Declutter, wipe off shelves, vacuum, reorganize
Zone 7 – Kids' Bedrooms: Baseboards, light fixtures, declutter/organize, clean windows/draperies, clean under bed
Zone 8 – Master Bedroom: Baseboards, windows, light fixtures, closet cleanout, clean under bed, freshen master bath
You will notice I have some pretty big zone cleaning tasks listed here. Many of these tasks do not get done each time I go through a zone. For example, I only launder draperies once or twice a year. When I begin my zone cleaning, I assess the situation, look at my list to see which items I completed the last time I worked in that zone, and decide which items can be done now.
If you have the time, break your zone cleaning down into 15 minute per day chunks. This way you aren't exhausting yourself trying to clean the entire zone in one day. I wish I could practice what I preach, but right now I'm homeschooling multiple children, so zones are usually tackled on the weekend.
How To Make Your Own Zone Cleaning Schedule
Break your home into zones that make sense to you. You can work on your kitchen in week one, your living room and entryway in week two, and so on and so forth.
Plan out all major cleaning tasks for each zone.
List those tasks next to each zone.
Get out a calendar and assign each week a zone.
Get to work! You can do your zone cleaning tasks a little each day during the week, or all on the weekend if need be!
Repeat!
Zone chores
Zone chores are likely going to be your least favorite household chores. I personally don't care much for wiping down baseboards and walls, but doing these chores during your zone cleaning time will prevent you from having to do major spring cleaning. Just think, a little extra effort will prevent you from having to put in major effort further on down the line.
Monthly cleaning calendar
Need help putting the cleaning plan all together? My monthly cleaning calendars are perfect for helping you get on track with your cleaning routine. VIPS in our Simple Living Mama community get access to The Homemaker's Library and a new cleaning calendar each month for free!