How are you doing with your Life: Simplified Project goals? One way a lot of people learn how to live simply is by cutting back on the chemicals they use to clean their homes. I started doing this a long time ago, but have slowly moved away from it overtime. I began to see which homemade cleaners actually work for me, and instances where I have to use something a little stronger (i.e. mold). I decided to pull together some of my favorite homemade cleaning recipes and offer a cheat sheet you can keep in your homemaking binder!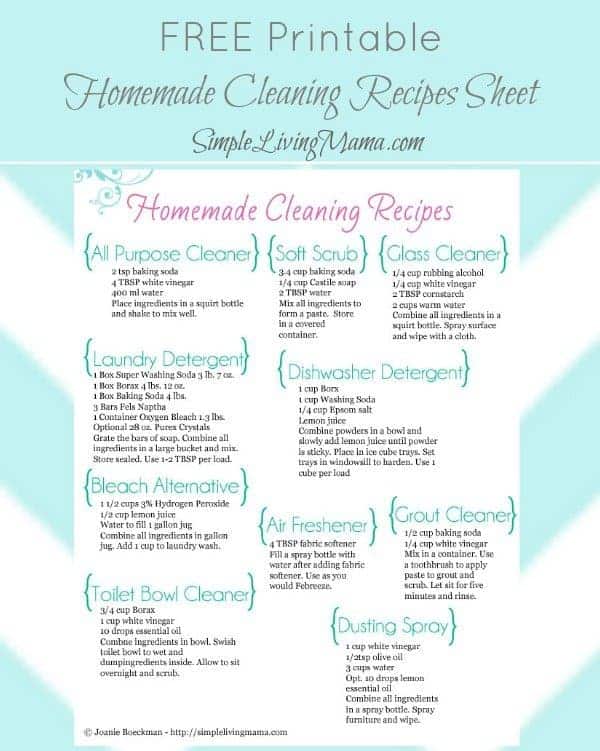 My Favorite Homemade Cleaners
Which homemade cleaner recipes do I use? Here's what you will find on my homemade cleaning recipes cheat sheet:
All Purpose Cleaner – Great for cleaning countertops, toilet seats, and other hard surfaces.
Soft Scrub – You can also use Dawn dish detergent instead of Castile soap. I love using this to scrub the tub.
Glass Cleaner – Make your mirrors shine!
Laundry Detergent – The version on the sheet is for a smell-good detergent. You can use an essential oil instead of the Purex crystals. I think lavender would be an excellent choice. I get away with using just the super washing soda, borax, and Fels Naptha. I add Oxygen bleach as needed to individual loads.
Dishwasher Detergent – Yay for chemical-free, clean dishes!
Bleach Alternative – This is a great way to whiten your clothes without bleach!
Air Freshener – I would spray my curtains and upholstered furniture with this rather than spray in the air.
Grout Cleaner- I will be whipping up a batch of this pretty soon to clean my grout!
Toilet Bowl Cleaner – I use orange essential oil in my cleaning products. The orange is so energizing and uplifting when you're scrubbing a toilet!
Dusting Spray – Another one you can use orange essential oil instead of lemon.
You can get your copy of our homemade cleaning recipes cheat sheet by subscribing to our weekly newsletter. You will receive a recap of all of the weeks posts, plus homemaking/homeschool related freebies and deals I have found throughout the week.
No more scouring the Internet for a recipe. You will have all of my favorites right in your homemaking binder!
I just love this list of free homemaking printables. Check it out!
My Favorite Homemade Cleaning Supplies
Here you will find my favorite supplies that I use to make my homemade cleaners.
You may also like:
Favorite Dollar Store Cleaning Supplies