One of our very favorite books in our homeschool is Ten Apples Up On Top by Dr. Seuss. Not only does this book tie in wonderfully with an apple themed preschool unit, but there are also many, many extension activities you can do with this book!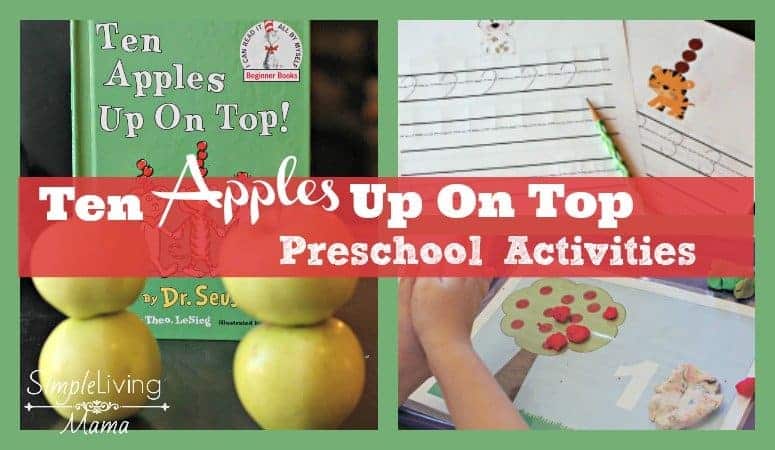 Preschool Activities for Ten Apples Up On Top
When I plan a homeschool preschool unit, I like to choose at least one big craft or activity each week. I also occasionally pull out printables that tie into that theme. The printables I use aren't merely worksheets. I like for them to be interactive. Children use fine motor skills to complete the activities. They learn color recognition, letter recognition, and number recognition. Many printables can be used in busy bags and for hands-on learning.
Most of these activities can be found in my Ten Apples Up On Top Preschool Activity Guide. It includes all of the printables and instructions for activities.
Here are some of our favorite activities.
My kids adore finger painting. We used this apple finger painting page to practice counting how many apples each animal had on its head!
My two middle children worked together to complete the page. They ended up making a bit of a mess, but they still had a lot of fun!
Another fun activity we did was use this apple play dough mat to have some play dough fun! I love using play dough mats in our homeschool because they inspire so much creativity with my preschoolers. I can guide them with creating with the play dough mats, but more often than not they end up creating a world by themselves!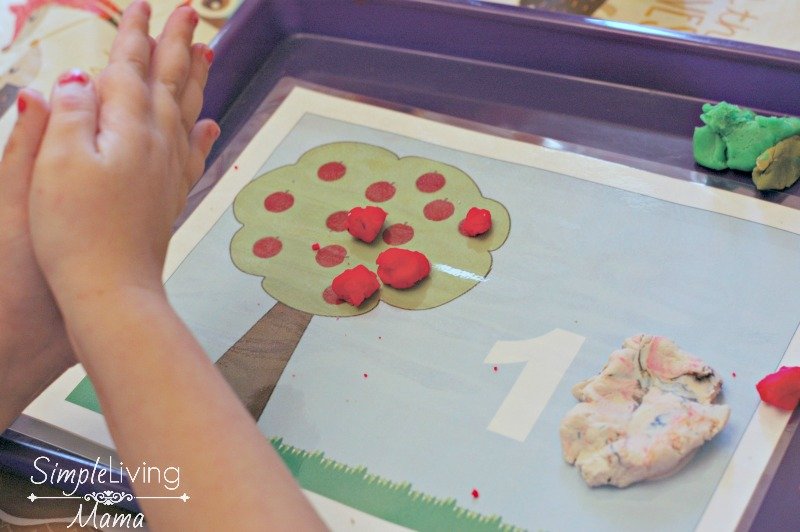 My daughter loves to make hats, so we created our own Ten Apples Up On Top headband. This project was actually pretty easy
My almost four year old wants to work on writing his numbers, so I created some number tracing/writing pages for him. And guess, what? I am making them available for my newsletter subscribers for FREE! If you have a little one who needs a little help with writing their numbers, go ahead and sign up below!
If you're interested in any of the other printables in this post, or instructions on how we completed the activities, take a look at my Ten Apples Up On Top Preschool Activity Guide. I am really excited about making preschool literature guides for all of my lovely preschool mamas. Books are so important for little ones and my preschool literature guides will help you extend the learning!