I can't believe it's been five whole weeks since the last time I posted a pregnancy journal. Not too much has happened in the way of the pregnancy since then. I'm just getting huge and uncomfortable, but I'm ready to dive back into the My Pregnancy Journal Link-up!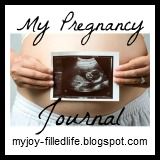 How far along are you?  25 weeks, 4 days
Prayer requests?  I'm going to keep the prayer request unspoken this week. There are a lot of things going on.
Baby's growth?  I'm not exactly sure how big the baby is, but I feel like I have a watermelon in my belly! He's getting big for sure!
Medical Stuff?  I had my 24 week check-up last week. Everything was fine. I had to take the glucose test and passed! Next month I should find out if my placenta has moved up and out of the way.
Movement?  There is a lot of movement going on these days. Baby is even beginning to get under my ribs!
Something I'm Excited About….  Getting all of the baby things organized and ready for him!
 Discussion Question:  Hmmm. I haven't been terribly excited about the Olympics the last few times it's come around, but I do enjoy watching the gymnastics.