Apple Books for Preschool
This post may contain affiliate links. Please see my disclosure and privacy policy for more information. As an Amazon associate I earn from qualifying purchases.
The apple preschool theme is popular during the month of September, so if you're planning an apple unit, you'll want to get your hands on the best apple themed books for preschoolers and kindergartners early in the season. These books are part of our preschool book lists your child will love, so you know they're going to be good!

Apple Books for Preschoolers and Kindergartners
This delightful little story follows Annie the Apple Farmer. She picks apples and sells her best at the market. With her other apples, she bakes yummy treats and makes applesauce!
This non-fiction book gives kids an actual look at how apples grow. Did you know they come from a flower?
Learn about where apple trees grow and even plant your own apple tree with instructions in this book!
Work on numbers 1-10 with your little on with this book. Apples make counting fun!


Apples and Pumpkins
The perfect fall day includes picking apples AND searching for the perfect pumpkin!
How to Make an Apple Pie and See the World
Find out what happens when you want to make an apple pie, but the market is closed. Go on an adventure around the world to collect all the ingredients needed for that delicious pie!
Of course, there are many, many more apple books for preschoolers and kindergartners. These are our very favorite and highly recommended if you can only snag a few! Have fun planning your apple unit for your little one!
More apple activities for preschoolers
I have now taught four preschoolers and apple themes are always a favorite! We have so much fun reading about apples and completing fun apple activities. We have especially had fun making apple recipes, playing in an apple themed sensory bin.
Ten Apples Up On Top Preschool Activities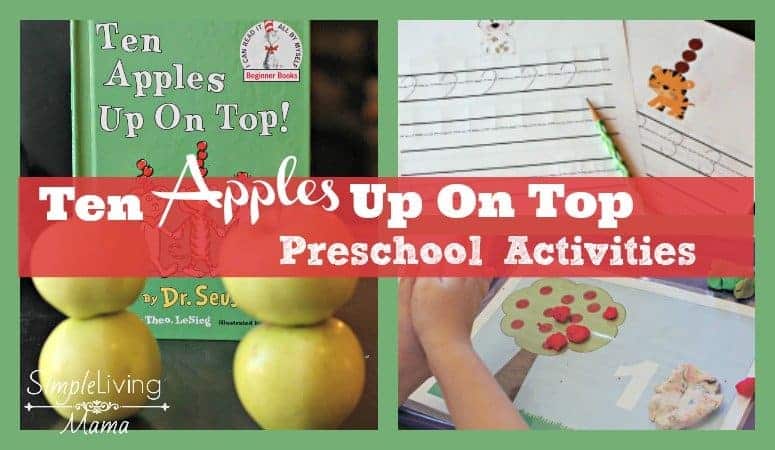 Apple Themed Preschool Activities