Motherhood is no joke. I spent a lot of time before becoming a mom dreaming what it would be like. I was one of those little girls who just wanted to grow up to be a mama. I pushed baby dolls around in my little toy stroller. I held other people's babies any chance I could get, and I just dreamed about the day when I would hold my own sweet baby against my chest. And then it happened, and it happened again, and God has blessed me six times over with beautiful babies.
It hasn't always been as perfect as my pre-motherhood self imagined it would be. One thing I neglected to ever daydream about was the sheer exhaustion I would feel mothering several young children. I had no idea how often I would cry out to the Lord throughout a regular day as I navigated the wills of six individual people with their own ideas about how things should go.
There were no fancy imaginings of the day to day continual drudgery of the laundry and the dishes. I didn't think about how often I would change diapers or clean food off the floor. I had no clue how fast the pre-teen years would come, or how to handle all of the new emotions that come with it.
One thing I have learned throughout the years is that I need to get my spiritual life in order if I'm ever going to mother these children of mine in a way that will help me keep my sanity and lead them to the Lord. Listen, when we cross the street as a family, I only have two arms to hold on to two children. I make sure we all join hands and hang on, but I also know that I can only do so much, my children are in God's hands. I cannot control everything. I have found peace and purpose with devotionals. They help me see the bigger picture here. I've created a small round up of devotionals for moms that can help all of us see our greater purpose as mothers.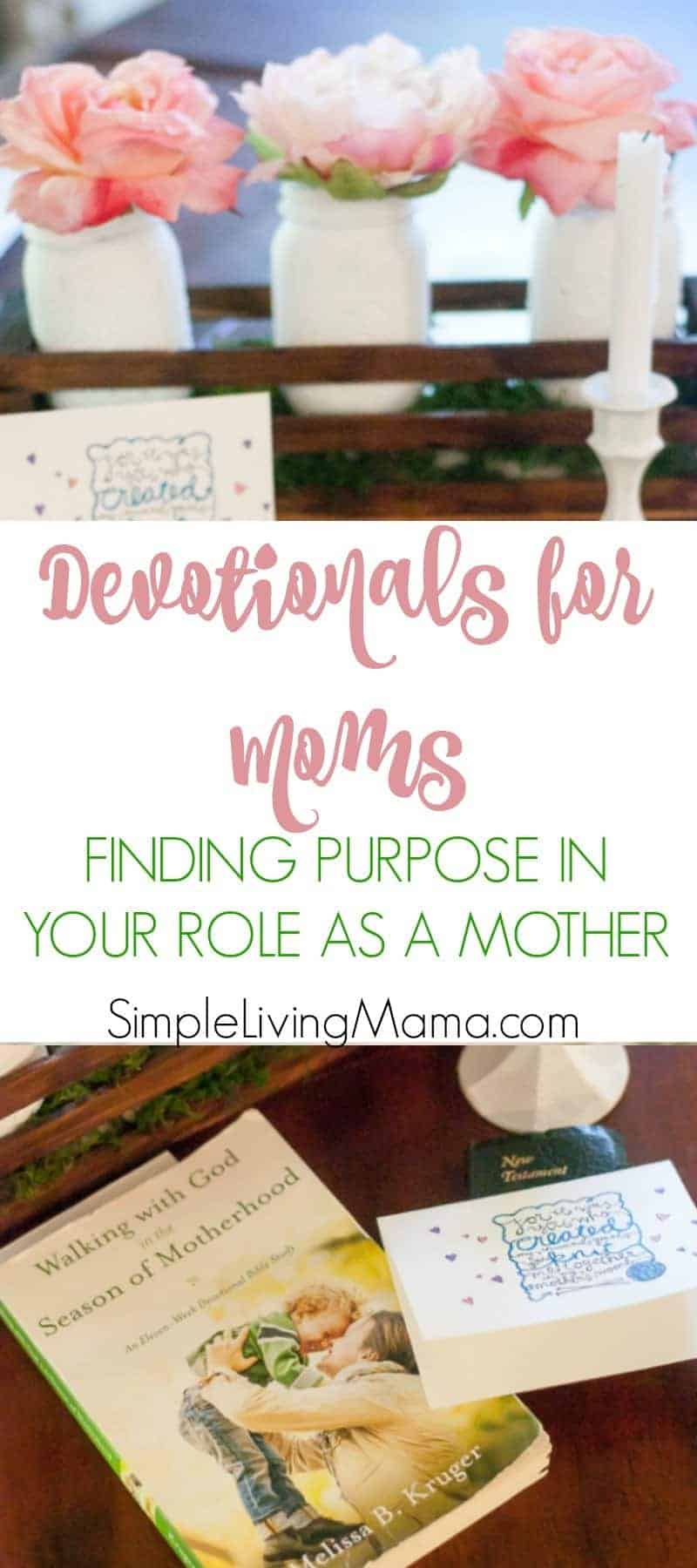 Devotionals for Moms – Finding Purpose In Your Role as a Mother
Walking with God in the Season of Motherhood by Melissa B. Kruger
I have been working through this devotional this year. It is such a nice little Bible study, too. You get eleven weeks of encouraging stories. The scripture is included right in the book, so if you don't have time to grab your Bible, you don't have, too. You'll also find questions to ponder. I highly recommend it!
From Chaos to Calm by Melissa Ringstaff
This eBook is designed to be used over 15 weeks and you will find peace in your heart, peace in your home, peace with your husband, and peace with your children. I'm looking forward to diving into this one!
Heavenly Minded Mom by Katie Bennett
In this book you will journey through the book of Ecclesiastes. Over 90 days you will focus on meditations, scripture, and journaling as you learn what it means to mother with a heavenly mindset. You will find a higher purpose in your role as a mother. This is another book I'm excited about working in!
Pressing Pause: 100 Quiet Moments for Moms to Meet with Jesus by Karen Ehman and Ruth Schwenk
Finally, for those seasons when we don't have a lot of time, this book offers 100 short devotionals that even the busiest moms can find time for. In only a few minutes you will be able to focus on what God has in mind for you. And it's always a good idea to just take a few quiet moments each day anyway!
So, these are the devotionals I am either working through, or are on my radar. It's been so amazing for me to start my day with the Word. Do you have any good devotional recommendations? Leave them in the comments!
Other Posts You May Enjoy:
Mothering Through the Hard Times
FREE Proverbs 31 Printable Pack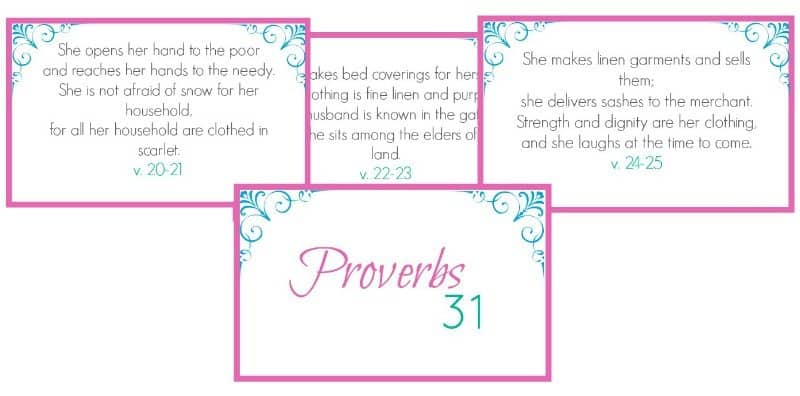 Mother's Day is one day out of the year that is for making moms feel extra special and extra appreciated. That's why I've gotten together with a great group of bloggers to bring you a giveaway that we are hoping will bless you and show you just how much we appreciate you, our mom readers.
There will be THREE winners in this Mother's Day giveaway – each winner getting to choose a gift card to the place of their choice. The choices are –
Etsy
Stitch Fix
Hobby Lobby
Zulily
Starbucks
The grand prize winner will receive a gift card for $300 and two runner-up winners will receive a $100 gift card.


To enter for your chance to win, simply use the Rafflecopter form below to enter. Now I know that is quite a few entries for you, but each of these bloggers generously chipped in their own money to bring you this giveaway, so I hope you will take the time to do all of the entries. And hey, the more entries you do, the better your odds are at winning!
Giveaway ends May 10th at 11:59pm EDT. The winner will have 48 hours to respond to email to claim prize. By entering this giveaway you will be added to the email lists of the participating bloggers. Please be sure to read the Terms & Conditions upon entering the giveaway.