Fall Nature Study for Kids – Tips and Ideas
This post may contain affiliate links. Please see my disclosure and privacy policy for more information. As an Amazon associate I earn from qualifying purchases.
Every day my children beg to go outside to play. While I love nature in all seasons, I think many will agree with me that fall is the perfect time to be outdoors. While the summer here is sticky and sometimes downright unbearable, fall brings crisp mornings, trees that put on a spectacular color show, and dazzling sunsets. If you've never done nature study with your kids before, fall is the perfect time to dive in! I do nature study in my Charlotte Mason preschool as well as with my older children. I just love these fall nature study tips.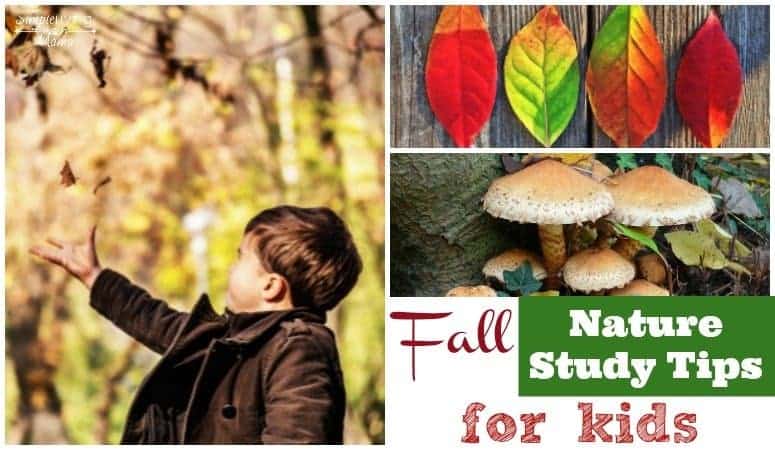 Fall Nature Study for Kids
I have collected some fun fall nature study ideas for kids. Many of these ideas are from our own observations while being outside during the fall season. Children are extremely observant. For example, it didn't take long for my kids to realize that the days were getting shorter and it was getting dark much earlier! When they ask a question like that, it is the perfect time to dig a little deeper and really find out the "why," even if you don't really know yourself!
Observe and Identify Trees
This may seem obvious, but now is the perfect time to observe and identify trees. Which trees are brilliant red? What are they called? Which trees do not change color at all? Some trees have yellow leaves and some trees are orange. While you are observing the leaves, have your child also make note of the bark. Collect some leaves for a neat little leaf collection.
Acorns, Acorns, Everywhere!
Yesterday we were at my parents and there were acorns everywhere! There were so many acorns they were crunching under our feet. Now is the perfect time to talk about these fun little seeds? Dissect an acorn with your child. Find out what acorns can potentially become. What animals store acorns for the winter? Collect some acorns and find out more!
Why Is It Dark So Early?
I mentioned it earlier, but children catch on quickly that the days are getting shorter. Let's find out why? Do a mini-study on seasons and talk about Earth's rotation around the sun, as well as the tilt of the Earth. Learn about the autumnal equinox and what it means. Why is the weather getting cooler? Answer all of these questions with your child.
Hibernation
In autumn, animals begin getting ready for hibernation. We have a little critter or two outside who has decided he needs to make his winter home under the hood of our vehicles. We have found grass clippings and leaves packed away in the air intakes of both of our vehicles. While it is an annoying problem, and we aren't sure exactly what kind of animal is doing it, the issue does present a fun science lesson for our kids. Why is this animal packing away leaves and grass clippings? These animals are getting ready for winter! Some animals are storing food, and some animals are preparing to hibernate. Find out which ones.
Favorite Nature Study Guides
You may be wondering how you will answer so many questions about nature! Well, the Internet is a great place, but you can also bring along field guides and nature study guides. Here are some of our favorites!
The Handbook of Nature Study is highly recommended among Charlotte Mason educators. It's packed full of information!
For a more colorful nature field guide, check out Fun with Nature Take-Along Guide.
Berries, Nuts, and Seeds is perfect for fall!
Learn all about those busy animals with Tracks, Scats and Signs.
DIY Nature Journal
Have your child keep track of their discoveries with a nature journal. My DIY nature journal tutorial is the easiest nature journal your kiddos can make!
Get out and explore!
You May Also Like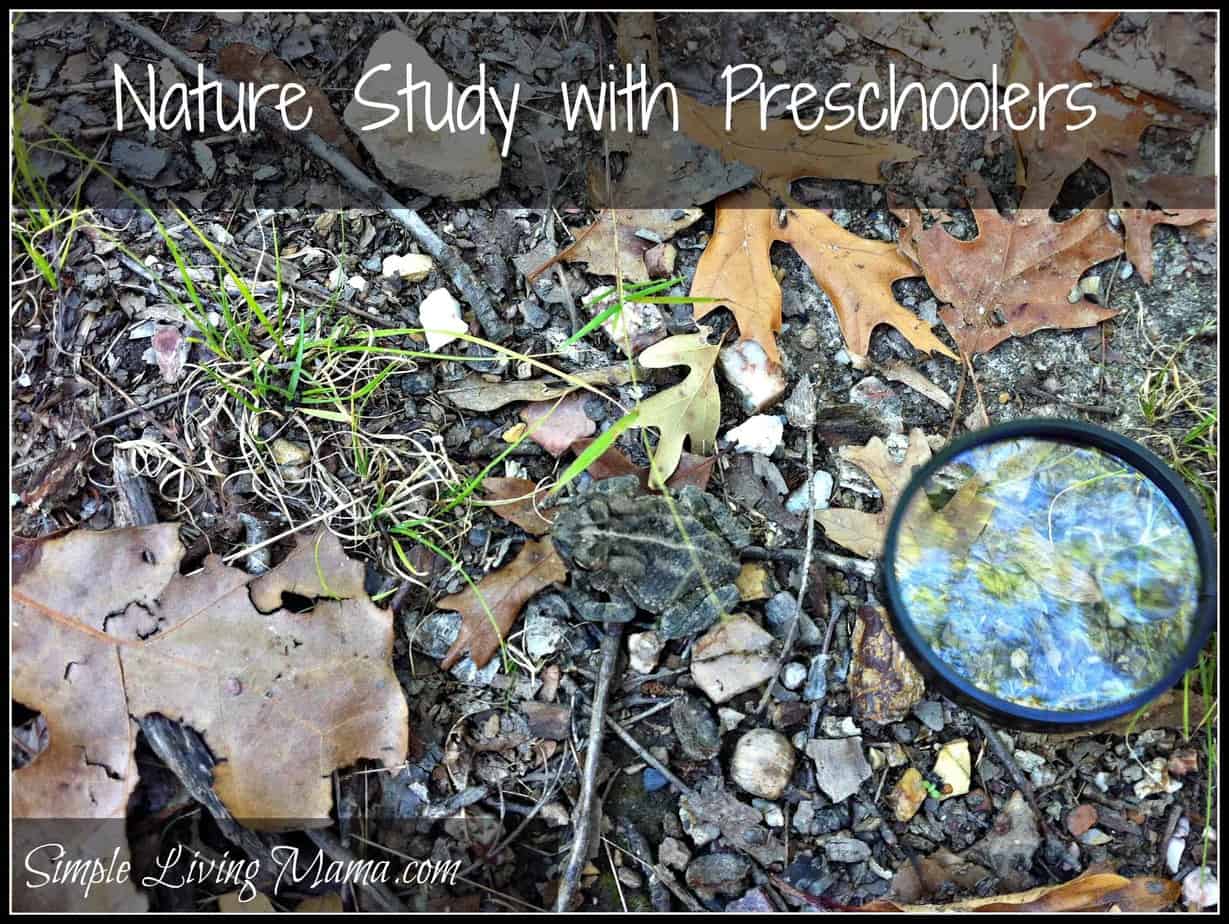 How To Do Nature Study with Preschoolers
Amazing Gifts for Children Who Love Nature