It's May and we are enjoying another month of our homeschool morning basket. This has become such a lovely addition to our homeschool, and like last month, our May morning basket is still our favorite part of the day. If you still haven't added morning time plans to your homeschool, I would encourage you to really think about it. I am enjoying sharing our plans with you, and letting you see the process I am going through to include several subjects during this sweet time.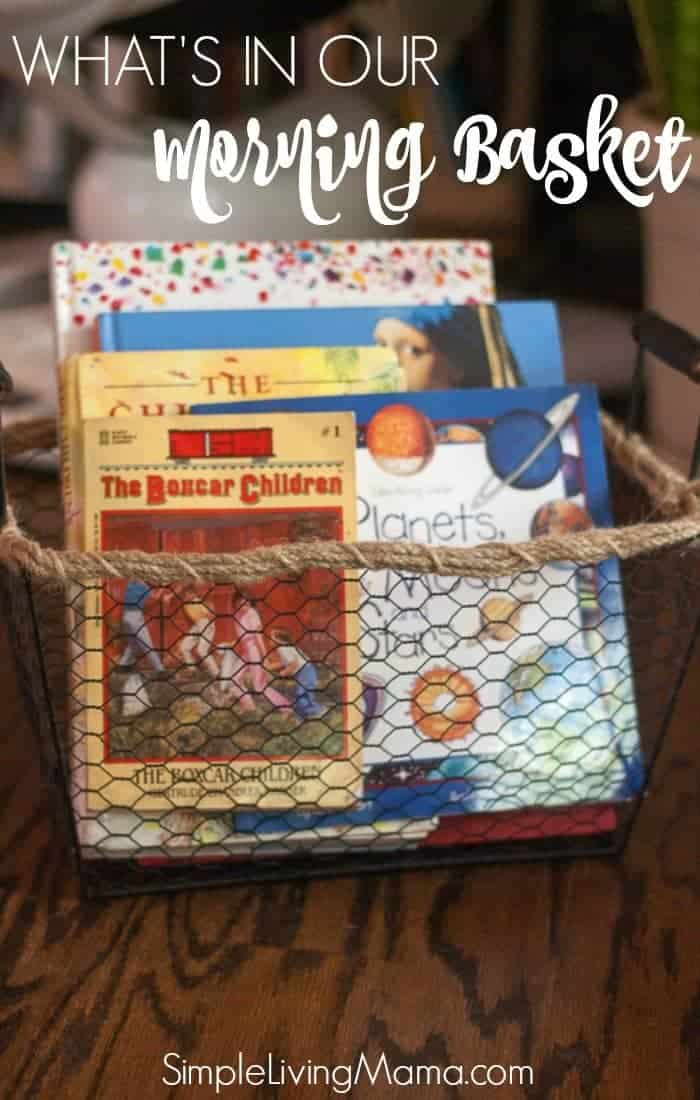 Our May Morning Basket
I decided to switch our morning basket over to an actual basket. I keep this one in front of our fireplace in the living room, so we can all just cuddle on the couch and do our reading. My seven year old daughter actually said to me, "Morning Time is my favorite part of the day!" It's mine, too.
So, here's a peek at our schedule. I am moving toward even a more Charlotte Mason style homeschool and have added lots of enrichment to our morning time. A couple of these things will not start until this fall. I am planning to use Simply Charlotte Mason resources for art study, composer study, and poetry study.
We are still reading in our Bible. My kids are really enjoying the book of Matthew. We read for about five minutes each time we do morning time, and then we always chat about what we read.
The Children's Bible in 365 Stories
Sometimes I read a Bible story from this book. This is my favorite children's Bible because I've had it since I was a little girl.
It has lovely illustrations, and the stories are short enough that the kids can stay focuses while I read.
Humpty Dumpty Rhyme
My preschoolers are working on memorizing Humpty Dumpty. All I do is show them this sheet and say the nursery rhyme. Easy, peasy.
I have started reading this book during our morning time. The kids LOVE it. It has a lot of classic fairy tales in their original formats.
Continents & North America
We are still working on memorizing the continents with our map work. Next, we will move on to memorizing the countries in North America.
Skip Counting
We always run through our skip counting. I typically do 2s, 5s, and 10s with all of the kids.
Coin Value
Some of my kiddos are still having trouble memorizing coin value, so we are still working on it.
Days of the Week, Months of the Year, the ABC Song, and the A, A Apple Song
And for the preschoolers, we do these songs together every morning.
A Child's Garden of Verses – Robert Louis Stevenson Biography
This poetry book has long since been a favorite in our homeschool. I am being intentional with making sure we read each poem and take a minute or two to look at the illustrations.
Here's a peek inside. The pictures are so fun! I have also started telling the kids a little about Robert Louis Stevenson's biography. We have taken a look at his picture and talked about other books he wrote.
Spinning Worlds: A Child's Guide to God's Creation in the Heavens
Woohoo for adding some science books to our rotation! Since we are studying astronomy this year, I really wanted some fun books that coincided with what we are learning. I only read a couple of pages from these books at a time.
13 Artists Children Should Know
We will start a concentrated art study in the fall, but for now I am reintroducing some artists to the children through this book.
We just read a little about the artist and take a look at some of the paintings.
Song School Spanish and the DVD
Once a week we do our Song School Spanish. We watch an episode from the DVD, and then all practice together from the book.
Our read-aloud this month is The Boxcar Children. This book has been a favorite of all of my kids. Even my oldest is asking me to read more than one chapter at a time. That is a win for me! I should note that I typically do not read this book during our morning time. More often than not, this book is read before bed.
Our hymn this month is "It Is Well with My Soul." I play it once a week while we listen to the version by Audrey Assad on Apple Music.
Morning Time and the morning basket is such a blessing to our homeschool. If you want to know more about how to make morning time work for your family, I highly recommend checking out Pam Barnhill.
You can take a look at our past morning baskets for more ideas.
Here's a glimpse at our morning basket and learning board from when my older children were younger. You'll see I use a lot of the same books, but this time I'm being more intentional about going through them.
Here's what was in our morning basket last month.