It's time for another pregnancy update! I'm participating in My Joy-Filled Life's Pregnancy Journal.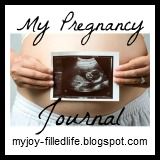 How far along are you? 27 weeks, 4 days
Best Moment this week? Hmm. Baby Boy is way more active. We can now see his kicks and rolls from the outside!
Prayer requests? Lots of things, still. I feel like I have no idea what's going to happen in the next few months with our lives, and I've always been one who likes to be prepared.
What scripture is speaking to you this week?
"Be strong and of good courage, do not fear nor be afraid of them; for the LORD your God, He is the One who goes with you. He will not leave you nor forsake you." Deuteronomy 31:6
Baby's growth? Baby should weigh around 2 pounds now. He is definitely getting big!

Symptoms? Waddling, shortness of breath, heartburn.
Medical Stuff? Nothing this week.

Weight gain (or loss)? I'm huge. I always gain around 40-50 pounds during pregnancy no matter if I eat junk or if I eat healthily. I'm on track to gain that much this time, too.
What Made Me Cry This Week? Trying to wean my daughter. Nursing is sooo painful and hearing her scream at me because she wants to nurse just makes it worse!
Sleep? I don't sleep well at all.
Maternity Clothes? Yes. I love Motherhood Maternity's secret fit belly jeans and shorts. They are the most comfortable maternity clothes I've ever worn!
Gender? Boy! I'm very slowly getting his things together. I don't seem as motivated to get it done as fast as with the last two, though. I think it's probably because I'm so busy!
Movement? Tons!
What I miss…. Being able to breathe normally.
What I'm looking forward to…. Feeling settled. Knowing what's going to be happening next year in our family.
Thoughts from the family…. Not too much. We've picked a name and it's not really a big hit with everyone. I don't care this time, though. We are going to wait until he is born to share his name with the world. I don't want to hear the negative comments!
Something I'm Excited About…. Getting Baby's clothes washed and folded and setting up the crib in our room.
Discussion Question: Do you have a funny story or moment that happened during one of your labors, deliveries, or post partum periods that you'd like to share? Maybe you didn't think it was funny at the time, but now that you look back, you see the humor in it.
My Answer: Well, my daughter's birth was sooo much easier than my son's. She could have come out on her own, really. I was laughing because of how much easier it was and my laughter kept pushing her out. Of course the doctor hadn't shown up yet to deliver her! It was a quick delivery!