This Catholic homeschool planner was sent to me for review. As always all opinions are my own!
If you're looking for a Catholic homeschool planner for the 2020-2021 school year, you have to see this gorgeous planner from Nguyen Win Designs! I think homeschool planning is one of the best parts of homeschooling, so having a pretty planner to jot down all of our thoughts, plans, and curriculum choices definitely helps make it even more fun!
Catholic Homeschool Planner 2020-2021
This homeschool lesson planner is specific for the 2020-2021 school year. Let me tell you everything I got to make an amazing homeschool planner that I absolutely love!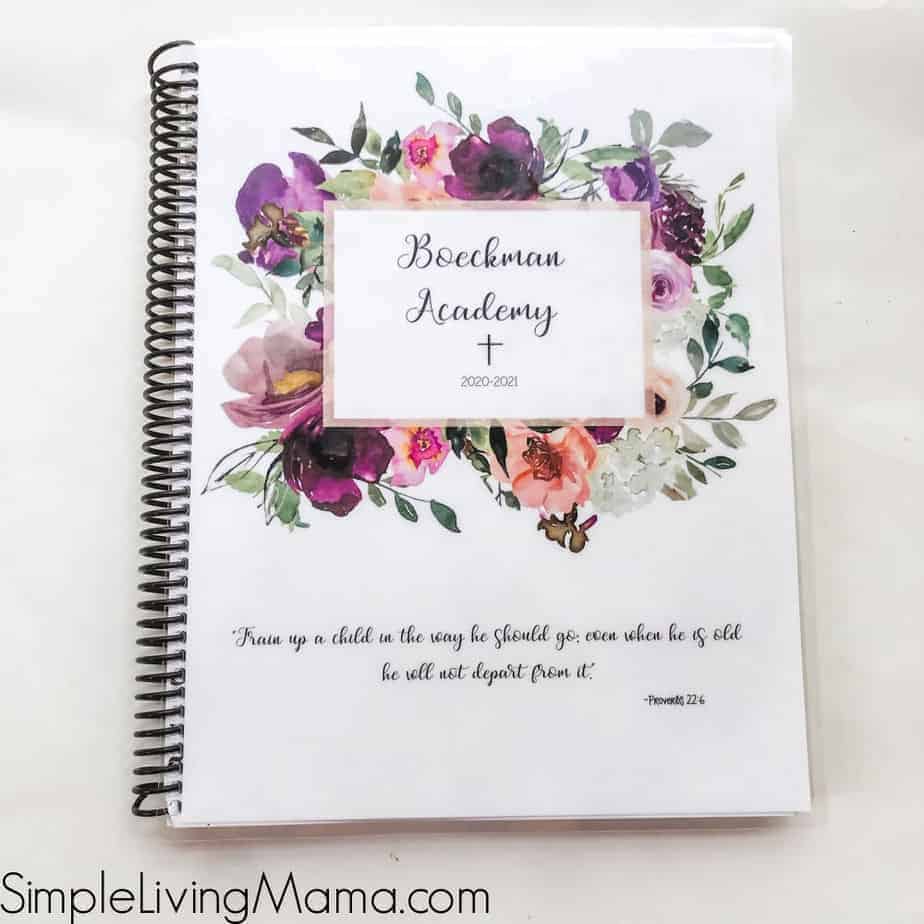 First, I have the personalized cover. It includes the name of our homeschool plus an inspiring Scripture that helps direct me in how I want to raise my kids and run my homeschool. I chose Proverbs 22:6 if you're interested.
The front and back covers are a beautiful floral. The flowers are purple, pink, and there is some greenery, as well. I love it!
Inside the planner are several extra St. Therese quotes, which are so inspiring!
The first page of the planner is a Hello page where I can put my name and information. There is also a notes page and a 2020-2021 calendar at a glance with a key that I will use to mark off holidays and school weeks.
There is a contacts page to help keep other homeschool moms and their kids straight, as well as a curriculum log, seasonal activities/projects/field trips page, and computer log-in information.
I love the progress tracker, the attendance log, and the daily routine page.
Each monthly 2-page spread includes bible verses, memorials, Saint Feast Days, Solemnities, Holy days, Monthly Devotions, and National Holidays noted throughout the calendars.
Each 2-page week at a glance spread includes a place to plan for the Saint of the week and character traits. There are also Bible verses throughout.
Finally, there are 12 monthly inserts that include Saint spotlights, Our Blessed Mary, and various prayers and novenas.
This is the perfect Catholic mother's planner for me, as well as a homeschool planner because I'm a brand new baby Catholic and still have so much to learn about the Saints, the Holy days, and everything else! Having all of these days laid out for me is just perfect!
What I Love About My Catholic Homeschool Planner
I love everything about this planner! The floral theme, the verses sprinkled throughout, the dividers, the light colors for the weekly spreads, just everything! I can't wait to make it my own with stickers and my colorful pens!
If you're looking for a lovely Catholic homeschool planner, check this one out! You can also save 10% with code JOANNIE10.

Interested in other homeschool planners? Check these out!
Charlotte Mason DIY Homeschool Planner
The Big Happy Planner Teacher Edition
The Relaxed Mom Homeschool Planner (Now Rhythms and Routines)