You may or may not know, but I have found a combination of two main curriculums to work out really well for our homeschool. I have been using My Father's World homeschool curriculum since I began homeschooling, and I added The Good and the Beautiful homeschool curriculum a couple of years ago. I feel these two options have been amazing for our homeschool and for my kids. Today I am going to share with you how to use My Father's World and The Good and the Beautiful together!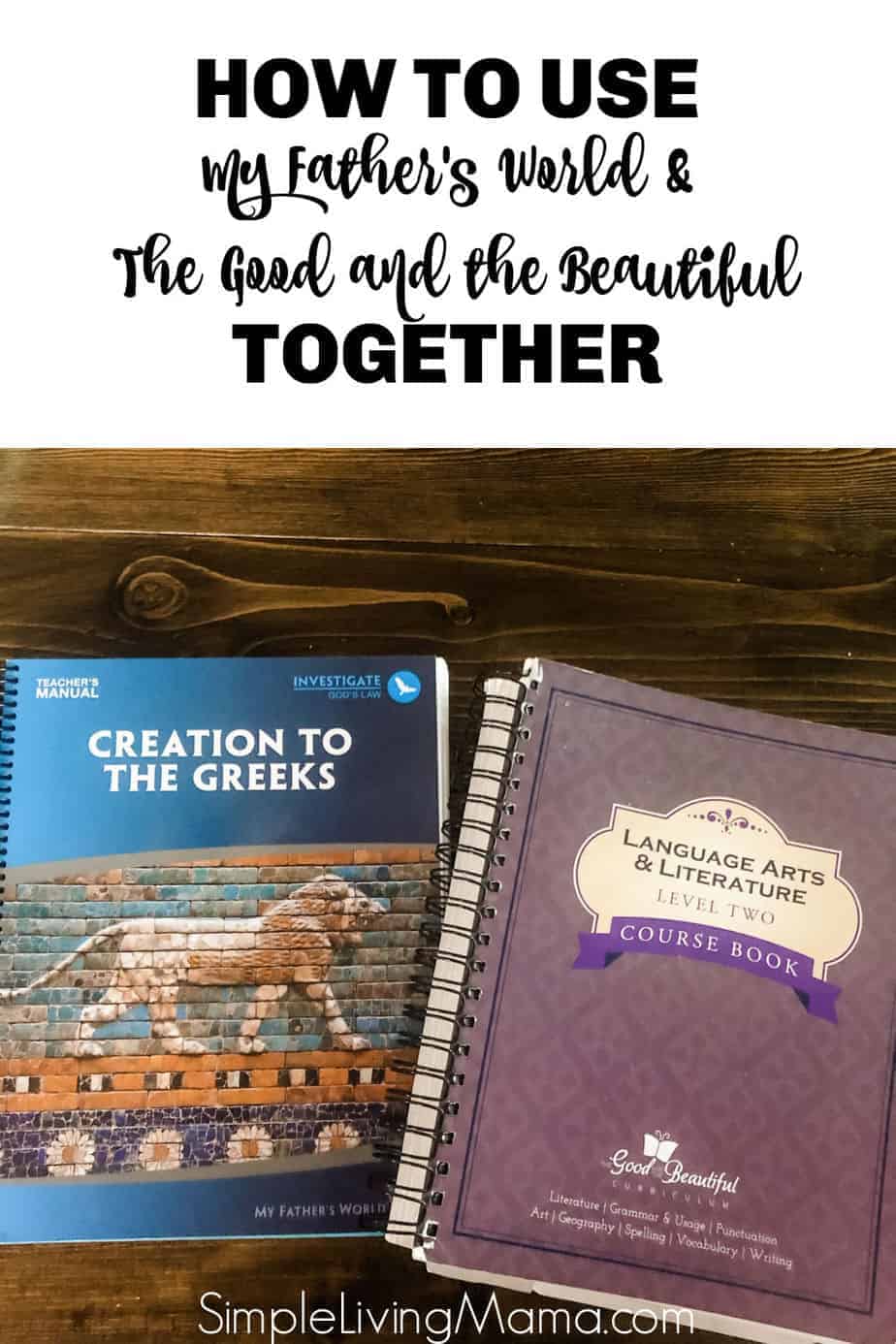 How To Use MFW and TGTB for Kindergarten
This upcoming school year will be the first that I've used MFW and TGTB for kindergarten. MFW kindergarten is a complete program that includes phonics, math, and a whole lot more! You could easily add in TGTB Level K Primer to reinforce the phonics your child is learning. I personally wait until first grade to begin TGTB Level K, but if your child is advanced enough they likely wouldn't use much of the phonics taught in MFW and you could begin Level K.
I actually teach my kids to read with Teach Your Child to Read in 100 Easy Lessons. After trying various things with my older kids, I will be using TYCTR and MFW as our basic phonics/learn to read in Kindergarten.
I will be using TGTB Math Level K for kindergarten. The math in MFW K is very light and you have to put together your own manipulatives. TGTB makes math easy and I already have all of the manipulatives from my last child who has excelled in math after using TGTB Math K and Level 1.
Because MFW K is so complete, I will not be adding anything else except maybe TGTB Handwriting Level K. If you want to get a feel for MFW K, you can check out all of my My Father's World Kindergarten posts. I will be adding new posts this coming school year, as well, since the curriculum as changed slightly!
How To Use MFW and TGTB in Older Grades
After MFW 1st grade, you need to add in your own math and language arts when using My Father's World. MFW offers suggestions, but after trying several different things I went with TGTB language arts and it works perfectly! We do our Bible, history, and some science from MFW and use TGTB language arts for spelling, writing, grammar, with added geography, poetry, and artist study!
What other things from TGTB do we use? We use their nature journal, typing course, handwriting, and some of their science courses. I feel like my kids are getting an awesome education and being exposed to so much through both of these curriculums.
My older kids use Teaching Textbooks for math. We LOVE Teaching Textbooks. I move them to TT in the 2nd grade.
What about hymn study, composer, handicrafts, etc? For all of those neat Charlotte Mason things we use The Homeschool Garden. I combine read alouds and Bible from MFW and then work through hymns, poems, artist study, and composer with The Homeschool Garden. Check out our homeschool morning basket posts to learn more. Everything we do is to spread a wonderful feast for our kids!