Sometimes you just need to clean your house fast. My housekeeping routines are a gradual process. I can keep my home generally clean and tidy, but on those days when company is coming and I need all of the main rooms looking good, I go through my 30 Minute Tidy process. If you're wondering how to clean your home in 30 minutes, let me show you!

How To Clean Your Home in 30 Minutes
The first thing I do when I'm getting ready to speed clean my home is grab my 30 Minute Tidy checklist from the Clean & Organized Home Planner. It tells me everything I need to do to get my home in tip top shape FAST!
I get started with making my bed. Something about a made bed just instantly makes any room look cleaner.
Next, I do a very quick declutter. Grab an empty laundry basket or a large tote bag and start in your kitchen. Grab anything that doesn't belong and put it in your basket. We aren't trying to put things away right now, we just want to clear the surfaces. Make your way through your living room and your entryway.
Any room that your guests will see, quickly declutter it. Put that laundry basket in a safe space. Either your bedroom or your closet to put away the contents later.
Head back to your kitchen and quickly tackle the dishes. You don't want any dirty dishes out on your counters.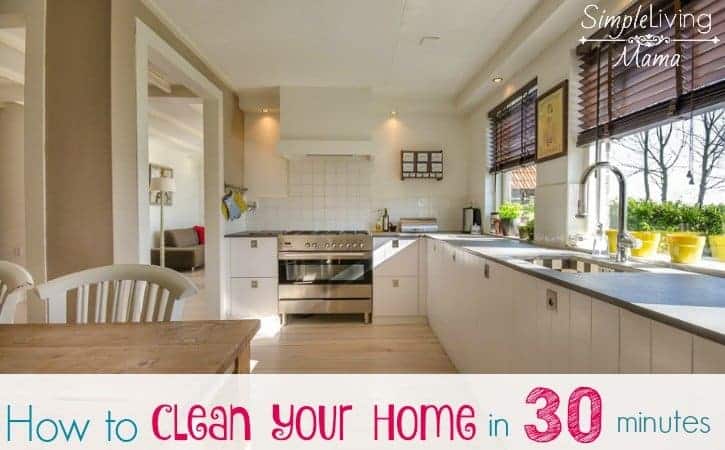 Now, tidy up the kitchen. Wipe down the counter tops and the stove and give the floor a quick sweep.
Head to your guest bathroom and give it a quick clean. Make sure your toilet is clean and wipe down the mirrors and counters.
Do a quick spot mop in the areas of your home that have hard floors. My favorite mops for these are either the Swiffer wet jet or the Rubbermaid reveal mop.
Finally, if you have time left, put away a load of laundry. If you're like me, it's likely still sitting out somewhere. Put those clothes up!
Now, enjoy your clean home!
Do you need help with your cleaning routine?
My Clean and Organized Home Planner will help you keep all of your cleaning routines and organization projects in order!
You can get my planner for 50% off from now until May 28th with coupon code 50OFFNOW. Don't want the Clean & Organized Home Planner? Use the coupon code for any item in my shop!
See All of My Housekeeping Routines!