One of my husband's favorite meals is beef stew. When we were first married we used to buy the beef stew kits at Wal-Mart and he would look forward to me making it a couple of times a month. Seven years later, I'm still using the same crockpot, but I don't buy those pre-made kits anymore. The way I make it now is with fresh ingredients I have on hand. It saves us a lot of money over those fancy kits!
Easy Crockpot Beef Stew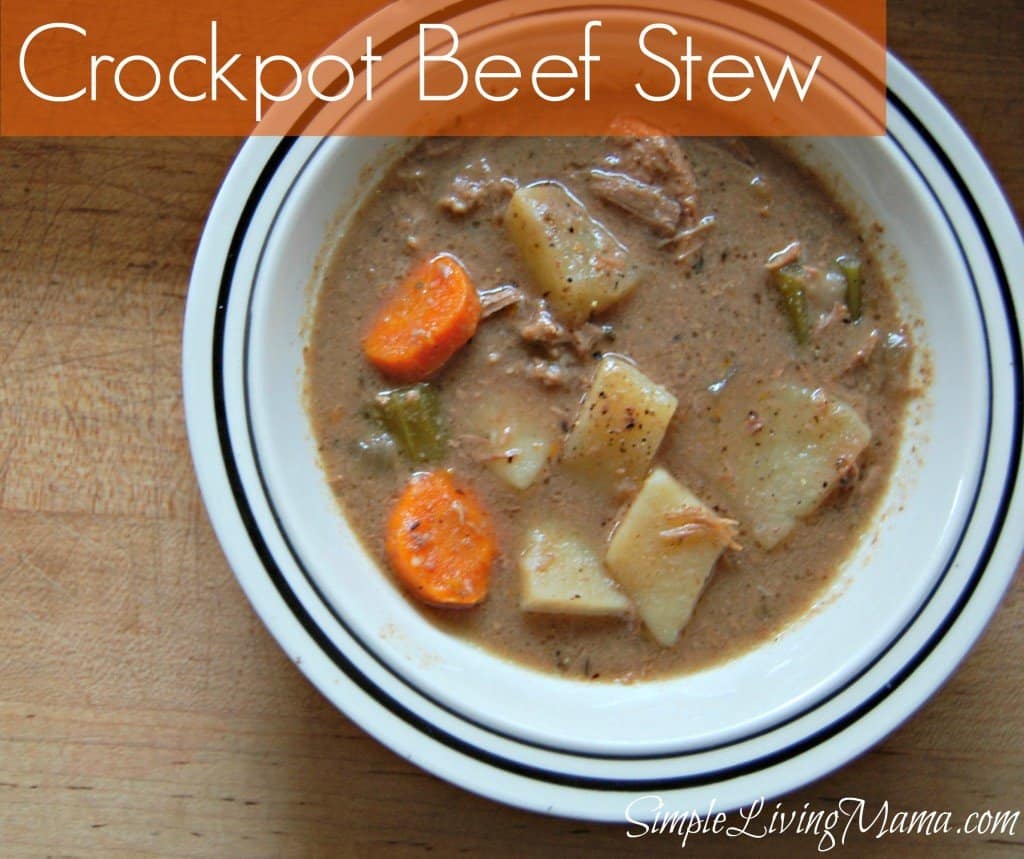 I love making crockpot beef stew because it can simmer all day to perfection. This crockpot beef stew is rich and delicious. I normally like to brown my stew beef before putting it into the crockpot, but when I have a toddler underfoot I usually just throw it all into the crockpot and let it go. Browning the meat beforehand does give it a better flavor, though.
A traditional beef stew consists of onions, potatoes, and carrots along with the beef. I do add celery when I have it on hand. The crockpot allows the beef to cook slowly, making it extra tender and delicious.
Serve your beef stew along with cornbread or homemade biscuits. We really enjoy dipping our bread into the stew. Leftovers the next day taste even better than the original meal! Enjoy!
Crockpot Beef Stew
2014-10-24 00:48:54
A rich and delicious crockpot beef stew. Throw all of the ingredients into the crockpot and let it simmer all day!
Ingredients
2 lbs. stew beef
1/4 cup flour
Salt
Pepper
1 tsp. dried thyme
1 bay leaf
4 carrots peeled and chopped
2 stalks of celery, chopped
3-4 russet potatoes, peeled and diced
1 onion, diced
3 cloves garlic, minced
4 cups beef stock
Instructions
Place stew beef into crockpot.
Add flour, salt and pepper and mix, making sure to coat the beef.
Add thyme and bay leaf.
Add chopped and diced veggies.
Add beef stock, making sure veggies are covered.
Cook 6-8 hours stirring occasionally.
If you want a thicker stew, remove 1/4 cup juice from crockpot and mix 1-2 tablespoons flour into juice. Pour back into crockpot, stir, and let simmer another 20 minutes before serving.
Simple Living Mama https://simplelivingmama.com/