Instant Pot Chicken Fajita Soup
This post may contain affiliate links. Please see my disclosure and privacy policy for more information. As an Amazon associate I earn from qualifying purchases.
With the colder weather finally here, it's time to start making soups! Your pressure cooker is the perfect tool to create delicious soups that the whole family will love. Another bonus, this chicken fajita soup can be made low carb! Today I'm going to share my Instant Pot chicken fajita soup recipe with you! It's absolutely delicious and will warm you right up on a chilly day! My family just loves this recipe, so I'm sure you will, too!
Instant Pot Chicken Fajita Soup
This one pot chicken tortilla soup is full of flavor and and the pressure cooker makes the chicken sooo tender. It's just perfect for a chilly fall day or a winter night when you're craving some Mexican flavors, but want to skip the tacos.
Another thing I love about this chicken fajita soup is how light it is. It's one of the appetizers I always order at Chili's. A small bowl makes a perfect appetizer, while a larger bowl full of yummy toppings will make a whole meal!
Delicious Pressure Cooker Chicken Fajita Soup
We love to top our chicken fajita soup with lime slices and lime juice, avocado slices, and diced red onion. Sliced green onions would taste really good, too, with some fresh cilantro. Side note, I used to hate cilantro and I thought it tasted like dish soap, now I absolutely love it!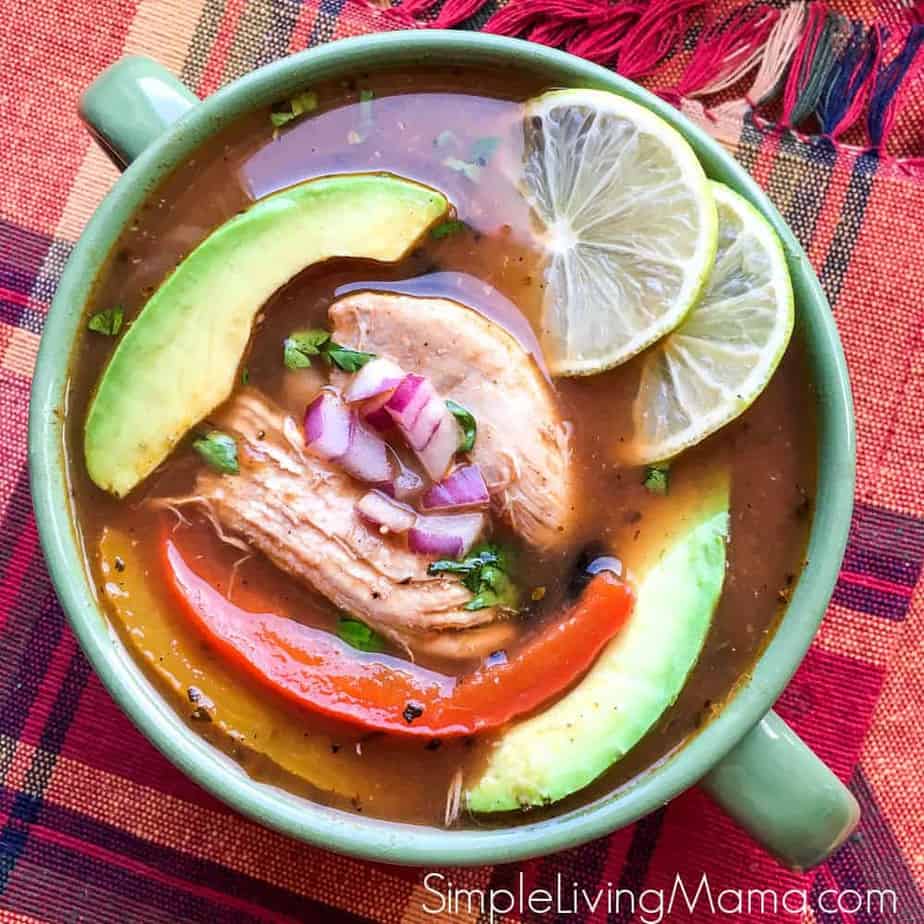 Keto Chicken Fajita Soup in the Pressure Cooker
To make this low carb Instant pot chicken fajita soup, just leave the black beans out. You could make this a creamy chicken fajita soup by adding in some cream cheese at the end. Just make sure you add in lots of avocado for some good, healthy fats!
How To Make the Best Instant Pot Chicken Tortilla Soup
I use chicken tortilla soup and chicken fajita soup interchangeably because the flavors are pretty much the same for me. The only difference is when I make chicken tortilla soup I top it with crispy tortilla bits. If you added a little bit of corn you could even make this an Instant Pot Southwest Chicken soup! This soup is so versatile that it's entirely up to you how you make it what exactly you call it.
To make the best chicken fajita soup, you're going to need an Instant Pot or a pressure cooker. I'm using a 6 quart, but hope to upgrade to an 8 quart soon. While not necessary for this recipe, I am really loving these pressure cooker accessories, too! The secret to making this soup out of the world delicious is sautéing your veggies and peppers, removing them from the Instant Pot, cooking the soup, then adding the sautéed veggies back to the soup! It's so, so good!
More Instant Pot Recipes You'll Love
Print this Pressure Cooker Chicken Fajita Soup Recipe Below
Yield: 4-6 servings
Instant Pot Chicken Fajita Soup
A delicious Instant Pot chicken fajita soup recipe made in the pressure cooker. This low carb chicken tortilla soup is sure to be a hit!
Additional Time
10 minutes
Ingredients
2 T. extra virgin olive oil

½ medium red onion, sliced

1 medium red bell pepper, sliced

1 medium yellow bell pepper, sliced

1 medium Poblano pepper, seeded and chopped

Sea salt and black pepper, to taste

1½ lbs. boneless, skinless chicken breasts

1 14-oz. can diced fire-roasted tomatoes, with liquid

3 c. chicken broth, preferably organic

2 t. ground cumin

1 T. chili powder

2 t. Mexican oregano, dried 

1 t. garlic powder

1 15-oz. can black beans, drained and rinsed

3 T. fresh lime juice
Garnish:

2 large avocados, sliced

3 T. red onion, chopped

Shredded Mexican cheese blend 

Fresh cilantro, chopped
Instructions
1. Add olive oil to Instant Pot® and select the Sauté function. Set to high and once the display reads "hot," add red onion, bell peppers, and Poblano pepper. Season with salt and black pepper, to taste, and cook, stirring continually, until the onion and peppers are crisp-tender and develop a bit of color, approximately 4-5 minutes. Switch unit to "off" and transfer veggies to a bowl. Set aside.

2. Season chicken breasts on both sides with salt and black pepper, to taste. Place chicken in Instant Pot®, along with tomatoes, chicken broth, cumin, chili powder, Mexican oregano, and garlic powder. Stir to combine.


3. Add the lid and set the pressure valve to "sealing." Select the "Manual" cooking option on the high setting and set cook time to 10 minutes. When done cooking, allow the pressure to release naturally for 10 minutes, and then do a quick release for any remaining pressure.


4. Remove lid and shred chicken breasts with two forks. Add sautéed veggies, black beans and lime juice. Stir to combine and taste. Adjust seasonings as desired.


5. Allow soup to sit on "Warm" setting for several minutes until the veggies and beans are heated through. Serve immediately topped with sliced avocados, red onion, Mexican cheese, and fresh cilantro, if desired. Enjoy!