Cast Iron Skillet Hash Browns
This post may contain affiliate links. Please see my disclosure and privacy policy for more information. As an Amazon associate I earn from qualifying purchases.
I love cast iron skillet recipes. Food just tastes better when it's cooked in the cast iron skillet. Today I am sharing my cast iron skillet hash browns recipe with you. This recipe for hash browns from scratch is absolutely delicious and easier to make than you think! I'm going to give you all my tips and tricks for making the best hash browns you've ever tasted!
Simple Skillet Hash Browns
These homemade skillet hash browns are made with just a few delicious ingredients and are surprisingly easy to make! You'll just need three cups of shredded potatoes, 1/2 cup shredded white onion, 1 cup finely shredded cheese, garlic powder, dried rosemary, and salt and pepper.
What is the best way to shred potatoes?
You will need to shred your potatoes yourself to make homemade hash browns. I like to use russets for my hash browns. I scrub them and peel them. The easiest way to shred potatoes is with a good food processor. Of course, you can always use a hand grater, but a food processor is much faster!
How to cook hash browns in a frying pan.
You'll definitely want to use a well seasoned skillet to cook your skillet hash browns. I use a combination of olive oil and butter to fry my hash browns. Once you have all of the ingredients combined in a bowl, you'll work in batches by adding in the potato mixture to the hot skillet and oil/butter mixture. Shape into patties in the frying pan and cook until golden brown before flipping. This will take about 4-5 minutes.
It will be tempting to flip the hash browns as soon as you see some color starting to appear on the bottom of the hash browns. Don't do it! You want to make sure that the hash browns are crispy enough for your liking and that they will hold together when you give them a flip. The other side will cook faster than the first side, so make sure you keep on eye on them so they don't burn.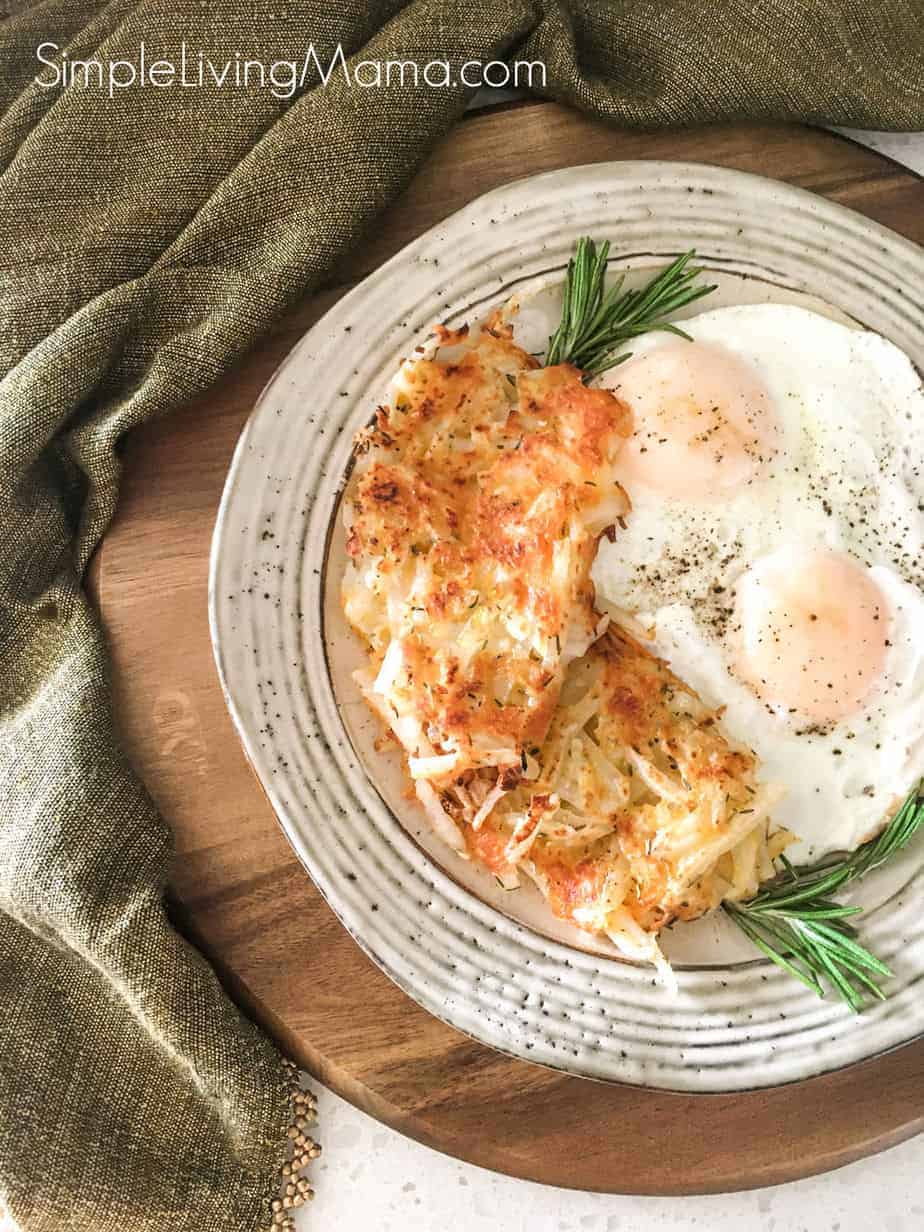 How do you make crispy hash browns from scratch?
The key to making crispy hash browns from scratch is to ensure that your potatoes and onions are dry before you mix them with the other ingredients. Once you have shredded both the potatoes and the onions, use a paper towel to blot them dry. The drier they are, they crispier you can make your hash browns!
Skillet Hash Browns and Eggs
If you're wondering what to serve with your delicious crispy skillet hash browns, eggs make the perfect accompaniment! Once you have fried all of your hash browns, you can use the same cast iron skillet to fry your eggs. I love frying my eggs in butter because the flavor is just phenomenal! You can serve your eggs sunny side up like the ones pictured below, or you can make a big batch of scrambled eggs for the whole family. My kids especially love eating both their hash browns AND their eggs with ketchup. Yum!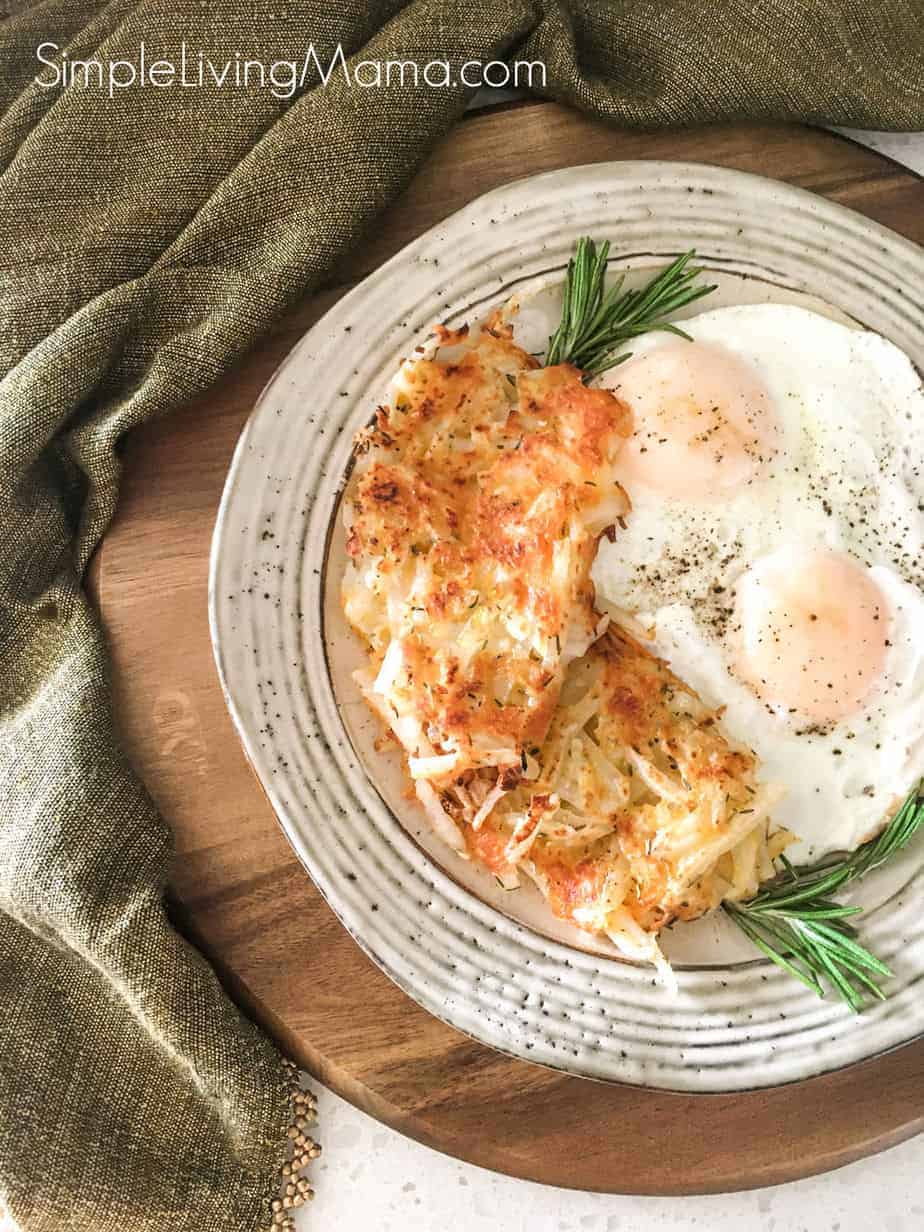 What type of cheese should I use in my hash browns recipe?
If you love cheesy hash browns, you can definitely add some finely shredded cheese to your potato mixture before forming into hash browns and frying. My favorite is cheddar jack cheese. Plain cheddar works well, too. Cheese and potatoes go so well together that cheesy hash browns are a favorite among many people.
How do you like your hash browns? I've already mentioned we love them with ketchup, but some people eat them with butter or gravy!
Here's the cast iron skillet I use to create my yummy skillet hash browns!
More Cast Iron Skillet Recipes!
Roast Chicken in a Cast Iron Skillet
Yield: 4
Cast Iron Skillet Hash Browns
Delicious, cheesy, crispy hash browns made from scratch and prepared in a cast iron skillet.
Ingredients
3 c. shredded potatoes, patted dry

½ c. shredded white onion, patted dry

1 c. cheddar jack cheese, finely shredded

½ t. garlic powder

½ t. dried rosemary (or 1½ t. fresh, finely chopped)

Sea salt and black pepper, to taste

2 T. extra virgin olive oil (+ more if needed)

2 T. unsalted butter
Instructions
Add the potatoes, onion, cheese, garlic powder, rosemary, salt, and black pepper to a large bowl and mix until thoroughly combined.

Heat olive oil and butter in a large cast iron skillet over medium heat until the butter is melted. Carefully swirl the skillet to ensure the bottom is evenly covered.

Working in batches, add the potatoes to the skillet and shape into patties. Cook until golden brown, approximately 4-5 minutes before flipping. Cook for another 4-5 minutes, or until golden brown and crispy.

Remove hash browns from skillet and keep warm. Repeat Step #3 with remaining potato mixture. Add more olive oil to the skillet, as needed.

Remove from heat and transfer hash browns to individual serving plates. Serve immediately with your choice of sides. Enjoy!

Notes
Tip: Because of the cheese, this recipe works best with a very well-seasoned cast iron skillet. Even though new cast iron pieces are often marketed as "pre-seasoned," the cheese may still stick if the skillet hasn't had time to develop additional layers of seasoning.

Here are some tips to prevent sticking with cast iron cookware:

https://www.lodgemfg.com/discover/cleaning-and-care/cast-iron/troubleshooting 
Recommended Products
As an Amazon Associate and member of other affiliate programs, I earn from qualifying purchases.